InDepth: The changing face of The Globe
The Globe Newsmagazine
Make sure that you keep an eye out for the next issue of The Globe in August. Otherwise, you might not recognize us.
Yes, The Globe will be getting a makeover. The Globe staff has recently come to a decision that next year this publication will transition to a newsmagazine format. Thus, CHS will now have The Globe newsmagazine instead of The Globe newspaper.
Zach Praiss, who will be a Senior Managing Editor in the 2011-2012 school year, anticipates that students who read The Globe casually might be surprised by the significant change in format.
"I think it's going to be a big change for us, as editors, but it's also going to be a big change for our readers in that they're going to see a new format on the first day of school when they walk through the doors," Praiss said.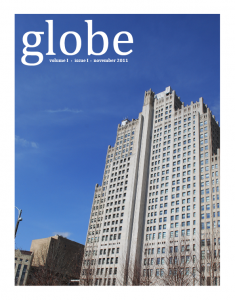 While this may seem sudden, the idea of changing formats has been considered by the editorial staff for a while.
"The first time the idea of a newsmagazine came up was last year," 2011-2012 Senior Managing Editor Jackie Leong said. "Mrs. Freeman first mentioned that, if we wanted to do a newsmagazine-type thing, that this would be the year to do it. No one wanted to do it last year, mostly because last year we didn't know if we could do the design aspect of it. This year, we've played a little more with design and I feel like we could pull off a very design-heavy newsmagazine that would definitely pull in more student readers."
Ultimately, 2011-2012 Editor in Chief Noah Eby came to the conclusion that a newsmagazine would be the best option by considering what students would most enjoy.
"We wanted to make the Globe more reader-friendly, something students could read on the go or put in their backpacks to take home," Eby said. "And we also wanted to give ourselves an opportunity to experiment with new design techniques that emphasize photos and graphics."
Let's Put This in Perspective
Most people imagine The Globe as a broadsheet because, in recent years, it has been the most durable format.
"Well, the broadsheet's been around since 2004," Advisor Nancy Freeman said. "So, it's probably been the thing that we've had the longest since I've been here. I mean, I've been here for 15 years and, for seven of those years, we've had a broadsheet."
However, many people are unaware of the frequent changes in format that The Globe has had, even in the last 15 years.
"Before the broadsheet, [the format] changed about three or four times in the eight years that I was here before that," Freeman said. "It went from being a newsmagazine-type of thing, to a black and white tabloid, to a tabloid with spot color, and then to a broadsheet."
Freeman wishes that the transition to a newsmagazine had happened during her time at CHS; however, she is excited to see what next year's staff will accomplish.
Meanwhile, the head staff this year pondered what would be the best course of action for next school year.
"We've looked to student and professional publications for inspiration over the past months," 2011-2012 Editor in Chief Noah Eby said.
In particular, the head editors have been drawn to newsmagazines by Exeter High School and Francis Howell North High School, as well as professional publications like Sports Illustrated, Time, and The New York Times Magazine. In other words, The Globe will be in good company in shifting its focus to the newsmagazine.

Our Generation: It's All About the Students
Besides the desire for a fresh, new way of making a print publication, the editorial staff was intrigued by the potential for innovation inherent to a newsmagazine and the student interest that will, hopefully, increase as a result.
Traditionally, The Globe has struggled to attract student readership, with copies often being brought from CHS to Clayton homes, only to be read just by parents and other adults. However, the new emphases brought about by a newsmagazine have the potential to change this.
"I think the special emphasis that we will have to be put on creative design is really exciting," Eby said. "If we get it right, we could have a truly great publication, and I'm confident that the staff will be able to use the magazine to its full potential. Specifically, I love the idea of having a cover story span seven or eight pages of the magazine. The doors that this opens up for design and creativity are very exciting."
While 2011-2012 Senior Managing Editor Jackie Leong believes that it will be a challenge to transition from various stories and teasers arranged on a front page to bringing the focus of the front page to a specific cover story, she also thinks that a well-designed cover will convince more students to pick up The Globe.
"Great design is definitely something that people like to see," Leong said. "It definitely attracts them more than a text-heavy broadsheet will."
Eby hopes that students will not only be more likely to pick up The Globe because of the design, but also be more likely to read it.
"I think readers will love it," Eby said. "I know some people will be sad to see the broadsheet go, but once people get used to it I think they'll really come to appreciate the magazine for all that it offers."

The Obstacles and Challenges
The new format will not be without its challenges, however, the staff believes that most of the problems will stem from the initial surprise at the digression from the original broadsheet layout.
"First and foremost, we fear that people won't like it," Eby said. "While we've heard a few moans and complaints, the feedback has been overwhelmingly positive, so hopefully that first concern won't materialize"
However, other concerns involve the impending challenges that the staff will face in developing new skill-sets concerning design.
"We have a long way to go in terms of educating ourselves on how to design and manage a magazine, so that's something we'll have to work on extensively over the summer and at the beginning of next year," Eby said.
Additionally, there will be less room for stories in general, so altering the distribution and length of the article will be a challenge for both reporters and the editorial staff.
"We definitely will have less space in general," Leong said. "Before, we've had this giant broadsheet of 24 pages. Now, we're going to have a 48-page newsmagazine. That sounds like it's equivalent, but it's definitely going to be a little slimmer, so I think that the stories are going to have to get a little shorter."
However, ultimately, the head staff believes that these challenges will ultimately improve The Globe.
"The newsmagazine will really push us to develop our design skills and put us in a new realm of editorship," 2011-2012 Senior Managing Editor Zach Praiss said.
Looking Toward the Future
Even traditionalists have to admit that the breed of broadsheet newspapers is diminishing. With the transition to a newsmagazine, The Globe will be joining an ever-growing group of publications that convey information to their readers with graphics and shorter articles on a smaller, more condensed layout.
"I think the change represents the fact that newspapers are evolving and the media is constantly evolving," Praiss said. "I think that our generation feels more of a connection with the newsmagazine format in that, nowadays, teenagers and young adults aren't as accustomed to opening the broadsheet newspapers… There's a greater appeal for our generation to pick up a newsmagazine."
Essentially, newspapers worldwide are adjusting their methodology and, as a result, The Globe's head editorial staff wants to follow suit.
"Publications are really going through a lot of changes and I think it is important that The Globe stays current with these changes," 2011-2012 Senior Managing Editor Laura Bleeke said. "The newspaper, sadly, is dying out, but hopefully the newsmagazine will be something fresh and new and will keep our readers interested."
Along with this desire to innovate with regard to design and content, The Globe also hopes to expand into more of a community-wide newspaper by improving business techniques and new media skills with the help of next year's advisor Erin Castellano.
"We're very excited to have Ms. Castellano coming next year," Eby said. "She brings a wealth of experience in multimedia and design, and we hope she'll be able to help us improve the business aspect of The Globe as well. Many of us have worked with her before, and we know that she's a very kind, personable teacher who we're sure will make the transition to the magazine and the transition from Mrs. Freeman as smooth as possible."
Likewise, Castellano is looking forward to working with the students on creating a newsmagazine that is of the times.
"I'm excited to work with the staff to come up with a look for the newsmagazine that is contemporary," Castellano said. "I think the kind of visual storytelling we will be able to do with the new format will be an interesting change of pace… I'm also looking forward to making changes to the website and integrating videos to enhance the stories we put online."
Eby agrees that nature of the magazine will also force The Globe website into a higher realm of performance with regard to its website.
"Hopefully, moving to a magazine will help our website develop as a source for up to date Clayton community and sports news," Eby said. "The magazine format forces us to focus more on features and less on breaking news and game coverage. As a result, we hope to transition most community news and game reports to the website, which should boost traffic and improve the content of our print publication."
Your donation will support the student journalists of Clayton High School. Your contribution will allow us to purchase equipment and cover our annual website hosting costs.