Man on a mission: Jake Lee
Where did you travel to this summer and why?
I went to Puerto Rico for two weeks and Haiti for three weeks. And it was basically one trip because I came home from Puerto Rico and then left for Haiti the next day.
They were both mission trips so a lot of times we worked with kids, with orphans, and helped feed them and teach them. We also were distributing clothes, and just providing people with things they didn't have. We also did some construction, for example we built a church a stage.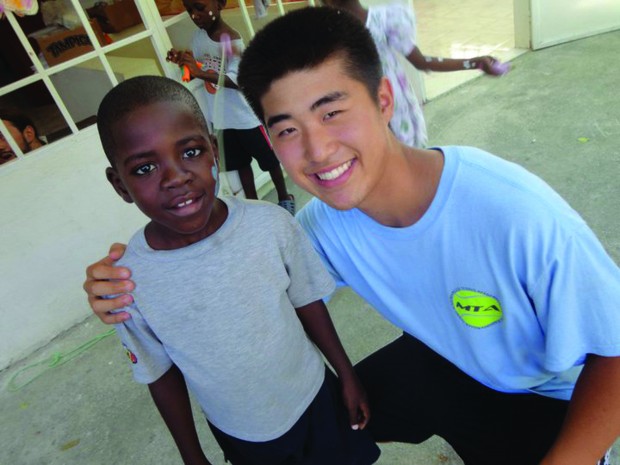 How are the people of Haiti, and the country as a whole, doing after the earthquake?
Often when people think of Haiti they think that the people are really poor and sad. But actually the people of Haiti have a lot of pride in their country.
And I had a conversation with a man from Haiti, and he said, "We don't want Americans to be thinking, 'Oh they're so poor and they have nothing' because we still have a lot of pride in our country, and although parts of the city are still in rubble we are happy with our lives."
What were some of the things you did with the kids?
We flew into Port au Prince and then drove for six hours on really bumpy roads in a bus, and then got to our work site where we would stay for a week. And we were there for religious reasons so we would teach vacation Bible school, but the people there also wanted us to teach the kids English, so we would teach English for an hour everyday as well, and all the kids were really excited to learn English.
What was one of your favorite memories from the trip?
The kids at the orphanage near Port au Prince have fun, but they can't really go out much or do a lot. So one of the days we all went to the beach together.
We drove for three hours, and in the car they were all throwing up from motion sickness because they don't go on car trips like this. But when we got to the beach they were so happy because they've never been to the beach before, because most of them were like ten or under. And we played with them for the whole day there. And they were just so happy and grateful for the opportunity they were given, when for us it was normal to go to the beach. And we were able to take them with our funds, because they wouldn't be able to go on just their funds.
Why is it so important to you to travel and take part in these service projects?
First of all, I don't want people thinking that I just do this for my résumé or do it to look like a good person. I actually do it because I really love just helping people out and traveling.
I want to be a doctor in different countries and, I want to be like the doctor that I shadowed in Ethiopia. He traveled the world and just tried to help out as many people as he could. So I guess this is also helping me build experience so it's easier to travel to third world countries as a doctor. It's what I really want to do, and I feel like it's just my calling.
Leave a Comment