CHS plans peaceful response to WBC protest
On Monday, Feb. 6, Westboro Baptist Church (WBC) plans to protest at CHS, according to their website and notifications to the Clayton School District and Clayton Police. Best known for its controversial pickets at military funerals, the WBC has stated that it will be protesting the school's support of its students, especially the Gay-Straight Alliance (GSA).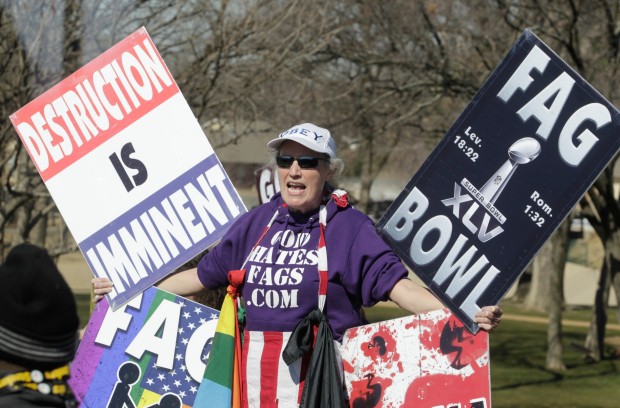 The picket will last from 7:50 to 8:20 a.m. and will take place on City of Clayton property across from Centennial Plaza. The GSA has taken the initiative in organizing a response to the protest.
"We'll have a face painting booth for those who arrive early, Love Conquers Hate T-shirts, and a donation table where people can donate money to different charities," said senior Andrea Hermann, one of the GSA's four presidents. "In addition we'll have a large canvas rolled out where people can dip their hands in paint and place their hand-prints, which will then be hung up in the Commons."
Principal Louise Losos said that she expects a large gathering of students – including students from other schools – parents, and a number of organizations to show their support Monday morning.
"I hope that it will be a positive demonstration showing who we are as a school and as a community," Losos said. "It should be a celebration of us, not an attack on 'them.' I hope that we will have a peaceful counter-demonstration and at 8:15 students head inside and school begins on schedule at 8:20."
Another co-president of the GSA, Nadia Diamond, also stressed the importance of being in class for the start of the school day.
"This protest is not an excuse to skip school," Diamond said. "The WBC will succeed in their goal if they disrupt our day-to-day life, and therefore students should make sure they arrive at their first period class on time."
The GSA and school administrators have emphasized that the purpose of the CHS response is to peacefully counter the WBC protest with a celebration of Clayton's diversity and support for LGBTQ individuals.
"We want our message to be about the community and not the WBC," Hermann said. "Our goal is not to fight back, but to come together as a loving community even in the company of these hateful, arrogant people."
Diamond said that in order to successfully counter the protesters' message, students and supporters must avoid acting in a potentially harmful manner.
"The WBC relies on winning free speech lawsuits at the places they protest in order to make money to voice their hate everywhere else," Diamond said. "If we really want to counter them and dilute their message, we should not do anything that could lead to them filing a lawsuit against us. Ways we can keep that from happening are not doing anything to make them feel threatened such as yelling back at them or approaching them."
In order to reduce any antagonism toward the WBC protesters, the school administration said that all signs on school grounds must be approved before they are displayed. Signs with negative or sarcastic messages directed toward the WBC will be confiscated.
Hermann said that the school's planned response has received a great deal of support from the community.
"I am so proud to say that I'm a member of a community that cares so deeply about each other and sending a positive message," Hermann said. "Everyone has been so helpful and wonderful. I can't begin to thank them enough!"
Losos agreed that the event has led many community members to express their pride in the district. She also emphasized the importance of demonstrating what Clayton stands for.
"In the end, we have no intention of allowing them to change who we are and what we do," Losos said. "Monday is a day of school, and I think educating our students to be active, involved and informed citizens is the best response to Westboro's hate."
More information on the event schedule, donations, and parking can be found at the School District of Clayton's website.
View Comments (1)