Starbucks Secret Menu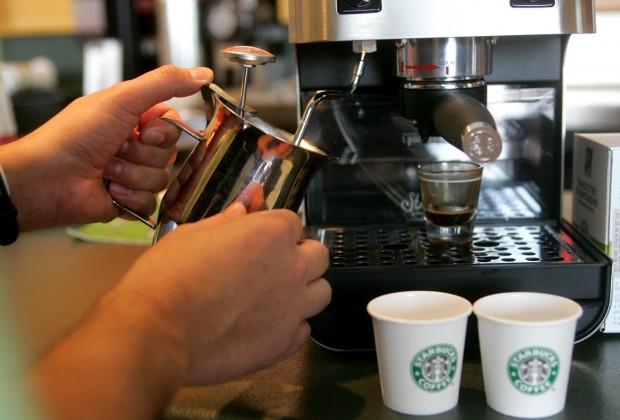 Let's not kid about our addiction. Starbucks. Everyone needs a little pick-me-up with our rigorous schedules.  And the endless supply of caffeine that Starbucks offers is like a choir of angels. However, few know that Starbuck's has a secret. The secret menu, that is.
Yes, finally instead of suffering for a chai with too little caffeine or a frappe with too little whipped cream you can have it all, just as long as you order these drinks during your next trip to Starbuck's
The Widow Maker: For the tea and coffee lovers this drink features half iced black tea and half iced black coffee.
The Samoa Frappuccino: Can't get enough of the Girl Scout Cookies you just stocked up on? This mocha and coconut frappuccino is perfect for you (this drink is only available during the summer).
Thin Mint Frappuccino: More of a Thin Mint person, than Samoa? Try this Tazo Green Tea Crème Frappuccino with chocolate syrup and java chips.
Snickers Frappuccino: Is this your favorite candy bar? Try it in a drink form with this Java Chip Frappuccino with two pumps of toffee nut and caramel drizzle to top it off.
Banana Cream Pie Frappaccino: Try this popular dessert as a drink when you combine the Vanilla Bean Creme Frappaccino with vanilla and hazelnut syrups, whipped cream, and banana.
Apple Juice Orange Banana: Prefer tea over sweats? Try this combination of Tazo Orange Blossom Tea steeped in steamed apple juice.
The Grasshopper Frappaccino: Similar to the Thin Mint Frappaccino, the Grasshopper consists of Mocha Frappuccino blended with java chips and peppermint syrup and is said to taste like mint chocolate chip ice cream.
Dirty, Double Dirty or Extra Dirty Chai latte: Love chai, but hate that it doesn't keep you awake? Try the Dirty for one shot of espresso, Double Dirty for two shots of espresso, or the Extra Dirty for three.
The Dirty Hippy: The same drink as above, except with soy milk instead of regular.
Marble Mocha Machiatto: Pulling an all-nighter? Try this with white mocha on the bottom with no whip, shot on the top and mocha drizzle.
Zebra Mocha or Penguin Mocha: Combines white chocolate mocha with regular mocha. Looking to get really fancy? Ask for the Red Tux Mocha to get raspberry flavoring added.
Short Drink: On a budget? Try one size down from a tall, a short.
These are just a few of the items on Starbucks secret menu, but there are many more delicious drinks waiting to be discovered. Just as a disclaimer, you may have to be prepared to tell the barista what's in these drinks if they aren't in on the secret yet.
Lastly, make sure to bring a few extra bucks, as not all these drinks have set prices. So, next time you hit up Starbucks, take a risk and try one of these fun drinks.
Leave a Comment