Crew Life
During the fall of her freshman year, Chandler Kropp remembers a presentation by the St. Louis Rowing Club (SLRC) in her P.E. class. She thought rowing looked like a cool sport, so she searched it online when she got home.
"All of the rowers I saw online were really tall, like me," Kropp said. "I thought that I should try it, because I'm really tall. I tried basketball and other sports for tall people, and they didn't really work out."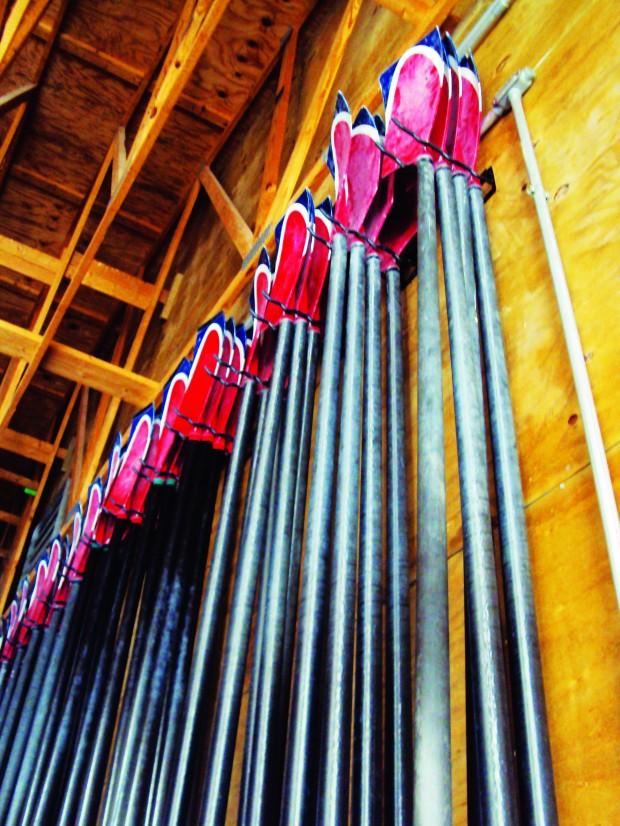 A year and a half later, Kropp is now on the girls' varsity crew team at SLRC. She has been rowing since freshman year and doesn't plan to stop.
"I've stayed because I'm really comfortable here," Kropp said. "I feel like I was meant to do this. I'm not the best on the team, but I'm one of the youngest on the team, and I still have a lot to learn. I'm really looking forward to learning all of the things you need to learn. Honestly, it's just fun for me, so that's why I'm here."
A number of other CHS students have similar stories. Senior Laura Bleeke first learned about SLRC when a coach visited her P.E. class at the start of her sophomore year. She joined the team and has rowed year-round since.
She said that the aspect she enjoys most is being outdoors when the weather allows for it.
"I really love being outside on the water," Bleeke said. "It's so pretty and there usually aren't a lot of other people out there. So unlike basketball or volleyball or other indoor sports, you're outside in nature. It's really, really nice."
Junior Aidan Hayward joined SLRC this past fall because a friend of his had started rowing. He plans to continue doing the sport next school year.
"I continue to do crew because I've developed a passion for it," Hayward said. "I have a lot of fun when I come out here, I have a lot of friends here, and it's a really good workout."
He added that rowing brings a greater level of physical challenge compared to some other sports he's tried.
"I've done soccer and track, and I'd say rowing is a lot more physically demanding," Hayward said. "At the end of every practice, or at a given point at any practice, you kind of feel like throwing up. You feel sick because it's so hard. It's really like pushing everything to the limit."
Senior Michael Noble, who started rowing in January of this year, agreed that it is very demanding.
"You have to be in shape mentally and physically, because you have to keep your technique the whole time," Noble said. "You have to be pretty strong to do it. I think it's harder than running, because you combine so many different things. It's a full body workout."
Besides the physical aspect of crew, nearly all rowers talk of the mental challenge of the sport.
Bleeke said that this aspect is what drew her to rowing over other sports.
"The thing with rowing is it's almost as mental as it is physical at some points, and I just really liked that," Bleeke said.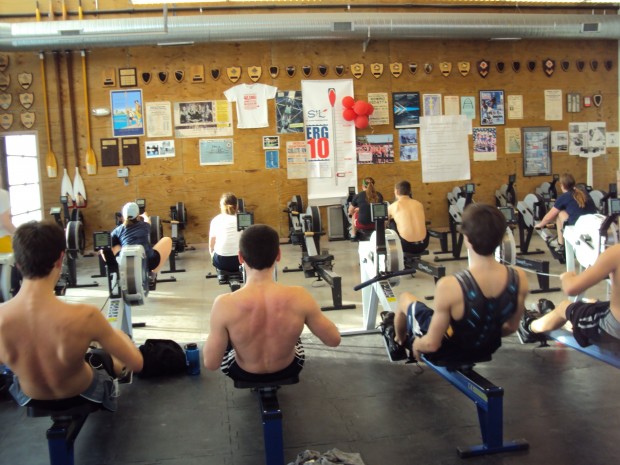 The most challenging part of rowing, she said, is having the courage to push yourself beyond your own expectations for yourself, both mentally and physically.
"That's always been kind of scary for me," Bleeke said. "Whenever I have to do hard pieces on the water or on the erg, I always have that fear. It's really hard to push that aside and just go for it. But, at the same time, that's why I love rowing – that you can prove yourself wrong, and you can do things that you never thought you could do."
Junior Reed Rosenblum said rowing is highly demanding. As a result, he said he often wants to quit on a daily basis. However, he said that maintaining one's mindset is important.
"If you don't mentally think you can do it, you probably can't," Rosenblum said. "You have to get into that mindset to really do well."
Kropp agreed that perseverance is the key to success when rowing.
"What I really like about rowing is how natural talent can get you somewhere, but you can't rely on your talent forever," Kropp said. "At some point you're going to have to start working hard. It's really a sport where your success is measured by how hard you work, instead of just how naturally good you are."
One element of crew that sets it apart from many popular other team sports is the racing.
Although she rowed a little bit when she was younger, junior Alex Watkins waited to join SLRC until her freshman year – the year that most start rowing at SLRC.
"It's very unique because you're quite literally in a boat with other people," Watkins said. "I think everyone is just as important as anyone else in the boat. If one person isn't giving it their all, it's impossible to still win."
Watkins said that her favorite part about participating in the sport is winning medals.
"To win, you have to go through a lot of long endurance and hard pieces, and that's not so much fun," Watkins said. "But it definitely pays off when you get medals."
Similarly, Kropp said that a desire to win races helps to keep her motivated during tough practices. She also said that there are usually good practices to balance out more difficult ones.
The SLRC crew team participates in several regattas, or racing events, throughout the year, with most of them taking place in the fall and spring. Nearly all regattas take place away from the "home" of SLRC, Creve Coeur Lake, and involve traveling to different regions of the Midwest.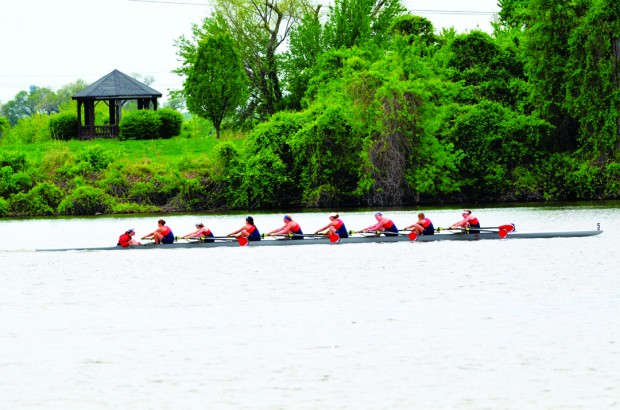 For Bleeke, regattas are enjoyable not just for the races, but also for the social aspect. She said she enjoys traveling and spending time with high school students from all over the St. Louis area.
"[SLRC] is really like a big family," Bleeke said. "I love it. We have a really big team, and it's people of all different ages, from all different schools – public, private, all girls, all boys – from all over St. Louis, which is really cool. So, it's really diverse in that way."
Junior Will Brown recently joined the team, and he said that the SLRC community is very supportive.
"If someone's doing a really long race or something really hard, they come over and support you and tell you to keep going and how much you have left and that kind of stuff to encourage you to do better," Brown said.
Another plus that can come with rowing is the appeal to colleges.
Bleeke currently has the fastest time on her team, and, as a result, was recruited by a number of colleges this past school year. However, getting to this point required a significant amount of time and effort.
Bleeke's coach, Tim Franck, said that it is a long process to become "recruitable" by the highest ranked collegiate programs in the country.
"[Laura] is a top Division One recruit, because she's really put in a lot of hard work in the last few years and really worked to improve herself, not only physically, but also in terms of being able to focus and making a commitment and being here every single day," Franck said. "She's a completely different athlete than she was two years ago. It was fun to watch."
Bleeke said that for female rowers especially, there are many recruiting and scholarship opportunities. She said her rowing was a nice leg up in admissions.
College admissions aside, Bleeke encourages other high school students to try rowing.
"The thing with rowing is that you can go for just the first two weeks, and you don't have any real, further commitment to the team," Bleeke said. "So you can just try it out and see if it's right for you."
In addition, she said that crew is a sport for every type of athlete and individual.
"Even if you're not six foot three and insanely muscular, you can still be successful as a rower – even if it's just being a coxswain," Bleeke said. "No one ever sits on the bench – everyone is always in a boat, rowing, and you can always be competitive in that boat, because there are so many different levels of intensity."
View Comments (1)