'Amelia' resurrects forgotten heroine, entices audiences
Amelia Earhart defined feminism. She was a heroine of the 1930s. She inspired women to be bold.
The film, "Amelia," certainly captures this – Amelia Earhart's tremendous impact on the public, her contributions to aviation, and most importantly, her role as an inspiration for other women during the time period. She was a star and was adored by many.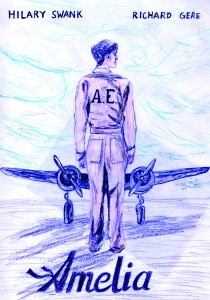 However, the movie is, for the most part, only about this. The focus on her heroism isn't necessarily a bad thing, but the movie could have the potential to go much further and deeper than simply celebrating Earhart, played by Hilary Swank, as an individual and a pilot.
It opens with the end of Earhart's career and very near to the end of her life. She is embarking on a trip to fly around the globe, something that has never before been done, especially by a woman. As she begins her flight, there is a flashback to her as a young girl growing up in Kansas, where she first grew to love the idea of the freedom of flying.
The movie then follows her career, from the first time she meets her future manager and husband, George Putnam, played by Richard Gere, to the last moment on her failed flight when she was in contact with the world. Along the way, the movie flashes forward to brief scenes on her last flight. The idea is that Earhart is reflecting on her life, particularly her love life, as she does what she loves most for the last time. Even though she does not know if she will survive the trip, she does know that she will most likely never fly again because it's time for her career to come to a close.
In the end of the film, just as the world witnessed in 1937, Earhart's plane disappeared somewhere in the Pacific Ocean after nearly two-thirds of her flight was completed. As the movie depicts, it was a tragic loss for many around the world, but in particular her husband.
Much of the scenery throughout the film was beautiful, and the actors were well cast, especially in terms of appearance. Hilary Swank definitely pulled off the wide, toothy grin and determined spirit of her character. The movie did a good job of incorporating the private aspects of her life such as her affair and imperfect marriage, as well as the struggle she had with the alcoholic who was the navigator on her attempted flight around the world.
Director Mira Nair also included photographs and short clips of black and white footage from Amelia Earhart's life. They were woven into the movie nicely so that the story seemed more real. Being able to see how big of an impression she made on American society in actual footage stressed the historical significance, and it was one of the film's most interesting traits.
Out of five stars, "Amelia" deserves three. Although it didn't impress with its originality or acting, it entertained. It paid tribute to a remarkable feminist and pilot in American history, and it did so gracefully and in a Hollywood kind of manner. 
Leave a Comment