Chinese Opera at Webster provides culture and entertainment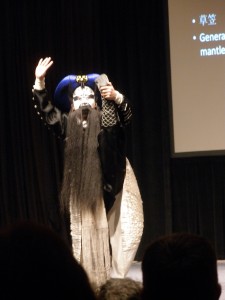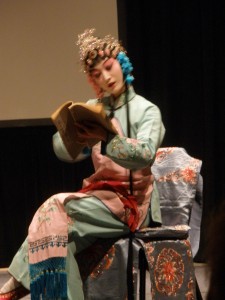 On Friday, October 30, Beijing Opera students from the National Academy of Chinese Theatre Arts took the stage at the Community Music School's auditorium at Webster University.
Invited to perform by the Confucius Institute at Webster, these actors and actresses performed "Highlights of the Classical Chinese Theatre." The show consisted of six short Beijing Opera plays with English subtitles. Each one was an excerpt from a full-length opera, so the audience was able to see different types in a shorter period of time.
Before the operas began, Vice President of the Academy of Chinese Theatre Arts, Ba Tu, along with a translator, spoke about various artistic elements important to understanding the operas. Some of the topics he covered were the types of musical instruments used in traditional Chinese opera; costumes and how they represented different types of characters; and visualization. The significance of visualization was a point he brought up repeatedly. Because so few props are used in the performance, performers must use exaggerated movements to help the audience visualize the action onstage.
During Tu's explanations, a musician demonstrated the use of various instruments used in the operas and played short pieces for the audience.
The operas contained song, dance, acrobatics, and martial arts-based movement. The costumes were colorful and often intricately decorated, and the exaggerated stage makeup worn by the performers added another aspect of performance unique to Chinese theater.
There were plenty of opportunities for audience participation during the show, which the audience seemed to respond to well. The performance attracted a diverse audience, and a fairly large one, too.
The Confucius Institute, which made the performance possible, was recently founded in 2008 and provides Chinese language and cultural instruction, as well as educational opportunities for the community.
The event was free, and CHS Chinese teacher Pinpin Yu reserved a number of seats for interested members of Clayton.
Leave a Comment