A Brand New Plaza – Empty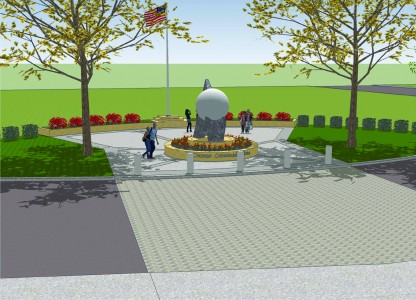 Centene Centennial Plaza, across Mark Twain Circle from CHS's main entrance, was built to commemorate the school's 100th birthday at the cost of $115,000. It was supposed to be funded by the Clayton PTO; however, when the PTO could not come up with enough funding, it turned to a Clayton company that has lent its name to another CHS icon – Gay Field. Centene quickly filled the gap, donating $63,000 in order to sponsor the new plaza built around the statue.
Surrounding the iconic statue are benches to comfortably seat over a dozen students, certainly enough to relieve the traffic jam that appears daily just 20 feet across the street.
However, the new plaza largely sits unused.
According to junior Graham Nickleson, "I personally have not used the plaza, nor have I seen anyone use it." Junior Adam Rangwala concurred, adding that he has "never used the plaza."
Principal Dan Gutchewsky disagreed. "[I have] observed students sitting in the plaza at various times of the day," he said.  " [I have also] observed teachers using the area … with their classes during the school day."
Nickleson said that the plaza is rarely used by teachers. "I believe the only time we actually used it was last year," he said. "[When] we blew up a watermelon in chemistry."
In addition to concerns about how much the plaza is used, some take issue with the statue's large CENTENE logo, which appears on its base.
"We need to be careful anytime we enter into naming rights agreements with corporations," Gutchewsky said. "Due to the fact that we have a 'captive audience' in our student body."
Rangwala and Nickleson, however, take little issue with the logo. "I honestly hadn't really noticed" said Rangwala and Nickleson echoed this statement, saying that to him it's not an important issue.
Despite the possible lack of use by students, aesthetically the new plaza has been an improvement to the school building.
"[It] has dramatically improved the aesthetics of the front entrance and it prominently displays the Globe," Gutchewsky said. Nickelson somewhat agreed. "Aesthetics are an important part of our school," he said.
However, Nickelson's major qualm was that the new plaza and related aesthetic improvements were not the best use of money.
Gutchewsky left that to the Board of Education. "It is important for the Board of Education to carefully consider these [sponsorship] opportunities (and the potential messages that we would be sending) on a case by case basis," he said.
Whatever the views on the plaza, its cost, and its sponsorship, it is a reality. It is set in concrete – quite literally, and nothing save a backhoe can change that.
On a recent afternoon about ten minutes after the end of the school day, there were several dozen students in front of the building. The plaza however, barely 20 feet away, sat completely empty.
Leave a Comment