The sound of chickens clucking may not be one normally associated with a suburb like Clayton. Some Clayton residents have transformed their backyards into a home for chickens akin to what might be expected of a yard hours outside of St. Louis.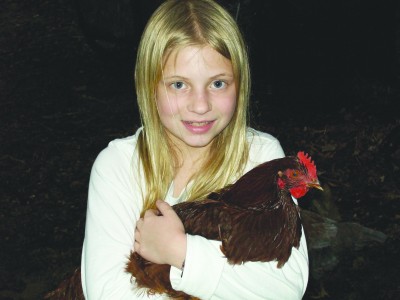 Sophomore Daniel Peipert and his family have been raising chickens in their yard for about a year. Leah Peipert, age 11, said the family was interested in getting chickens because traditional indoor pets weren't an option.
"The reason we got chickens is because we couldn't get a dog or a cat because of our mom," Peipert said. "She would not let us get one and because chickens live outside, and my dad didn't really ask her, we got chickens."
And, just like more conventional pets, the five chickens the Peipert family currently owns have been given the unique names of Rhody, Buff, Heather, Tiger and Rex. Rhody is the mother of all of the other hens, whom the Peiperts have raised since they were eggs. In fact, the Peiperts required the use of an incubator to keep the chicks alive because the hen didn't register that they were her chicks.
Although the prospect of raising chickens might seem daunting, the Peiperts estimate that only five to 10 minutes of work in a day is necessary to tend to the chickens.  They often just take care of themselves.
"Usually, for a minimum, we have to check on them in the morning and in the afternoon," Peipert said. "But, I mean, we let them out on weekends when we're at home here. We even sometimes let them out the whole day, as long as they don't go to neighbors' houses. We have to put them away at night, which doesn't usually take very long. Usually, they'll put themselves away."
David Bentzinger and Michelle Donnelly decided to raise chickens for their own family after briefly watching over the Peipert's chickens. After having their own chickens since late this past April, Donnelly has decided that the chickens are even lower maintenance than their dog.
"They're so much lower maintenance and better neighbors than dogs," Donnelly said. "I mean, we have a dog that we love, but they're just so quiet."
The chickens are also pretty low maintenance when it comes to food. Although the Peiperts supply the chickens with a steady supply of chicken feed, they admit that the chickens have been known to eat sandwich crusts and moldy lettuce.
In fact, much of the time spent with the chickens is for pure enjoyment.
"You can choose to spend more time with them if you want to stay around them," Leah Peipert said.
Barrett Bentzinger, 10, also loves spending time with the chickens raised in her yard and enjoys her chore of feeding them.
"They're kind of funny," Bentzinger said. "They don't know what you're doing so you can, like, chase them but they don't bite you for anything."
Despite the fun of playing with the chickens, there are some parts of raising the chickens that aren't exactly appealing. Namely, cleaning up excrements.
"We have to clean one of their coops when they get dirty," Dan Peipert said. "I mean, they poop all over it. It gets rather disgusting."
There's also the benefit of the eggs that some of their older hens lay periodically. Although they're clear that eggs were not the family's main motivation for raising chickens, Leah Peipert does admit that the eggs from their home-raised chickens taste better than store-bought eggs.
The number of eggs the chickens lay does, however, vary. Sometimes, in fact, the hens won't lay any eggs at all.
"It depends on the season," Leah Peipert said. "If it's cold, we get with our three egg-laying hens, maybe one or two a day.  But then, in the summer, we usually get two to three eggs a day."
While the Peiperts have enjoyed raising their chickens, there have been publicized objections to Clayton residents owning chickens. In spite of this, Daniel Peipert isn't very worried about chicken-raising becoming illegal in Clayton.
"We are kind of worried," Peipert said. "I mean, I don't find it to be much of a problem. When we already have chickens, they can't take them away. Well, I guess they could."
Donnelly is more worried about the situation, but is in favor of a limit being placed on the number of chickens that one could raise.
"That [a limit] would be terrible," Donnelly said. "But I'm not against them putting a limit on it either."
Dan Peipert is also supportive of a limit on chicken ownership.  Currently, Clayton residents are prohibited from raising chickens for commercial purposes.
"I'd certainly be for a limit, but I don't think they're going to go as far as not having chickens in Clayton."
For the meantime, however, the Peiperts and the Bentzinger-Donnellys plan to continue raising their chickens.
Although he admits that chickens aren't for everyone, Daniel Peipert maintains that it's a fun activity and much easier than caring for a dog.
"If other people like the idea, it's definitely a good idea," Peipert said.
Three Tips for Raising Chickens:
1.) "You definitely need a coop or shelter where they can stay," Daniel Peipert said. "Otherwise, they're more likely to be killed."
2.) "If you're raising them from babies, make sure you're feeding them the right thing in the beginning," Leah Peipert said. "For the first two weeks, you have to feed them certain stuff that's actually hard-boiled chicken egg yolks, which is kind of odd. If this seems too daunting, it might be better to adopt the chicks when they are more mature and less fragile. The main benefit of raising them from such a young age, however, is that they won't be afraid of you."
3.) "You don't necessarily need a fence," Daniel Peipert said. "If you have a contained area, you don't have to worry about them traveling somewhere else, pooping somewhere else where they're not supposed to poop, or eating anything else that they shouldn't be eating."