Let's go hounds! A look into post-war CHS
It's easy to ignore the past, especially when interesting revelations are easily obscured in a barrage of uninteresting facts.
CHS has changed a great deal in the last 50 years, and alumnae Harriet Spilker ('54), Barbara Kohm ('56), and Robert Diamond ('47) witnessed many of these changes firsthand as they attended Clayton High School and sent their own children through the district. In fact, Spilker works in the district as the OASIS Program Coordinator after teaching for many years and Kohm worked in the district as the principal of Captain Elementary.
The 1956 cheerleaders celebrate during a football game. At the time, becoming a cheerleader was an involved, three-step audition process.



Social Life
Finding ways to spend free time was a very different experience for CHS students. In fact, the demand for a place for students to socialize was so strong that a building called the Depo was instituted.
"There was a big issue because kids had no place to hang out," Kohm said. "There was a big social movement and we appealed to the city and they opened what we called Depo."
On Friday nights, Spilker and her friends also enjoyed the benefits of this movement by gathering at the building that is now the Clayton School District Administration building.  Then, it was a community center that frequently hosted parties for CHS students.
"We could go there and they would have parties on Friday nights," Spilker said. "We had the Peppers Prom, football season, there was a lot going on on the Saturdays."
Events for students were always supervised and, although events like these were occasionally available to students, Spilker noted that CHS students didn't have social events as regularly as they do today.
"There were small house parties… you know for somebody's birthday, or Halloween, or a special occasion," Spilker said. "But they weren't every weekend."
Kohm also identifies dating as being an activity that students spent a lot of time partaking in. Because there wasn't much else to do in the evenings, she identifies it as the primary way of knowing people.
"My kids used to say, 'Oh my God, you dated all the time,'" Kohm said. "Well, you know, it was just what people did all the time. It wasn't such a big deal."
Spilker also identified the Esquire, Shaw Park's ice skating rink, and the now-defunct Shady Oak Theatre as popular locations for students to socialize in their free time.
Although many CHS students shared these common hangouts, there was a clear divide among students regarding where they socialized during their lunch hour at school. A place called the Dump that was quite unanimously described by the alumnae as a dump was a known hangout spot for students to occasionally buy food, but mostly just smoke.
"We could go out… during lunch hour to the Dump, if you wanted to," Diamond said. "And usually, most kids didn't go there because they [the students who went there] smoked and it was terrible. The most daring thing you'd do at that time was smoke cigarettes. You'd go there and smoke and play cards. You were in a really fast crowd if you went to the Dump."
Although Kohm didn't frequent the Dump, she did observe the common perception of those who visited the Dump during lunch.
"It was cool to smoke, that wasn't considered something bad to do," Kohm said. "If you were cool at all you smoked."
Not only have the hangouts changed between then and now, but all of the alumnae noted that students generally spend less time with families now than was customary while they were at CHS.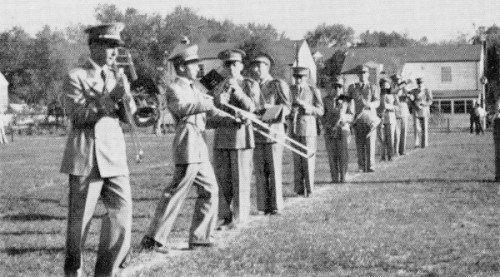 Diamond recalls very structured weekly times where everyone in his family would spend time together.
"With us, it was Friday night, the family would get together," Diamond said. "Aunts, uncles, cousins… you had to have a written excuse not to attend."
Kohm also recalls a strong emphasis on spending time with family and describes the very strict rules surrounding the evening ritual of the family dinner.
"My whole family sat down to dinner at our dinner table every night," Kohm said. "And my dad would not start. If we were late, he made the whole family wait for us, and that was bad."
More importantly, social conformity was rampant and guided the everyday behaviors of CHS students. After flipping through her yearbook, Kohm made the observation that everyone essentially looked the same in their yearbook pictures.
"What was cool when I was in high school was to look kind of Ivy League," Kohm said. "It was to be very tidy. Sweaters with the little collar sticking out. Guys wore pants with belts on them and tucked in their shirts. That was how the cool guys would dress."
Kohm believes that these constraining style trends were a very visible aspect of the overall cultural conformity of the time.
"I think there was very strong culture to conform and I'm not sure how that happened," Kohm said.
Gender
Gender roles were an especially dominant force worldwide at this time in history, and this societal structure was evident in everyday life for CHS students. This rigidness manifested itself in the most basic of ways, such as dress.
"There wasn't an official dress code, but there was a very strong unofficial dress code," Kohm said. "I never wore pants to high school."
This was such an accepted aspect of the culture of CHS that Kohm wasn't even sure if it was against the rule for a woman to wear pants to school because no woman ever even attempted to.
Additionally, female students were much more restricted in the activities. In particular, their options for their social lives just weren't the same.
"Girls didn't really go out, unless you had a date," Kohm said. "You didn't go out with groups of girls."
And, even if a female student was to go on a date, the strict rules didn't end there.
"By date, I mean a guy would come up and talk to your father and pick you up, bring you out to the car," Kohm said. "I couldn't just go out with a guy who was going to honk and go out front."
It was also expected that the male student on the date pay at each step of the way during the date. Kohm also recalls that it was very taboo for a woman to ever call a man.
"My mother always used to say, 'You don't call a guy,'" Kohm said. "That was a rule. She said that'd be a big mistake. The guys did all the asking and all the paying. They had all the power."
The clear gender rules also extended to academics and greatly affected the life choices made by female students of that time. Although Spilker and Kohm were certainly inspired to pursue a career by their teachers, other female students pursued a very different path.
"My female peers… are all quite accomplished students," Spilker said. "They attended the finest universities, they were very bright, it was a very bright class. All of them graduated from Harvard, from Michigan, from Northwestern, and I'm the only one in the group who's ever pursued a career. Not any of the rest of them has ever done anything professionally, which I think is interesting, saying something about the era in which I graduated."
Kohm also recalls the limited opportunities that women had upon graduation from CHS. The ultimate goal was to marry and have children, but the intermediary steps were also very set in stone.
"There were girls that went to college, many of us went to college, but basically there were three things that girls became in class," Kohm said. "One is, if you were smart in school, you became a teacher. Two, was if you were kind of a compassionate person you could become a nurse. Three, if you were smart but your family didn't send you to college then you became a secretary. And that was pretty much it."
Demographics
What was quite possibly the greatest flaw in the way students at CHS were taught at this time was dire lack of diversity in both the academic and social sense.
"Diversity was not the key word then and we didn't read many, if any [racially diverse] authors," Spilker said.
Spilker notes that while there was some integration in her Clayton elementary school, it had completely disappeared by her time at CHS.
"So we had some African-American students in our classroom," Spilker said. "But then, when we got through eighth grade, then they went to a school that I think was in Webster."
The situation was at its worst when Diamond attended CHS.
"When I was going to school, high school, here, there were no black children allowed," Diamond said. "So there was no diversification of people… There was a small black population that lived right on that street Shaw Park drive. They were bused to the city schools. It was just a different era. Sometimes I feel like I'm in another planet from when I was growing up."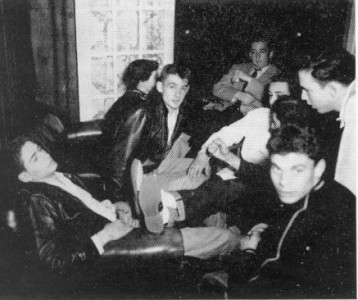 Very little initial action was taken after the passage of the Supreme Court case Brown v. Board of Education in 1954. As a result of this passage, exactly one African-American student joined Kohm's CHS class.
Although CHS didn't enroll a racially diverse class at the time, CHS still had a notably large Jewish population.
"It [the student population] was also probably almost 50 percent Jewish at that time," Kohm said. "Jews, at that point in time, weren't allowed to live, you know there were covenants, in different neighborhoods. You couldn't live anywhere in the city. This was a place you could live and there were good schools."
Despite the prominent lack of diversity in CHS at the time as reflected by its segregated status, CHS was still exposed to the currents of change forming at the time. This change was notable sparked by the efforts of Social Studies teacher Margaret Dagen in creating a Human Relations club to spark discussion among CHS students about race.
"We were just naïve; I don't think we thought about it," Kohm said. "Mrs. Dagen made us think about it… When Brown v. Board of education happened, we were very pleased. We thought it was a good thing."
One of Spilker's fondest memories from her time at CHS was an opportunity she was given in her senior year to interview Jackie Robinson, the first African-American MLB player.
"One day, Margaret Dagen asked if there were any volunteers to work on a special project and I was always good for something like that and so there were three of us that she selected," Spilker said. "We didn't know what this was for and she didn't tell us everything until we left for the field trip and she did not tell the class. We were going to interview Jackie Robinson."
Spilker was impressed by Robinson's poise during the interview and admired his answer to her allotted question.
"It was fascinating," Spilker said. "He was a wonderful man, very good-looking, very at ease. My question for him was, 'Why do you want to come to Clayton High?'"
His answer?
"Because I want to make a difference in the future."
Academics
In addition to their unique social experiences, the alumnae also took a love of learning from their time at CHS and were inspired by their teachers to pursue their respective fields. The alumnae all noted Dagen, in particular, as being a particularly inspiring and influential teacher.
"[Dagen] got me very interested in that subject, in politics, in being active in politics," Spilker said. "My daughter has followed in that suit and I still am very involved and keep up on what's going on in the world."
Spilker, Diamond, and Kohm also recall the impressive English classes that helped them grow as a writer.
"Blandford Jennings, is another one, in the English department," Spilker said. "He certainly was proficient in teaching us how to read quality literature and to write, which is so important. I'm a big advocate of your conferenced English program. We did not do that when I was enrolled in the English program, but there still was a large amount of writing."
Spilker recalls reading books by John Steinbeck in the curriculum and many other classics that are still a part of the literary canon today.
"I remember Shakespeare was one we struggled through," Spilker said.
Despite learning a lot in CHS classes, the alumnae all noted that the structure of the courses was very traditional and the teaching styles were essentially uniform. It was this uniformity that made being chosen into Jennings' more exclusive English class so appealing.
"Everything was conventional then," Kohm said. "I guess it was conventional teaching, but part of it was that you had to be selected into this class, so that was a big deal because there wasn't anything else that you did [as a special course]"
In fact, with no actual honors or AP courses at CHS and only about an hour of homework each night, the experience was far less stressful than the typical experience of CHS students today.
"I think we were under a lots less pressure than you all are to achieve anything and do things well," Kohm said.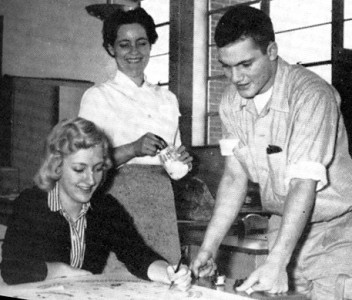 CHS was also much more cluttered and rudimentary during this time, especially in the old building before the current CHS building was opened in 1954. Diamond especially noticed this due to the lack of gym facilities.
"The auditorium was the gym," Diamond said. The place where you played basketball… that's the stage of the auditorium."
Kohm and her classmates also observed the somewhat comical symptoms of the original building's crumbling state at the time.
"When I was in Maggie Dagen's class, the ceiling was falling in," Kohm said. "I remember during her class, which we thought was very funny, chunks [of ceiling] would fall down."
Despite these setbacks, the overall experience at CHS has been positive for these students and inspired them to pursue education and success in their lives.
"I think what I got was a real love of learning," Kohm said. "Although I think the teaching wasn't nearly as good as it is now, I think people here got a kick out of learning."
Your donation will support the student journalists of Clayton High School. Your contribution will allow us to purchase equipment and cover our annual website hosting costs.