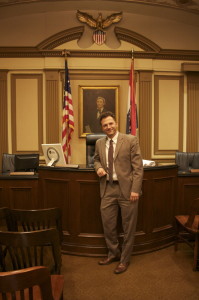 City Manager Craig Owens often works behind the scenes of Clayton City government.
"I have responsibility for day to day operations in the city: police, fire, public works, parks and recreation, planning and administrative servic- es," Owens said. "All departments report to me and I report to the seven elected officials, or the mayor and Board of Alderman."
Growing up, Owens' father served as a member of the City Council in his hometown. "My father was on the City Council from the time I was in the fourth grade in Overland Park, Kansas and maintained that posi- tion for 24 years," Owens said. "As I was growing up, I was influenced by municipal issues."
In college, Owens was on the path to become a lawyer, but as he pro- gressed, the idea of city management became more appealing.
"Really when it came down to the fork in the road, I said, 'I like that it's unique, it's interesting and I'm passionate about it.' It's been a great fit ever since," Owens said.
After stints in Hazelwood, O'Fallon, Illinois and Rowlett, Texas, Ow- ens accepted the city manager position in Clayton. After his first few months at Clayton, the stock market crashed, and ever since he has been working to recover from those events.
In fact, Owens says the most important project he completed since he has been in office was addressing the budget deficit. "We had to make some very strategic reductions in our expenditures," Owens said. "If we didn't do that right we ran the risk of jeopardizing the quality of service that our residents and businesses expect and rely on."
When not managing the Clayton community, Owens volunteers his time to develop other communities through Beyond Housing.
"I don't have a gun, and I don't go running into burning buildings … but I like that the role I play is making sure that those [organizations] all work well and making sure that they work together."