Diane Monahan: One of the 10 Most Influential People in Clayton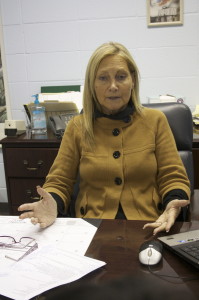 Diane Monahan defends the children of the St. Louis area. She is the family court commissioner for St. Louis County and deals with cases ranging from juvenile delinquency to abuse and neglect.
After attending St. Louis University, Monahan started practicing law as a criminal defense attorney.
"The firm that I worked with started doing some domestic cases," Monahan said. "What I found in the domestic work as time went on, is that I really liked doing guardian ad litem work where I actually repre- sented the kids instead of the parents."
For the cases involving juvenile delinquency, Monahan's main goal is to establish a suitable path to rehabilitation, rather than punishment.
"What we do here is until you're 17 you're considered a juvenile for criminal purposes," Monahan said. "Instead of punishing you by sending you off to prison and then letting you out when you're finished with your term, we do try to rehabilitate and provide resources so we don't have kids reoffending."
She splits her time between cases involving children that have been mistreated and children that have misbehaved, but many times her cases also involve mental health and drug problems.
"We provide as much assistance as we can. We get mental health care- takers for these people and get them on a mental health regimen. We help them in drug treatment. We help them by providing educational opportunities and mentorships. We try to provide safety for those kids that are abused and neglected, provide a good home for them. The ul- timate goal is to assist people in becoming the best that they can be," Monahan said.
While she deals with some of the most heart wrenching cases that go to court, Monahan stays grateful for her position. "I like the fact that I can just focus on the kids and not so much on everybody else," Monahan said. "I come away from my job appreciating how much I have and how much I've been able to do with my life."
Your donation will support the student journalists of Clayton High School. Your contribution will allow us to purchase equipment and cover our annual website hosting costs.