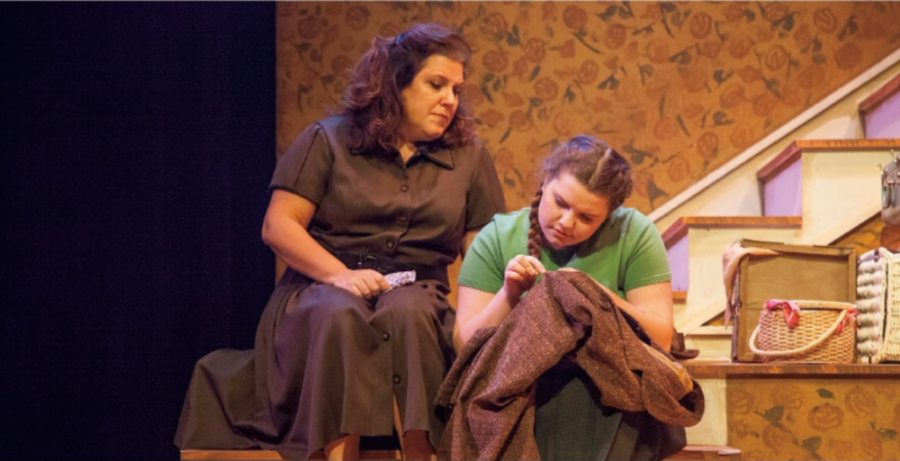 As a torn child wrenched herself away from a distraught mother on stage, it seemed hard to believe that the pair was actually mother and daughter in real life.
The Mustard Seed Theatre's production "Kindertransport" features mother and Clayton theater teacher Kelley Weber with her daughter, CHS senior Hannah Ryan.
In Kindertransport, Ryan portrays a character named Eva, the Jewish daughter of Weber's character Helga. The play follows Eva's life as she is sent by her mother to England to escape the anti-Semitism in Nazi Germany. After years of not seeing each other, Helga finally returns to meet her daughter again, only to be pushed away in an emotionally heart-wrenching performance.
Although performing with her mother could be difficult, Ryan believes that it was positive in many ways.
"Sometimes on the way to rehearsal we would run lines, and we had an emotional connection as mother and daughter," Ryan said. "It was easy to access certain emotions during the show. It was challenging that sometimes we had to say a lot of hard things to each other, so it was hard to look my real mother in the eyes and say something that another daughter has had to say to her mother."
For Weber, playing Ryan's onstage mother in this emotional play while also being her mother in real life was a difficult transition.
"Usually as an actor, you have to create the reality, and so because the reality is already there, adding these circumstances onto our relationship, at first, was really hard for me. I would lose it during rehearsal, all the time," Weber said. "You have to figure out a way to make those moments alive and real so that you are not an emotional wreck."
Due to the intensity of Kindertransport, Ryan and Weber made a point to leave the emotion of their roles for the stage.
"We have had to realign each other at the end of a rehearsal. I had to go to Hannah, and hug her and connect with her," Weber said.
Director of Kindertransport Deanna Jent finds that Ryan and Weber's real life connection helped the actresses in their portrayal of mother and daughter onstage.
"It was a delight to work with a real-life mother and daughter team to play the characters of Helga and Eva in Kindertransport," Jent said. "Their life experience fed into the realism of these two people and perhaps gave them a kind of "shorthand" in rehearsal. They were able to tune into the nuances of mother and daughter quite honestly from the very beginning of rehearsals."
During rehearsals, Jent often witnessed Weber showing pride in her daughter's acting.
"There were a few moments during rehearsal when Ms. Weber was offstage watching Hannah rehearsing other scenes, where I saw the 'proud mom' smiling," Jent said
Despite the connection of Weber and Ryan, Jent describes their performance together as professional and not influenced by their relationship.
The two had previously been in two productions together prior to Kindertransport, but none as difficult as this one to perform. However, both described this performance as the most memorable.
Weber believes that working in theatre with Ryan has been beneficial to both of their acting careers.
"I think we bring out the best in each other," Weber said. "We've learned a lot from each other onstage."