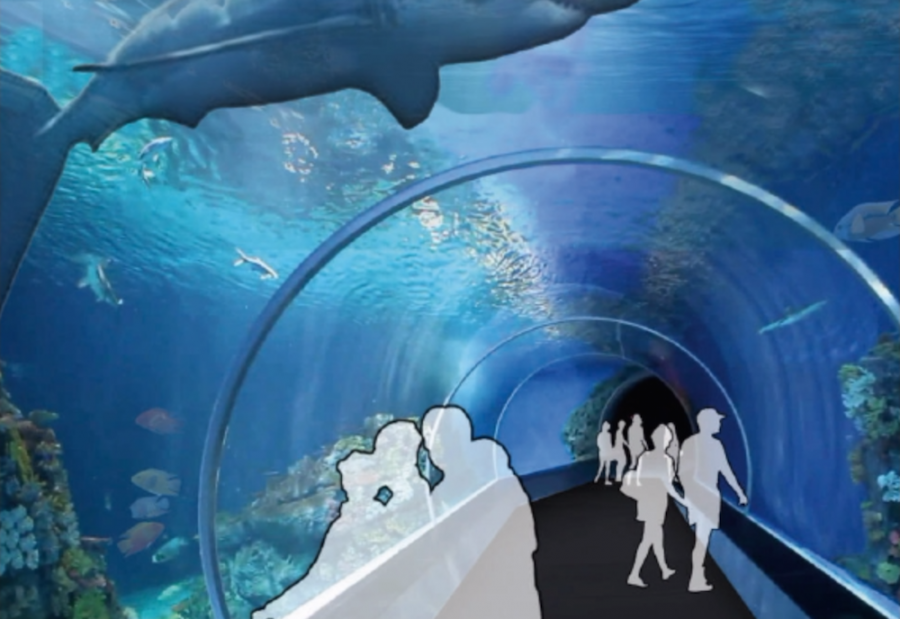 Visitors to St. Louis's first aquarium will be able to walk inches above the largest shark tank in the Midwest.
In a multimillion dollar renovation program, Lodging Hospitality Management (LHM) plans to replace the mall in Union Station with a million gallons of fish tanks.
After purchasing Union Station, LHM began plans for a total redesign of the old station, including light shows, train excursions, a total renovation of the 571 room hotel, a 200-foot ferris wheel called STL Wheel, and, of course, the aquarium.
The attraction, set to open in fall of 2018, will have a main feature of a nearly half-million gallon shark tank with a rope bridge across, LHM revealed in an August press conference.
Visitors can walk just above surface of the water, but v-shaped netting will prevent anyone from falling into the Midwest's largest collection of sharks.
Bordering the hotel, the tank will also function as the backdrop for a unique 8,500 square foot event space for weddings, corporate dinners and other parties. Other exhibits will contain thousands of types of fish, stingrays and other aquatic species.
"We saw a big opportunity to fill the gap in the list of attractions that St. Louis has," Todd Hotaling, LHM Vice President of Revenue and Marketing, said.
The goal of the aquarium was to help revive Union Station, as well as bring St. Louis an aquarium to compete with other cities. Its current plans exceed the size of its counterparts in Kansas City and other locations.
According to Hotaling, the aquarium will support the St. Louis tourism economy and complement the St. Louis Zoo.
"A family coming in from Chicago that might just stay one night might now extend that to two nights or even three nights," Hotaling said. "If it's the holidays, that's what we're excited about.
"Not only will it bring in new people to the city, but it will support the locals that are going downtown to see the attraction and it will give them something new that we haven't really had ever and put us up against other cities that have those types of attractions."
Conservation is another reason behind the aquarium. One of the core questions for LHM when preparing to build the aquarium was how they aid sea life.
"What kind of impact can we, a hotel company have, in the conservation of sea life? It is really an interest for us," Hotaling said.
The collection of such marine animals will soon start a process that, according to Hotaling, must begin up to a year before the aquarium will open.
"Before the tanks are even put in, they have to find a warehouse to house all the organisms and animals for about a year so that they can develop and grow," Hotaling said.
However, unlike the signature feature of many St. Louis's attractions, the aquarium will not be free.
Customers can expect a 20-30 dollar admission fee, according to Hotaling.
Despite this, he suggested that there will likely be educational days, where the admission is discounted or waived for students.
Although the Saint Louis Zoo, Art Museum, History Museum and Science Center are funded by tax dollars, the St. Louis Aquarium will be privately funded, with the exception of 18.5 million dollars from the city in redirected taxes for the redevelopment.
In addition to the St. Louis Aquarium, Lodging Hospitality Management is also responsible for maintaining hotel franchises all over St. Louis.
"Our CEO, Bob O'Loughlin, is dedicated to developing St. Louis. It's a great place to travel and a great place to live. We want to make sure everybody knows that and we want to keep developing the areas where there's opportunity," Hotaling said.
"Everybody's so excited, everybody wants to talk about it and know more about it. The addition for St. Louis is great."