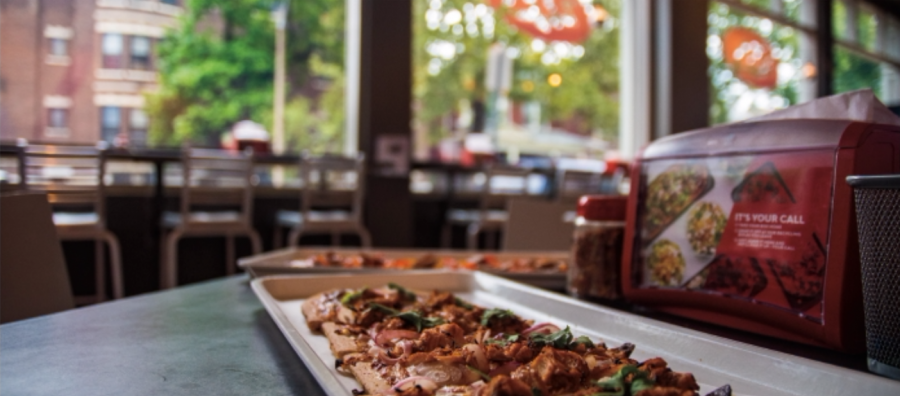 Michael Melinger
With the opening of 'ZZA Pizza and Salad on Skinker Blvd., iconic St. Louisan and owner of Pi Chris Sommers fulfills an old desire of his: opening a fast-casual pizza restaurant. The concept is as clever as the name, which completes the word 'Pizza' in conjunction with his flagship restaurant chain Pi.
Considering Pi's seemingly flawless local reputation, it is needless to say that St. Louisans will expect highly from its relatively new brother restaurant.
And, Sommers delivers.
With 'ZZA, Sommers is following the nationwide trend of making the Chipotle concept compatible with other cuisines. The concept isn't new to the St. Louis area, either. Crushed Red, a local favorite in Clayton, opened five years ago. Regardless, Sommers' experiment proved an overwhelming and unprecedented success.
The space is simple and aesthetically pleasing. The warm-colored decor is complemented by the prominent modern art on the walls.
Following the ever-popular fast-casual concept, customers order their food at a podium-like counter and receive it while sitting at the table of their choosing.
The menu is as straight-forward as the decor is modern. Each of the 16 menu items — the nine pizzas and seven salads — cost an extremely reasonable $9 when considering the awfully generous portion size. On top of that, there are no extra charges for customization. This flexibility came as a very pleasant surprise, as did the level of convenience I would soon come to expect from the 'ZZA experience.
I gravitated to the Postrio pizza, which is a comprised of a sweet layer of barbeque sauce beneath high-quality chicken, onions and cilantro. After being cooked in the high-heat convection oven, the oblong-shaped pizza was brought to my table within a few minutes.
The toppings check all the boxes. Each bite of chicken boasted the same freshness the restaurant advertises. The barbeque sauce was sweet and tangy simultaneously. As a stubborn, New York-raised pizza-lover, I must say I wasn't as impressed with the crust as I was the toppings. The dry and thin crust did not add much to the overall taste of the pizza; that said, it did not do much to detract from the taste, either.
As a frequent Pi customer, 'ZZA's crust seems a significant downgrade from the thin crust available at its brother restaurant.
From the perspective of a sometimes-excessive eater, I found the pizza to be the perfect size. For $9, I left with my stomach full and not full on just the typical, run-of-the-mill personal pizza offered by some of 'ZZA's competition — full on a personal pizza even my stubborn, New York-raised self found flavorful and savory down to the very last bite.