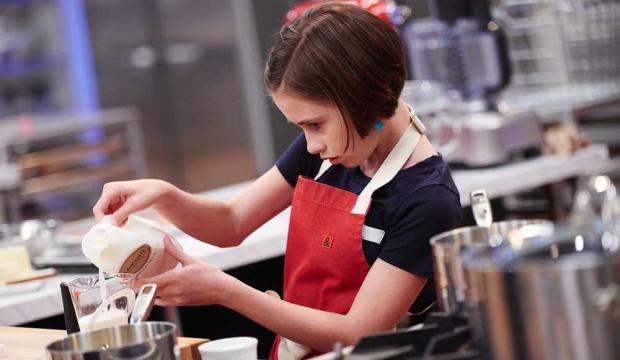 "I think of baking as a science and an art because it is so precise. If you make a mistake it could potentially ruin everything. Yet, you can be so creative and artistic and express yourself in your work", said CHS sophomore Hollis Johnson.
 Hollis has been attending school in the Clayton district since the start of her freshman year. When she was 12 years old, she won the Food Network's Kids Baking Championship.
She was asked to audition for the championship while living in Jacksonville, Florida. Anyone from ages 8 to 13 could compete, and Hollis was 12 at the time so she decided to enter.
There was not enough time to practice baking before the filming of the show, therefore she had to enter the contest based on her previously acquired skills from baking with her mother and sister as well as pastry chefs from around the world.   
"I've baked all my life… Yet some of the kids were much more professional, for example, one contestant, eight-year old Payton, had his own business", Hollis said. Nevertheless, she was accepted.
The filming of the show took place in Los Angeles, California. There were 7 other children competing; four boys and four girls. This was the first season of food network kids baking championship.
When Hollis was introduced to the set and the crew, she was immediately  amazed.
"The kitchen was like a baker's paradise. There were all sorts of ingredients and tools that you could only dream of. It was by far my favorite feature of the show. Not only that, but having a personal cameraman was an added plus," Hollis said.
However, at times the competition could be very stressful. The filming was live, so any mistake made could not be taken back.  
"The competition itself was, in a word, intense!  The pressure to perform under the ever watchful eyes of cameras, production crews, judges and competitors alike, was even more challenging than Hollis and I could have ever imagined!", Hollis's mother, Caroline Johnson, said.
The competition lasted two weeks, in which four episodes were filmed.
"There were four rounds. Two people went home the first episode, then one person was eliminated on the next two episodes. And, by the last episode, there were four competitors left," Hollis said.
For the last round, Hollis had to bake a cake in only two hours, which is a very short amount of time for a baker. She made a four-layered lemon curd lemon cake which was topped with flowers and edible pearls. This cake would be the one to bring her the amazing prize of $10,000, an article in the food network magazine, and a fully stocked kitchen supply set.
"I was simply over the moon!  Hollis had worked tirelessly and was very meticulous in preparing her celebration cake in the final episode", Caroline said on hearing that Hollis had won.  
After the competition, Hollis's family went out and celebrated.
Hollis moved to St. Louis due to her father's work. She still loves to bake.
"Baking is still a favorite interest of mine that I especially enjoy during the holiday season", she said.
Due to changes in her diet, her recipes are influenced as well. Hollis said, "I am now gluten and dairy-free, so I have been experimenting with new recipes to accommodate my dietary restrictions".
"Hollis has learned that she can think and work under pressure with great ease.  During the competition, she was so calm and stoic on the outside and was able to carry on without a lack of confidence even though she was quite nervous on the inside", Mrs. Johnson said. Hollis has learned much from participating in the competition, which has affected her for the rest of her life. She believes she was very lucky to be a part of it.
"It was rather extraordinary being whisked to California and having a peek into the fantastic world of Hollywood", Mrs. Johnson said.