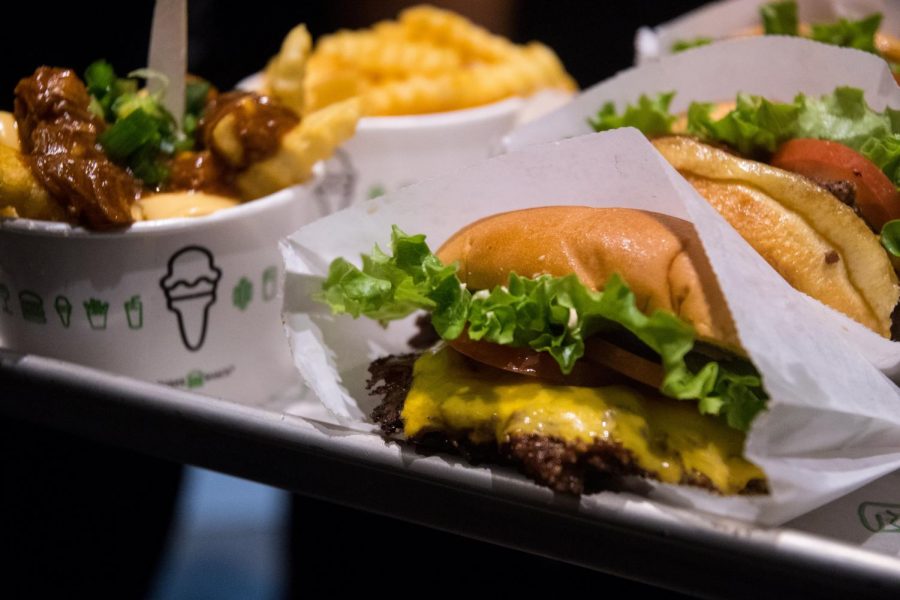 Hungry customers used to line up at a hot dog cart located in Madison Square park for three summers, until this little cart's popularity led it to become a permanent stand in 2004, which founder Danny Meyer named Shake Shack. Today, with over 136 locations, the multi-billion dollar burger empire is continuing its expansion past the east coast and opened its St. Louis location in December 2017. With lines that stretch around the block, Shake Shack's newest location in the Central West End is an obvious success.
Meyer was born and raised in St. Louis, and is excited to finally be able to bring Shake Shack to his hometown.
"It's not as easy as you think to distribute food and have really good management in different parts of the country, so we really wanted to wait until we could know that we'd be incredibly successful in the Midwest," Meyer said. "We had our first test in Chicago three years ago, and that's gone so well we decided it was time to come to St. Louis."
Meyer attended John Burroughs School as a teen, and credits one of his teachers as one of the reasons for his success.
"I had the best Home-[Economics] teacher on earth named Mrs. Holekamp and I took cooking classes while everyone else was out playing football," Meyer said.
Many others involved in the restaurant business admire Meyer for his success and are enthusiastic about Shake Shack's newest location. Spencer Pernikoff, a food writer and photographer who has been featured in publications such as Food Network, Sauce Magazine and Bon Appetit, is one of these people.
"I have a lot of respect for Danny Meyer as a restaurateur and I've had Shake Shack a number of times in D.C., and I have to admit that it is very delicious," Pernikoff said. "When I heard it was coming to St. Louis, I knew I had to get involved."
Pernikoff recognizes Shake Shack's special qualities — the underlying reasons why it has done so well.
"Fresh ingredients. Quality ingredients. It feels like what I would imagine what a fast food restaurant used to be like instead of now where everything is full of chemicals and made in a factory and thrown on a grill and made," he said.
Pernikoff also credits Meyer's success to the hospitality that one faces when they enter a Shake Shack location. Shake Shack Area Director Josh Kalson believes that the people that Shake Shack hires are what give the restaurant its friendly and welcoming atmosphere.
"I think the biggest thing is how our team interacts with the guest––the energy they bring to the building every single day," Kalson said. "Overall just the people that we hire. The main goal is just to make sure that people are empathetic, have curious intelligence, a strong work ethic, so I think it's just the people we bring on."
Shake Shack's arrival in St. Louis has been a long time coming, and Kalson, along with many others, feel similarly.
"Danny's been trying to get us to being back Shake Shack for a lot of years and I think the way our company's hitting strides, efficiencies, I think it's the right time to bring his brand back to his hometown," Kalson said.
Strange Donuts owner Jason Bockman admires Meyer for being able to maintain his business' integrity as it expands nationally.
"I just know how hard it is to have one business, let alone recreate the vibe and food in many different locations," Bockman said. "It's a lot of work, and I think they've done a great job of including the community."
As the Shake Shack empire continues to grow, they maintain their policy of fresh ingredients, inviting ambiance and delicious food which has now made its way to the streets of St. Louis.