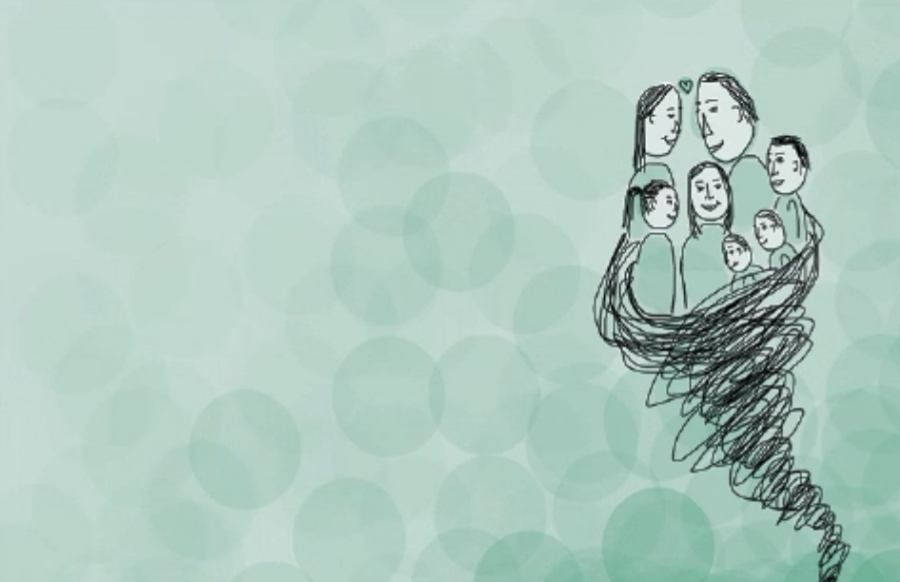 Lizzy Mills
For a while it was me, my mom, my dad and my sister. Then it was just me, my mom and my sister. It was just the three of us for a long time. We never had a big Christmas tree. We didn't have giant Thanksgivings and rows of family at our concerts and plays. We didn't have Sunday brunches and weddings to attend. But we didn't need any of these things. We had each other. We had inside jokes and old VHS tapes. We had my mother's parents and we had our dog. All of us were happy and life was good.
One day, when I came home from school, I saw a bouquet of fresh, purple flowers sitting on the dining room table. My mom smiled bashfully when I asked who they were from, sidestepping my question. Then, at one of my softball games, I climbed up the Shaw Park hill to find my mother. There, I was introduced to a tall stranger, a boy my age, and two little four year olds––one covered by a black cape, and the other underneath an astronaut helmet. The tall stranger turned out to be the one who was sending the flowers. The tall stranger became more familiar with each passing day.
Every night, he would lie on top of my pink quilt and tell me a bedtime story. Most little third grade girls get to hear Cinderella or Snow White and the Seven Dwarves. I got to hear tales like Roadhouse, smiling as I learned about Patrick Swayze and his bar fights. I listened to the story of Harrison Ford and his adventure in the Fugitive, on the run after being accused of murder. I drifted off to the entire Lord of the Rings saga, a story that took over four consecutive nights to tell.
Many stories later, my sister and I were sat down at the dining room table by my mother and the storyteller. There was going to be a wedding. It would be my first one, and I was going to be the maid of honor. I was going to have brothers. I was going to have eight grandparents. I was going to have a second father.
With my short bob and my buck teeth, I strutted down the aisle, bouquet of daisies in hand, puffy white dress bouncing as I walked. My sister walked in front of me, tossing rose petals into the air with a smile on her face. I read my speech and handed out the rings alongside the young boy who would become my big brother in a few minutes time. The two four year olds squirmed in their argyle sweaters as my sister sat patiently in her chair on the pleasant October day. Promises were made to make one another laugh and to always be a family––promises sealed with "I do's" and a kiss that marked the beginning of a new family.
Seven years later, the two four year olds are now eleven. With much persuading on my part, they'll still let me stroke their hair on long car rides. Seven years later, and my big brother, while he may deny it if asked, will watch cartoons with me in his room and get us pre-dinner fries. Seven years later and we are still eating cinnamon rolls on Thursday mornings. The tall stranger is another father, my softball teammate is my cousin, but my mother is still my mother and my sister is still my sister.
I loved the years the three of us got to spend in our own, private world. I'm still loving and experiencing these years I get to share with them, alongside an even bigger family. We have a tree on Christmas. On Sundays, we host brunches. There are weddings and dinners and birthdays and vacations. I get to come home to a house filled with noise and chaos and joy. I've always known what family meant. Now I get to know what a big family means. A big family means traditions. Little brothers mean responsibility and kindness. A big brother means a sense of humor. A sister means everything. My family means cinnamon rolls on Thursday mornings.