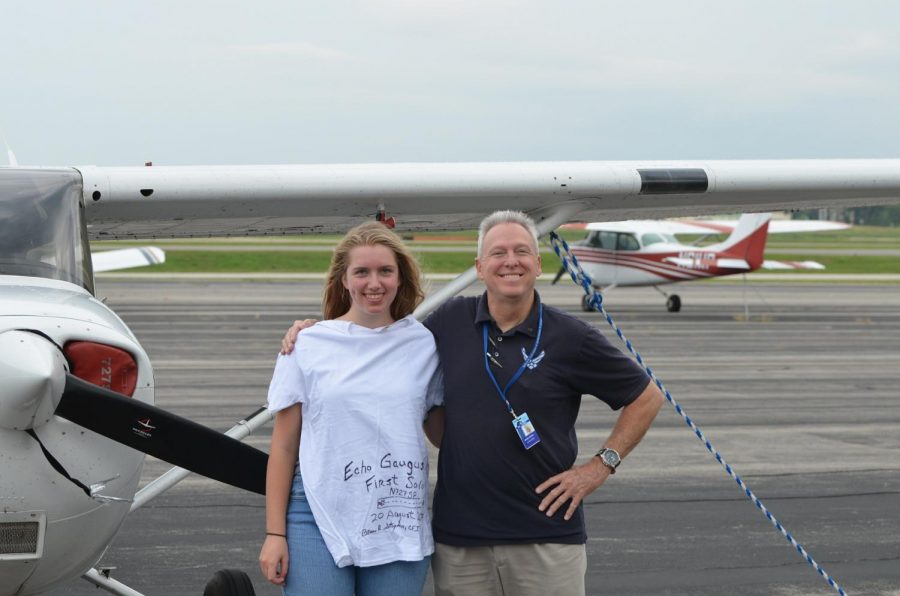 Most students at CHS understand the stresses of driving: constantly checking side mirrors, checking how much fuel you have, checking turn signals, all while maintaining a constant speed. Now image doing that along with a million other sensors and dials to keep track of while in the sky going 250 miles per hour. Although this task seems impossible, aviators like Echo Gaugush manage to do it all with ease.
As a child, Gaugush looked up to her parents as to what profession she should pursue. Her mother being a flight attendant for over 10 years inspired Echo to want to be a flight attendant, but her mom told her that she should be a pilot. One short beginners flight later, Gaugush was enamored with the idea of flying. After her instructor complimented her on her potential as a pilot .
After four years of flying, Gaugush currently flies a Cessna 172S which is a 4 person single engine plane. Gaugush is currently working on her private flyers license which allows her to fly private planes without an instructor present. Echo believes her best trait as a pilot is her ability to be prepared for any emergency situation, "You have to be in the moment because you don't know what's going to happen, you might get a lot of turbulence and be forced to make an emergency landing and you have to be very engaged and I find it fun because it's kinda challenging in a way, and each flight is different, you can do the same landing 10 times in a row but each landing will be different," Echo said. Bruno Stopka, Gaugush's flight instructor, has said Gaugush's best trait as a pilot is her ability to prioritize the many activities required during flight.
One of the scariest challenges of learning to fly is your first solo flight, although most pilots are fearful of the prospect Echo says she was more excited than nervous, while most pilots dislike solo flights the most Echo says her biggest pet peeve is talking to other pilots who aren't the best at communicating where they are or what direction they're flying.
Echo is considering a future career in flying but will pursue an engineer degree first to make her more competitive for a pilot position.