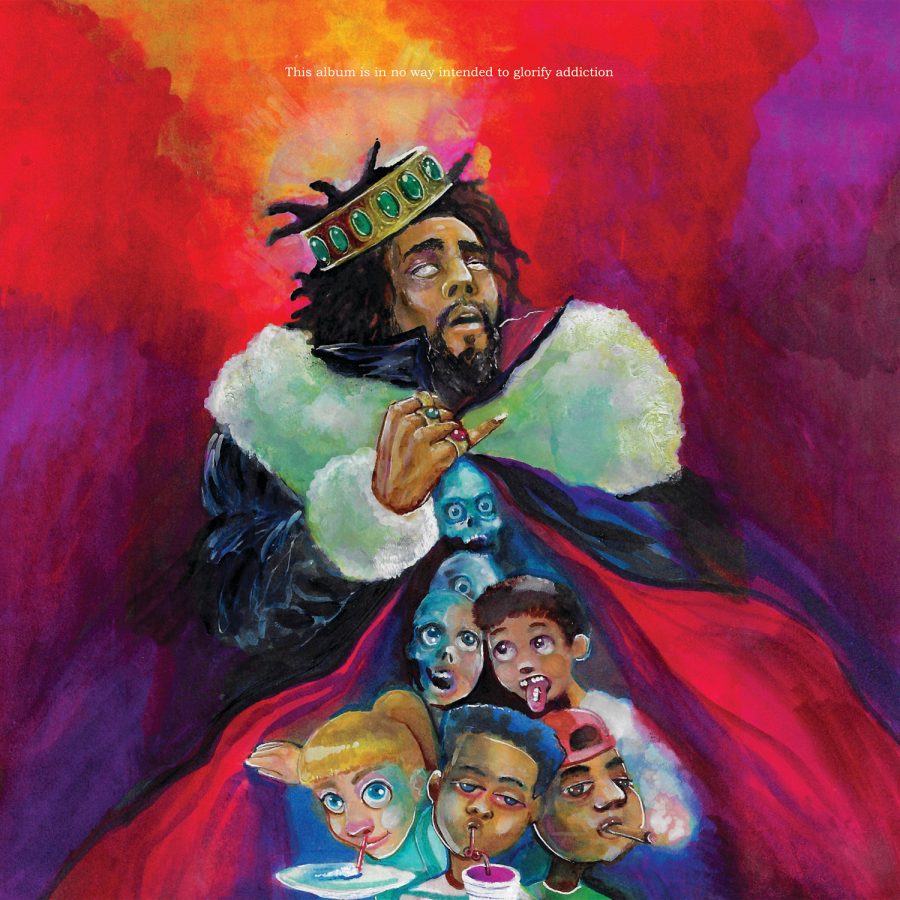 "KOD" is the fifth Studio Album from the North Carolinian rapper J. Cole who is famously known for going back to back platinum without features on his previous two albums, "2014 Forest Hills Drive" and "4 Your Eyez Only".
He continues the trend of no features on "KOD" by only featuring his alter ego "kiLL edward" on two tracks. Between his album hiatuses, J. Cole is known to be somewhat of a philanthropist who donates back to his community by started his own charity called the Dreamville Foundation. Through his involvement with the youth and local communities, you can see why he voices his discomfort  from rappers promoting drugs in today's culture to their predominantly youth audience.
On this album he uses his singles focus individually on problems that plague our society such as drugs, social media, the government, corrupt leaders, lust, and materialistic culture. J. Cole is known for his quiet and generally laid back style that he combines with minimal 90's rap beats. While on "KOD" he doesn't fully break out of this mold we see moments of change such as on the title track where he takes a more aggressive approach to his rapping style with an overblown bass and trappy hi-hats layered throughout.
Outside of "KOD" and "Motiv8" there's almost no change in production style throughout the album, and while it isn't displeasing to hear, the production comes off as lacking depth and makes the singles less unique as a whole.
A positive of the album is themes and motifs presented about addiction and the glorification of drugs in rap culture. His commentary sometimes uses personal anecdotes such as in the song, "Once an Addict (Interlude)" where he describes his conflicting relationship with his alcoholic mother, or he takes a more general approach such as in "BRACKETS" where he describes the cultural and economic gap between whites and blacks and the lack of economic development and change he sees in inner cities even though the government says his taxes are going to schools, roads, and infrastructure. While some of his commentary is overdone and surface level, his personal anecdotes intertwined throughout add a layer of intimacy to the album and a personal perspective on how today's vices can ruin people. On the track "1985" he criticizes many of the popular Soundcloud rappers they are chasing the trends and promoting drug culture among the youth. Although this is valid criticism he seems to put himself on this pedestal as if he's above these other rappers because he makes more "conscious" rap when in reality he's not as deep as he'd like his listeners to believe.
Lyrically he's improved from previous albums, but still nothing outstanding. The hooks and choruses, while somewhat catchy, are extremely repetitive to the point of fatigue such as in "Motiv8" where the repetition become irritating by the end of the song.
On this album he features his alter ego, kiLL edward, which is just a pitched down version of his voice that comes off as unnecessary and corny that felt like more of an afterthought than a necessary inclusion on the album.
Although he is known for his ability to win awards with no features, the lack of features or any collaboration on the production side limits this album to sounding very samey.
Overall this album, while an improvement from his other albums still lacks experimentation and depth, this along the repetitive hooks makes this album feel mediocre at best.