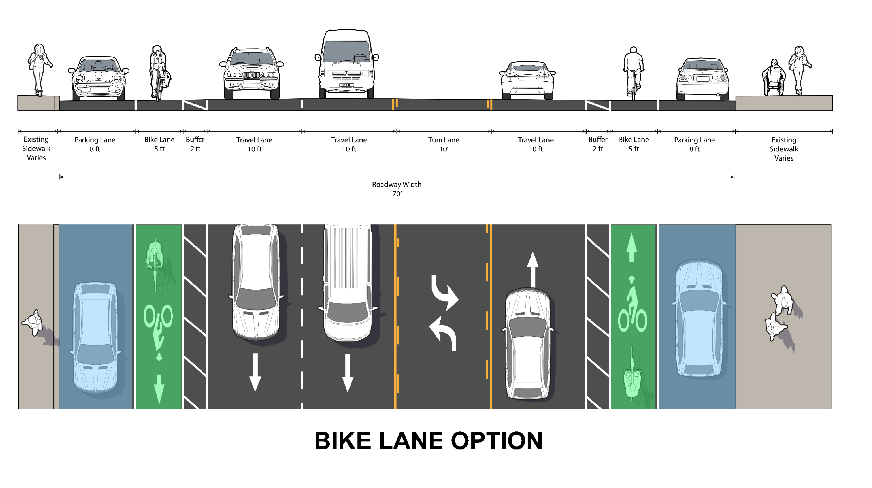 Photo from the City of Clayton
On Tuesday, Aug. 28, the Clayton Board of Aldermen decided to add bike lanes to Maryland Avenue during the resurfacing of the street, after meeting on previous occasions and hearing opinions of many Clayton residents.
The board's decision was to add bike lanes to Maryland Avenue in four sections: from Gay to Forsyth, Forsyth to Meramec, Meramec to Central and Central to Hanley. The bike lanes will be protected from Forsyth to Hanley, and shared from Forsyth to Gay.
Many CHS students use bikes as a means to get to and from school. Maryland Avenue is a useful path for many students and separates the school from Gay field, which many students go to for sports after school. The addition of bike lanes on the road will help protect the bikers who use the road and make the road easier to cross. The lanes would also offer easier access to Centennial Greenway, a bike path which runs through Shaw Park to Olive Boulevard.
Much of the opposition to the project arises from business owners located along Maryland. The addition of protected bike lanes may cause increased car congestion. Some of the business owners view this as a hindrance for their stores. Some say that bikers wouldn't buy anything from stores, cutting down on actual customer traffic.
"We need to do anything we can to protect that retail," Clayton Alderman Ira Berkowitz said, adding data that suggests the bike lanes should in fact increase customer traffic.
Other residents also question the safety of the lanes.
Harold Sarner, a resident who lives on Forsyth, near Maryland, said "We're going to have some accidents…we're going to have some banged up people."
Maryland is a street which receives a fair amount of traffic as is, and functions well with five lanes for cars to drive on. With a reduced space, causes for problems arise despite the protected bike lanes.
In contrast, many Clayton residents support the addition of protected bike lanes. Clayton Mayor Harold Sanger referred to the new apartment buildings to be bringing new residents, in that if you have 40 percent who have bikes, they add 240 new bikers. Everyday bikes are used for recreation and commute in the city, only becoming more popular with the recent introduction of Lime bikes in April. Many of the residents who spoke at the meeting on the 28th felt that the bikers in Clayton are lacking safe paths to ride on, and would bike more often if there were protected lanes for them, their children, and others.
However, this could also congest the road. As of now, Maryland Avenue has five lanes, and one for parking. With the resurfacing, the lanes could vary but decrease in number, becoming only three lanes for much of Maryland. The added protection of bikers comes at the cost of reducing driving space for cars.
Some residents do not yet know what to fully make of the situation. "Let's run with it, but let's think ahead to what the broader plan is," said Jeff Leonard, another Clayton citizen. Many people are skeptical about it, but are also optimistic that the new bike lanes could offer safer access to bikers in Clayton on Maryland.
The addition of the protected bike lanes could mark a progressive move for the City of Clayton. Cities across the nation have been adding bike lanes to promote the method of travel. Some residents also view the addition of bike lanes as being attractive for the city. Clayton Alderman Michelle Harris commented: "We are trying to attract these young people who are active, families who are active."