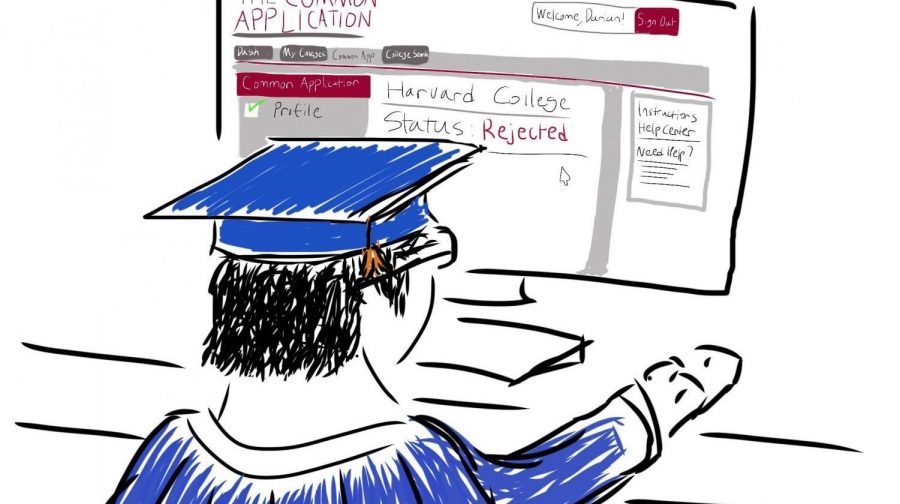 Sean Kim
"Most Americans don't want race to be part of your application to college. They don't want the police to use race as a profiling tool to prevent crime. They don't want prosecutors to use race in the makeup of a jury. Your race and your ethnicity should not be used to help or harm you in your life's endeavors," argues Edward Blum, the founder of the organization Students for Fair Admissions.
Usually when we hear the word "racism" being used, we think of the KKK, white supremacy, or some other example of white people oppressing African-Americans.
While these examples definitely fit the definition of racism, these aren't the only forms of it.
Have you ever heard the term "reverse-racism" being used?
There is actually no such thing as "reverse-racism."
It is simply racism, since it is still the belief that one race is superior to another.
This "reverse-racism," as many people call it, can be shown with the Harvard Admission Scandal, a policy of Harvard requiring Asians to score higher on the SAT's than other races to get admitted into the school.
The purpose? More diversity in the schools.
Justice Anthony Kennedy in response to Gregory Garre, an attorney for Harvard University said, "So what you're saying is that what counts is race above all … You want underprivileged of a certain race and privileged of a certain race. So that's race."
Anthony Kennedy is correct when he says that this act is all about race. To be racist is to judge someone by their skin color, and that is exactly what is happening.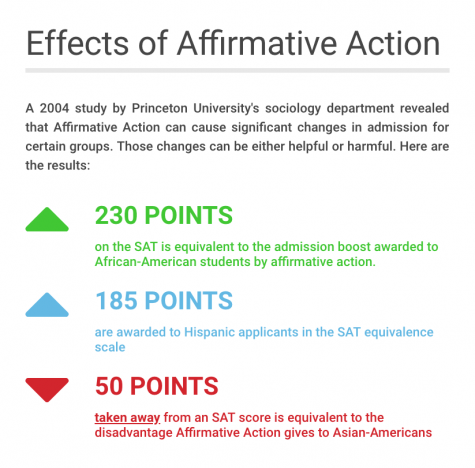 And even though race doesn't play the primary role in admitting college students, it still has some sort of role, which is still absolutely wrong, and nevertheless, racist.
Supposedly, the goal of affirmative action is to help minorities, and Asians are a minority, so if that was the case, why should affirmative action hurt them?
When applying to colleges, race should not be a factor.
Race may affect people's performance in school and work, but other factors impact a student's trajectory in life much more.
Mental illness, for example, affects people of all races and can prevent students from performing well in school much more than their race.
One in every five teenagers cope with mental illnesses severe enough to impact their daily life.
So shouldn't other factors matter more than race when it comes to getting into college or getting a job?
Poverty, abuse, and mental illness influence success in school much more than race, so shouldn't that count as well?
If the concern is that minorities will not be accepted into colleges because of their race, then information other than qualifications should be blocked out.
Not all white or Asian students come from ultra-privileged homes. The truth is, no matter your race, everyone has to work hard to get into good schools.
My mom is a first-generation Chinese immigrant and she worked hard to migrate here. "So for American college students, if they need to get to graduate school, they need to put in a lot of effort, right? They cannot go to parties everyday and still learn stuff that they need to learn and go to graduate school … you need to maintain a good GPA and that requires a lot of effort … And then if you think about the effort [Asians have] to put in, it's a lot more because it's not just about your college studies that you have to do well in, but on top of that we have to spend extra time to study English, because English is not our first language," she said.
However, for these immigrants, the work has just begun.
"My grandparents and my parents both migrated from China to here … My maternal grandpa, he was working on a farm … and he worked in a restaurant. And then he had to get my mom over here, and then he had to borrow a lot of money to open up a restaurant, and even after that, he took [years] trying to pay back the debt," says freshman Jessie Lin.
Lin also regularly attends the Chinese school in Richmond Heights every weekend, and this year will be her fifth year of attending.
"I mean, I complain about extra work, but I know that it's necessary for me to do all of the work if I want to pursue my dreams," she says.
The whole purpose of the Harvard Admission is for diversity and racial equality.
But is equality defined by the results or the opportunities?
Is being equal everyone getting the same outcome, or the same starting point?