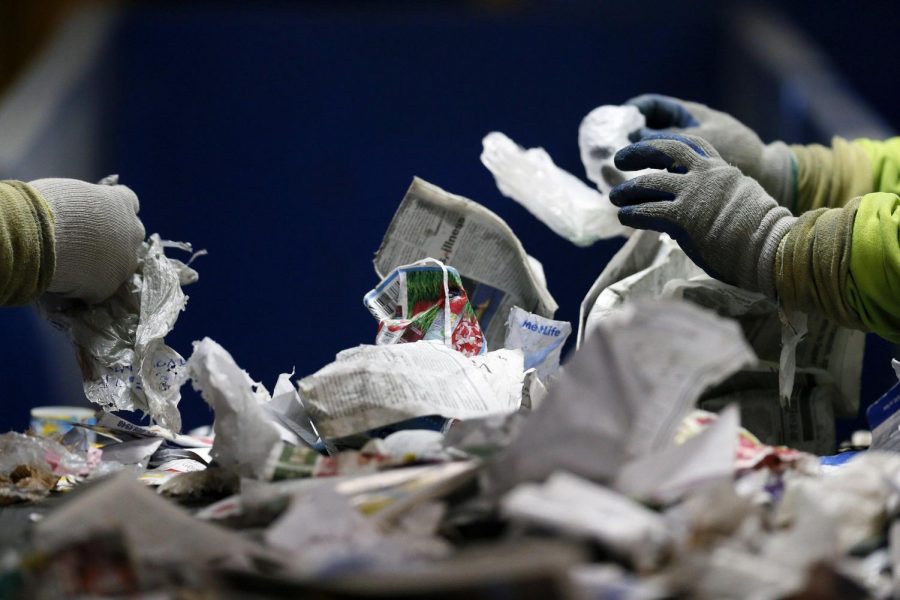 Kyle Robertson
The iconic cyclical logo of the recycling bin has become synonymous with environmental protection. After a long day of idling, using plastic water bottles, and taking an extra long shower, throwing an old, greasy pizza box in the blue bin can alleviate some guilt.
While throwing this contaminated material in the garbage would actually be more eco-friendly, many Americans are under the false impression that anything can be recycled. Every year, thousands of Americans attempt to recycle dirty food containers, used paper towels, and plastic shopping bags. When throwing these items into their recycling, many feel like they are eco-warriors. But, contamination is an issue that threatens the future of recycling.
"Our local recycling programs are at risk because the economics are upside down… Contamination is rampant, and can average more than 30%" said Megan Sexton, a leadership trainee with Clayton's recycling provider Republic Services.
Clayton uses a single-stream recycling system. This means that residents do not have to organize their recycling. Materials like paper, cardboard, and clean plastic bottles are all tossed into the same bin.
After the materials are picked up from a house, they are sent to a Material Recovery Facility or MRF. At the MRF, the recycling is sorted into different categories and then shipped out for further processing.
In the past, most of the plastic waste was sent to China. However, in 2017, China announced that it would ban waste imports of many types of plastic and paper waste. Slim financial gains and widespread contamination prompted China's ban.
Additionally, American plastic waste contributed to China's extreme environmental damages.
"The changes to the China ban have impacted the recycling markets in the US, and it has helped make it clear that we all need to do a better job of recycling," said Sexton.
The biggest issue when it comes to recycling contamination is ignorance. Many simply do not know what products can and cannot be recycled.
"We get a lot of people trying to recycle plastic shopping bags. Also, we get a lot of Polystyrene #6 a.k.a. Styrofoam. Our biggest issue right now is contamination. Contamination can cost us $45/ton" Sexton said.
Contamination can be so expensive for some communities that they have stopped their recycling programs altogether.
To try and reduce the contamination, Republic Services is trying to better inform consumers.
"We are currently trying to better educate the community. One way that we do this is through giving tours of our Material Recovery Facility in Hazelwood. We also have been working with a group called OneSTL and have been helping with their initiatives regarding educating the public" said Sexton.
Right now, the future of the recycling industry is unclear. 
While contamination and inefficiency currently plague the industry, this does not have to be the precedent.
"We want consumers to know that they have the agency and power to improve recycling. They can influence how companies decide to package their materials with their purchasing behaviors. Consumers have more power than they think in the industry of recycling" said Sexton.