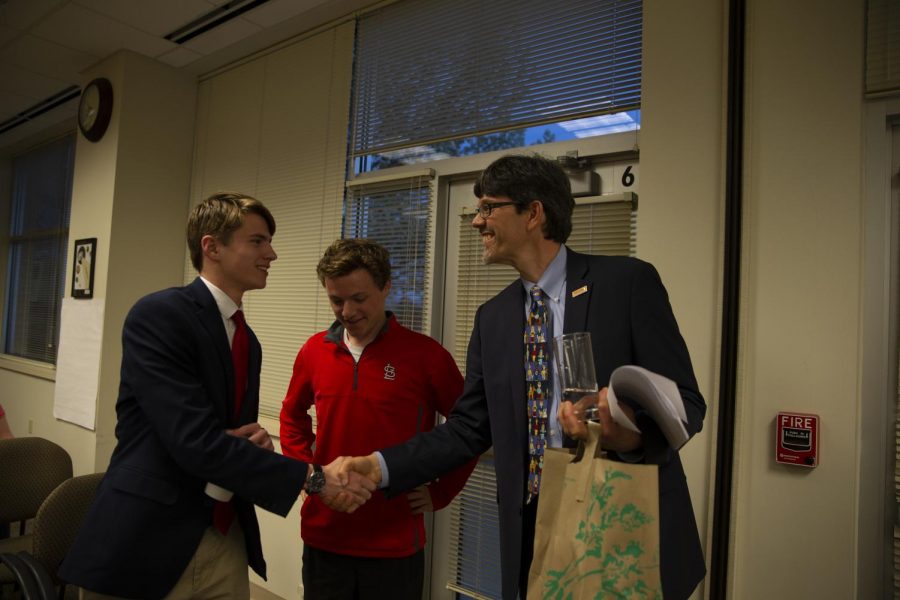 Michael Melinger
This is a developing story.  It will be updated as more information becomes available.
Earlier this evening, on April 10, 2019, the Clayton Board of Education voted to add a Student Representative to the board, as part of a proposal submitted by superintendent Dr. Doherty in collaboration with CHS students. The proposal also includes plans to implement a District Advisory Committee comprised of CHS students that will support the work of the Student Representative.
Additionally, this evening new board member Stacy Siwak and incumbent Joe Miller were sworn in as official school board members.  Joe will being his fourth year of service on the Board of Education, while former board member Brad Bernstein will step down after over 18 years of service to the district.
Miller was additionally elected unanimously to follow Kristin Redington as the new board president.  Redington continues to serve the board in a non-officer position after three years as the president. Following Miller's election to serve as president, Amy Rubin now will serve as the new Vice President succeeding Lily Raymond. Finally, Gary Pierson and Jason Wilson will serve in the Secretary and Treasurer roles, respectively.
The student representative position was initially proposed by senior Greg Pierson and Adam Jaffe, with students in all grades pitching in and offering their support; the new position will serve as a means of connection between student body and the Board. Sophomore Sarah Centeno and junior Charlie Steinbaum were also involved in the development of the plan that the Board approved.
When the motion was called to action a surprise amendment was proposed.  The proposed amendments purpose was to delay the addition of a student representative by one year, to better examine the idea of the position. The amendment, after being proposed, was moved to a vote where it failed by a 2-5 vote with only Wilson and Raymond voting in favor.
The Student Representation motion ultimately passed with a 6-1 vote; Wilson voted against the position, while Raymond voted for the student representative despite the failure of the amendment she previously supported.
"I think that [Wilson] really brought up some wonderful points and something that we will take into consideration," said Jaffe. "And I think that it really is important that we look at our process and that's what [Wilson] is saying. His vote is representative of the fact that we need to make sure that we take into account every person in the district and make sure that we're doing this right."
Pierson and Jaffe have been working on this project for over three months, drawing inspiration from the lack of knowledge students have about CHS' administration and the workings of the Board.  
"There's always been a somewhat of an information gap between the administration and the students themselves," said Pierson. "I think what I wanted to do was find a way to close that gap and find a way to engage students in the decision making process and find a way for students to be involved at all levels of our district."
Certain quotes have been edited for clarity and concision.