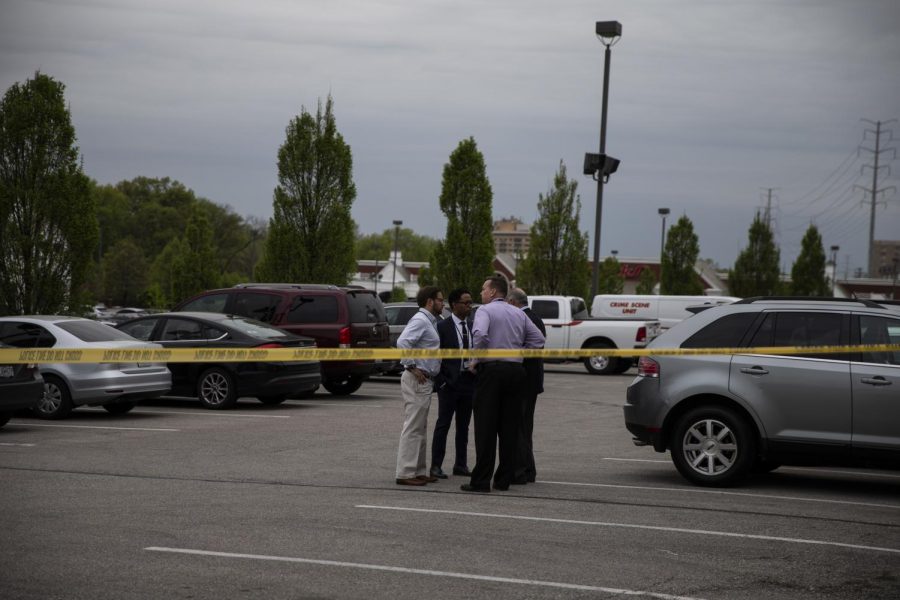 Michael Melinger
UPDATE 4/24/19 6:37 p.m : St. Louis County told media today that the victim from yesterday's shooting remains at the hospital. They did not say in what condition.  Additionally, surveillance footage is being evaluated and they are still looking for witnesses who have not yet come forward.  The investigation is still ongoing.
St. Louis – Around 3pm on April 23, 2019 a Ladue police office was involved in a shooting in the 8800 block of Ladue road.
At 3:02pm today, Ladue police department received a call for service from the Schnucks at Ladue Crossing.  The initial call for service was due to an alleged shoplifting involving two suspects.  In addition to the call for shoplifting the call included a disturbance, possible strong-arm robbery.  Multiple officers responded.
The suspects, one male and one female, proceed to flee the scene.  The female subject fled south towards I-170 where she became involved in a scuffle with a female officer.  The male subject has yet to be located.
Once the female suspect fled Schnucks on foot, she conveyed to the officer that she has sustained an injury.  EMS was called to the scene. The female suspect proceeded to sustain a gunshot wound to the upper torso area.  The female suspect was then transported to a local hospital where, at the time of transport, she remained in critical condition.
The female officer who discharged her weapon is on administrative leave pending investigation.
At 3:51pm SLCPD received notice about the altercation and subsequently took over the scene.  Officers and detectives proceeded to quarantine the majority of the parking lot where they placed bullet markers and canvassed for evidence.
Seg. Ben Granda from St. Louis County Police Department told reporters that "This still a very fluid investigation. You're going to have a lot of very good questions that we simply don't have answers for, be patient with us."
While this is an on-going investigation, several details have come to light.
The female officer involved was 37 years old and has been on the force for 13 years.  The female subject was 33 years of age.
However, it it unknown how many shots were fired at this time.
At the scene were balloons which appear to be from Schnucks but it is unknown if they were related and what was allegedly stolen is still under investigation.   In addition to the balloons, at the crime scene was paramedics bag.
Wesley Bell, the new county prosecutor was quick to arrive on the scene.  Bell told the press gaggle that "We're going to go where the facts take us … and our office will take it from there."
Bell maintained that his office will let the police do their job, as well as stating that the prosecutors office will be as transparent as possible.
The investigation is still on going.  Story will be updated as new information is released.