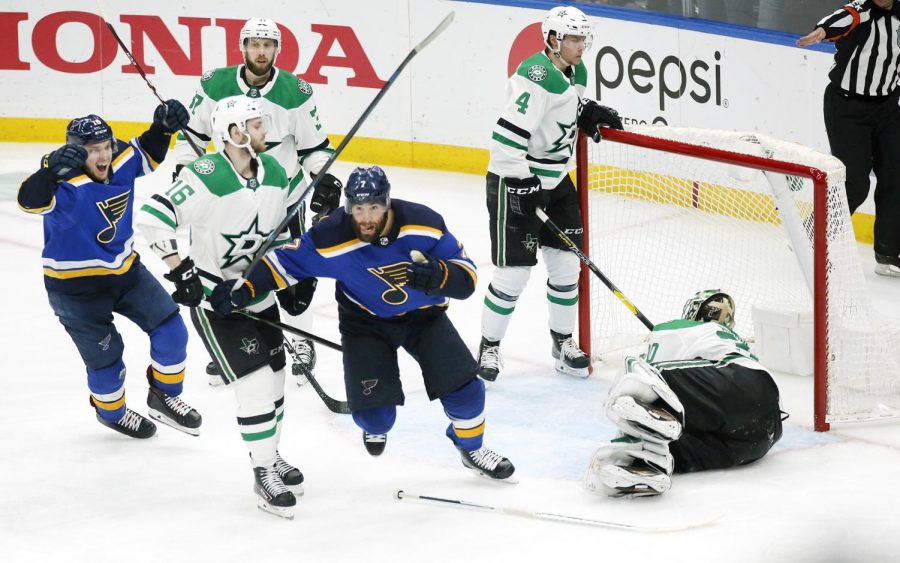 (Tom Fox/Dallas Morning News/TNS)
The St. Louis Blues beat the Dallas Stars in game seven of the second round of the National Hockey League playoffs on Tuesday night.
After a successful attempt at preventing the Stars from winning game six of round two of the National Hockey League playoffs, hindering the Stars from moving on to round three, the Blues hoped to win game seven, and advance to the Western Conference Finals.
Prior to tonight's game, the Blues won game one 3-2 with goals by Robby Fabbri and Vladimir Tarasenko. The Stars tied the series in game two, beating the Blues 4-2. St. Louis was able to win game three 4-3, quickly regaining control of the series. However, the Stars suddenly took the lead, beating the Blues 4-2 in game four and 2-1 in game five.
Starting the night off strong, Vince Dunn, with assists by Alex Pietrangelo and rookie Robert Thomas, nabbed the first goal of the game for the Blues with 6:30 left in the first period. The Stars were quickly able to bounce back off of an unassisted goal by Mats Zuccarello with only 4:05 left in the first period, tying the game 1-1.
The Blues maintained control of the second period with nearly 20 shots on goal. Failing to capitalize on their opportunity, they left the second period scoreless. One of the larges misses of the night came down to an opportunity to score with less than two minutes left in the period with a shot by Pietrangelo, but Stars goalkeeper and St. Louisian, Ben Bishop, blocked the shot. Thomas tried to take advantage of the rebound,  but was hesitant and slow causing the Stars to lost the puck.
Constant puck turnovers in the third period led to another scoreless period.  Dallas was looking good towards the end but still unable to convert their shots to goal. Both teams were riled up and ready for the series-settling overtime.
The first overtime continued the same back and forth style of play. Each team having favorable opportunities, however, neither was able to put a puck where it needed to be and score.
Due to the playoff rules difference from the regular season rules, the Blues and Stars were forced to go into a second overtime rather than directly to a shootout.
Finally, after 85 long minutes of play, Pat Maroon scored off of an assist by Thomas and Tyler Bozak, helping the Blues win game seven of the second round.
The Blues celebrated as Gloria carried them to the third round of the NHL Playoffs for the first time since 2015.
The Blues will face either the San Jose Sharks or the Colorado Avalanche as they look to advance to the finals.