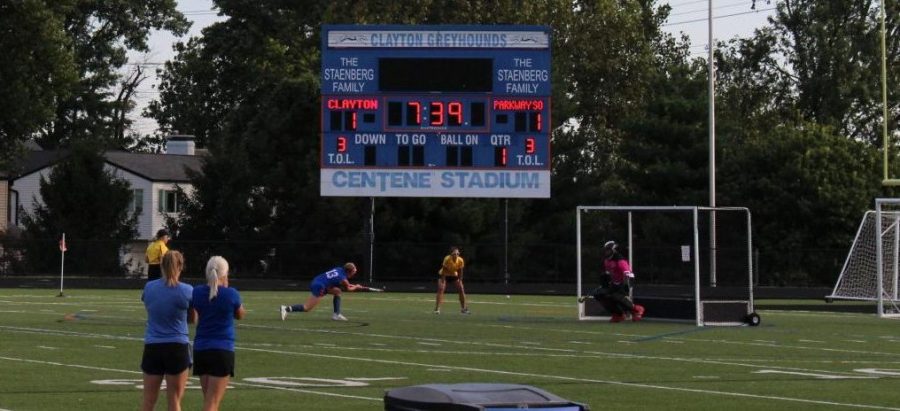 Ella Cuneo
Tensions are high at Gay Field as the field hockey captain, junior Ingrid Stahl, steps up to the stroke line. With barely eight minutes left in the final half and apprehension high, the score was tied. The Hounds have earned a penalty stroke, a free shot in which just one player shoots on the goalie. With a goal, they could take the lead. She lines up her shot, drags her stick and the ball goes flying into the air. It miraculously flies past the goalie's pad, straight into the net. She scores! The rest of the team runs out onto the field to congratulate her. 
The varsity field hockey Hounds played a stiff, gritty 10 minutes and excitedly gained their third win of their season from Parkway South.
During the first half, a shot was scored on a tip into goal by junior Cece Cohen in a scramble in front of the net. The goal was assisted by freshman Ruby Nadin and was returned with a goal by South in the beginning of the second half.
This win comes well-deserved, as last season the Hounds went 4-10. They have already established an early winning streak with a 3-0 record, a stark difference from last year. 
"I think establishing wins at the beginning of the season gives us the confidence to play more aggressive and together as a unit," said head coach Lexie Lindblad. 
But why such a drastic change this year? 
Lindblad attributes the team's success to something else, saying, "It's their team chemistry. I think they bond well together, they enjoy spending time together, and there's a lot of positive energy coming from each individual person." 
Assistant coach Christina DiFelice agreed, saying, "I think they just have a lot of hustle this year. A lot of grit."
Sophomore Ana Meyers, a midfielder for the Hounds said, "We've made a total one-eighty. It's so different, but it's so good. This team is like my family."
Athletic Director Steve Hutson also commented on the Hounds' victories. 
"As the [Athletic Director] I have the privilege of working with some incredible coaches. Coach Lexie and her staff are what I would describe as the total package. They provide opportunities for their student athletes to grow in and out of season, structure practices in a way so players can improve individual fundamentals as well as a team player, and communicate expectations with players and their families consistently. With these elements in place and a focus on the process rather than the outcome they create an environment rich in success," Hutson said.
When asked about the future of the season, Lindblad said, "I have a lot of confidence for this team, I think I'm ready to see what they're going to do, but I also don't want them to get over-confident, you know? I'm ready to take on the rest of the season, and we're just gonna take it game by game. So yeah, 'road to state'."