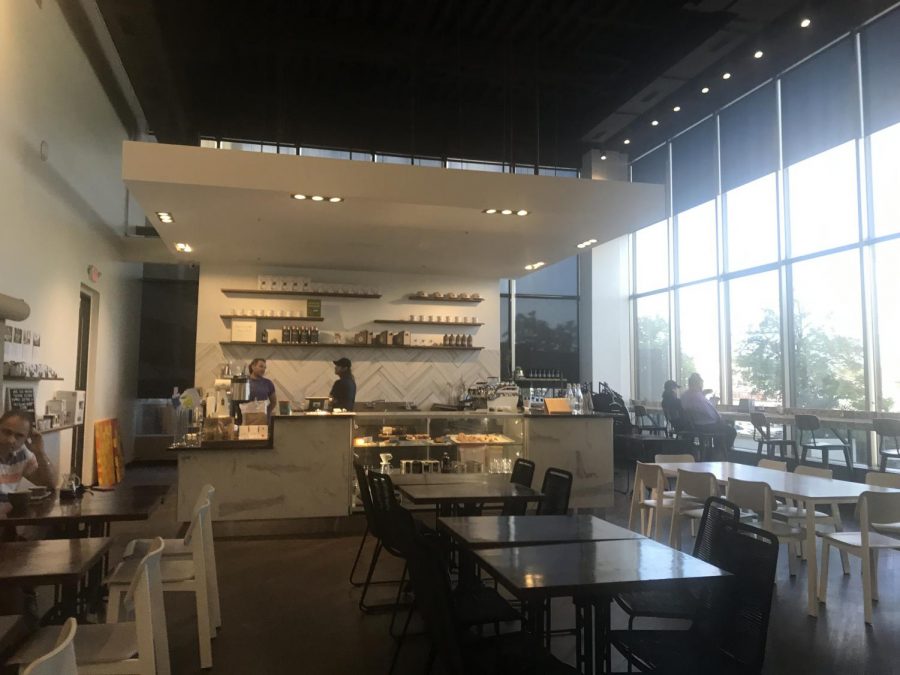 Seraphina Corbo
When you look at the facade of COMA Coffee, you see nothing but office buildings and concrete gardens. Most people would not think to grab a coffee or study from the bottom floor of an office building. But don't judge a book by its cover, this shop is small yet mighty! 
Opened in 2016, COMA Coffee is a coffee shop known for its specialty drinks. Although this quaint nook is a few years old, its location seems to be the cause of not many people knowing about it.
When we first walked up, the tropical plants, outdoor seating and glass exterior of the shop stood out as nice touches. Although the view leaves much to be desired, the architects clearly made use of the space available.
From the outside, COMA may seem quite small, but the inside is actually very spacious with plenty of seating.  This is a great spot for working on weekend homework or reading a novel. There was calm music playing softly in the background that was very serene and added to the overall laid-back feeling. The lights were slightly dimmed, giving the space a nice ambiance.
COMA offers typical coffee shop drinks. We ordered a cappuccino, which was bitter and sharp. It had an ordinary presentation with a clean-cut feel. You can't mess up a latte, yet this hit the spot! In addition, we ordered a tantalizing brown sugar rosemary latte. Although it may sound like a strange combination of flavors, this unique drink would likely suit all tastes when it comes to coffee. It was very creamy and had a strong rosemary scent and taste.
We also ordered a couple of specialty drinks; items that could not be found at any other coffee shop. The fizzy cold brew with hibiscus tea ice cubes is arguably one of the best items on the menu, with a fruity, popping taste that surprises you at the first sip. The iced passion fruit matcha latte throws a tropical spin on a regular matcha drink, with a sweet puree at the bottom.
The pastries were delectable, and, like many of the drinks, unique. We ordered a hazelnut tahini blondie, which was decadent and salty. Topped with whole hazelnuts, each bite was creamy yet crunchy. The only downside was that the tahini flavor was not apparent, but instead, the pastry had a more nutty palate. We decided to order the pumpkin bread as well, just to try a seasonal item. The texture was perfect, with the perfect combination of fluffy, thick and gooey. The seeds on the outside added a pleasant crunch. The middle was moist and had a rich pumpkin filling, and there were pumpkin spice accents throughout. However, the drinks seem to be what really makes COMA stand out from other coffee shops such as Starbucks or Kaldi's.
The pricing was adequate, Drinks range from 4 to 6 dollars and pastries tend to cost less. The pricing is slightly higher than Starbucks, but the quality of the drinks is undoubtedly a reflection of the price.
Overall, if you are interested in trying out a new coffee shop, COMA Coffee is a great option. With one-of-a-kind drink options, friendly staff and a tranquil atmosphere, COMA is a fantastic spot to grab a drink, study or hang out with friends. And don't worry- COMA won't make you unconscious!