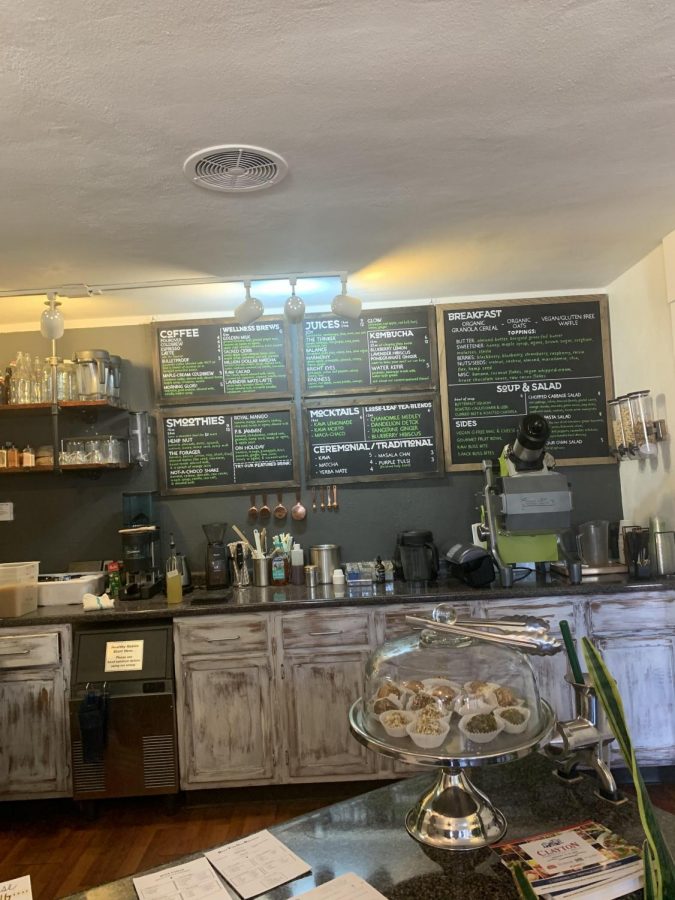 Sophie Srenco
Rootbound Juicery, located in downtown Clayton, offers a wide variety of drinks as well as plant based meals. The menu is extensive, with many options to mix and match. They serve coffee, smoothies, juices, mocktails, kombucha and ceremonial/ traditional blends. The menu is extremely easy to navigate and if you need assistance the workers are more than happy to help.
You can also upgrade your drink by adding "power plants." The "power plant" upgrades are geared towards your targeted mood. There are four upgrade choices including peace and calm, energy and strength, immunity and wellness and brain function. These upgrades consist of plants and oils to give you the maximum amount of benefits.
When I went, I chose to get the matcha latte which was considered a "traditional blend." I have had many matcha lattes, and this one was by far my favorite. Matcha is typically found in powder form. When mixed with steamed milk, lightly sweetened, and finished with a touch of cinnamon you will feel refreshed and ready to start your day. It gives you the perfect amount of energy and has a unique taste which is light but also very flavorful at the same time. For anyone looking for an exceptional matcha latte Rootbound Juicery is the place to go.
As far as price it is comparable to Starbucks or any other fresh juice bar. The size of my matcha latte was comparable to a tall at Starbucks. At Starbucks this drink would have cost me $3.65 and at Rootbound it cost me $4.00. For the most part the juices come in two sizes, 16 oz. and 24 oz. The small is $9.00 and the large is $12.00. These are the prices without the upgrades. The upgrades add $1.00- $2.00 to the total cost. Rootbound is definitely pricey but not anymore than other places that are comparable. The main reason for the price is the amount of fresh ingredients and also the seeds and oils that are helping you receive the health benefits.
The vibe of the juicery was very different than I would have expected. When you walk in it is a tiny space with a fairly large kitchen for preparing the juices. It is a very zen environment with not a lot of places to sit. At the time there was only one other customer in there, but if there would have been more it could have felt a little too cramped. There was only one worker and he was very helpful and efficient when making my drink. I was not a huge fan of the space just because of the size but overall I enjoyed my drink and would definitely be open to trying other items on the menu.
Rootbound Juicery is a great place for anyone looking for a bite to eat or a fresh and natural drink. I definitely would recommend anyone to try it because it is an interesting concept that I believe could really expand in not just Clayton but all around St. Louis.