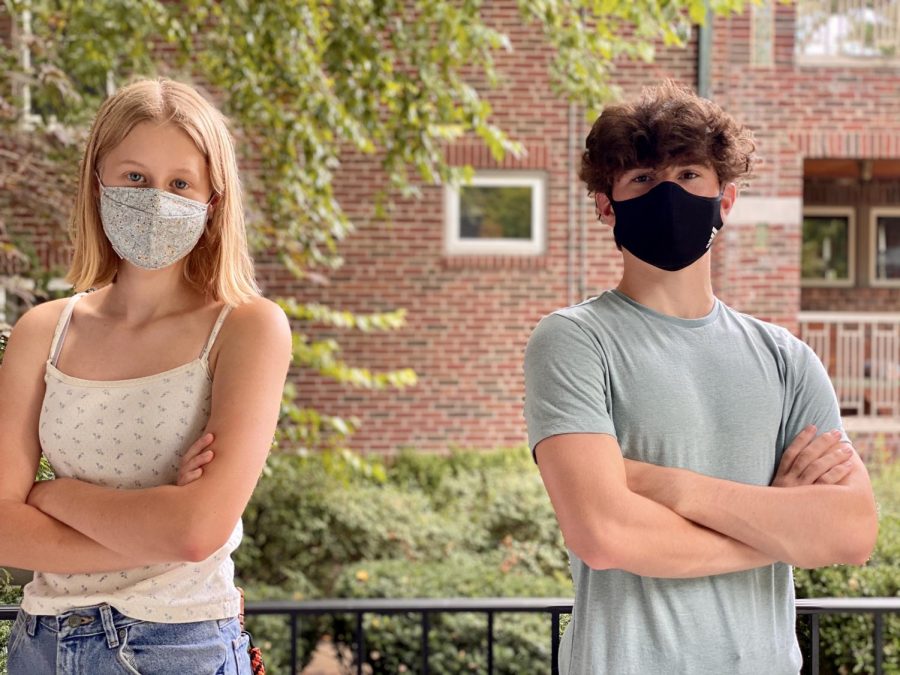 Ella Cuneo
From Sofia:
Going back to school this year will look a little different. As a rising senior, back to school season usually brings the excitement of being top dog on campus. Pep rallies, dressing up for spirit week, the Golden Greyhound and homecoming all come to mind when imagining what I thought my senior year would look like. This year, because of COVID-19, the only similarity my senior year will have with the one I imagined is college applications.
When quarantine started in March, we all hoped it would be over in time for the start of summer. Now that it's clear we're in for the long haul, it's hard not to feel upset by all the things we took for granted before. Things like sneaking some chips into the library and being packed into the Globe room for morning meetings won't be happening anytime soon.
But while quarantine has been a time of isolation, it's also been a time for community building. Before social distancing, most of us were too busy to know what our siblings were up to, let alone our neighbors. Seeing neighbors on family walks and teachers being distracted
by their pets on Zoom has allowed us to connect with people in ways we never did before.
Part of that community building includes helping others in the St. Louis area who need support. For those of us who have been lucky enough to not face financial crisis because of lockdowns, it's important to remember that millions have lost their jobs. In the St. Louis area alone, hundreds of people are facing the threat of eviction. If you're able to, donate to a group working to protect St. Louisans who are most vulnerable during this time like ArchCity Defenders or the St. Louis Housing Defense Collective. Order takeout or buy gift cards from your favorite local restaurant to help them make it through the pandemic.
As we ease into online learning, it's easy to get caught up in our own lives. When will we see our friends again? Where will we apply to college? When will we resume in-person learning? But now more than ever we have to remember that we're in this together.
From Shane:
It's important to remember that every morning, we all sign into the same Zoom classrooms for our online learning. We all face the same technological challenges and the difficulties of learning remotely. We all still don masks when entering public areas and stand six feet away from our friends when able to meet them in person.
I, along with many of my other peers who are entering Junior year are busy stressing over the uncertainty around our AP tests, with the added worries of whether or not online classes will be just as effective as learning in a normal classroom. SATs and ACTs, college visits and sports seasons are all up in the air.
The pandemic has thrown us all, as students, into uncertainty, but it's important to remember to be flexible. Understand that many of the difficulties you now face are felt by everyone else, and come to embrace some of the benefits of this new learning experience. I, for one, will not be rolling out of bed until 8:55 in the morning and enjoying using it yet again during lunch.
It's important to keep a positive outlook, and as cheesy as that sounds, there really isn't much we can do at this point but accept the circumstances and do our best to mitigate the damage. Hopefully, we can return to a state of semi-normalcy sometime in the future, but for now we can all push forward with a positive mindset and enjoy our next semester of high school.
Make sure to thank your teachers for all of the extra work they're putting in to make cohesive online curriculums, and your parents for helping you sort through this uncharted territory.
This year is new for all of us, not just the incoming teachers and freshmen. A lot will change throughout the course of the year, and we will likely have to change with it. Regardless of everything, I'm looking forward to another, albeit different, year of high school.