Eli Millner
Clayton High School sports are underway again. But, this year, they look starkly different. Masks, temperature screenings, and health checks have all become the norm for Clayton athletes.
At the start of the school year, sports, along with nearly every other aspect of the traditional school day, were surrounded by uncertainty.
The School District of Clayton is basing many of the decisions they make off of St. Louis County's COVID-19 task force and the St. Louis Sports Medicine COVID-19 Task Force. Both of the task forces' recommendations are spearheaded by a few guiding principles. These principles address the inherent risk that comes with playing with a group of other athletes and acknowledge the rapidly changing landscape.
Currently, St. Louis County is in Phase 3 for Youth Sports, meaning that restricted practices can occur. However, schools cannot compete against other schools until at least Phase 4.
The St. Louis Sports Medicine COVID-19 Task Force has divided fall sports into different categories depending on the level of contact between players. This division will help programs make more targeted decisions regarding each individual sport.
Low contact sports include cross country, gold, tennis, and swim/dive.
As of August 7, these sports have been permitted to conduct full-team practices and team scrimmages with restrictions. Masks must be worn anytime athletes are participating in vigorous physical activity, coaches must remain in masks at all times, and all sports equipment must be disinfected after each use.
Moderate contact sports include cheerleading, field hockey, soccer, softball, and volleyball. Lastly, football is considered a high frequency sport.
Moderate and high contact sports have also been able to begin team workouts and practices but face more restrictions. Team contact drills are permitted in groups of less than 20 athletes. Two coaches are allowed to accompany this group of 20 or fewer athletes.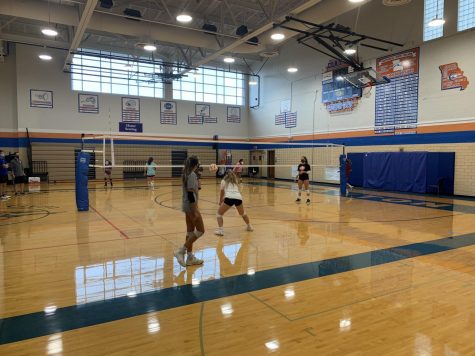 In addition to these specific guidelines, there are more general guidelines that apply to both groups of sports. Masks must be worn, no spectators are allowed, no games can be played, and social distancing must be maintained as much as possible during all activities. Before athletes enter any practice or group activity, they must pass a health screening. Temperatures are taken and athletes are asked questions about any symptoms they may be experiencing.
The School District of Clayton has been complying with all of the County's guidelines and is continuing to make decisions based on case numbers in the area. CHS Athletic Director, Steve Hutson said, "We're huge supporters of athletics. We want to [return] safely, and we want to do it following the county guidelines. We feel like it's not so much for the physical well being of students, but for their mental well being."
Clayton High School began phasing back into sports on August 24 following Phase 3 Youth Sports guidelines.
Low frequency sports: Cross Country, Girls Golf, Girls Tennis, and Boys Swim/Dive began with no restrictions on practice on August 24. However, social distancing guidelines were still enforced, and mask wearing was mandatory when not performing strenuous physical activity.
Ruthie Pierson, captain of the Girls Cross Country team said, "We do temperature checks at the beginning of every practice and any time we're not running everyone wears a mask."
Moderate frequency sports: Cheer, Field Hockey, Boys Soccer, and Volleyball also began full team practices on August 31.
As sports commence, both athletes and coaches are faced with a certain level of worry. For girls volleyball head coach, Kyle McCord, the issue hits close to home. Both his mother and sister contracted COVID-19 and have been experiencing long term effects.
McCord says, "My main concern is keeping everyone healthy and safe right now. At the same time, there is a certain level of stress from uncertainty in how things will progress. We don't know if we will get to the point where we can have competitions with other schools, and if we do, what that will look like."
Despite the new circumstances that surround sports, many athletes find solace in at least one aspect of their lives returning to some semblance of normal.
Pierson said, "Even though practice has been different, I'm really grateful that we're still having a season. There's some uncertainty with meets and how those will go, but for now, I'm just glad we're able to practice as a team."