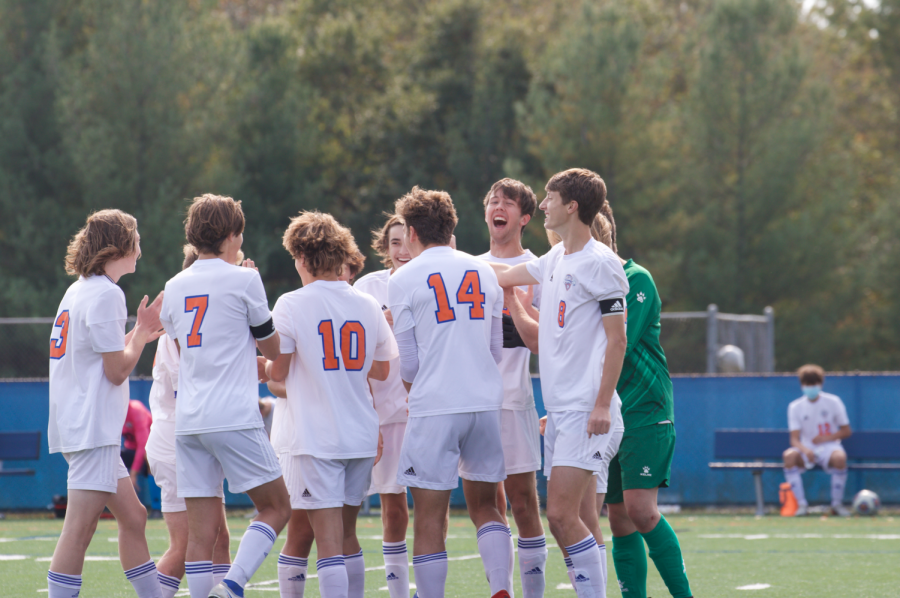 Davia Goette
For the first time since 2010, the boys' soccer team has claimed the district champion title, beating none other than rival Ladue in the final. The rivals were evenly matched and fans from both sides were kept on the edges of their seats throughout.
The first quarter of the game was relatively uneventful. Both teams had chances at goal but neither was able to capitalize on these opportunities.
However, in the 19th minute of the first half, CHS senior Ben Brewer played a slotted through ball to senior Zach Stapleton, leaving him 1v1 with the Ladue goalie. Stapleton was able to capitalize, giving the Hounds an early 1-0 advantage. This goal kept spirits high for the Hounds as they continued to dominate the first half.
The Hounds' lead was threatened in the 7th minute of the second half after a foul in the box, giving Ladue an opportunity to score off of a penalty kick. However, sophomore goalie, Stuart Whitmer was up to the task. Whitmer is known to get into his opponents' heads before penalty kicks and it definitely paid off as he was able to make the game winning save. "I remembered what I did in training and just made the save. I told the guy to put in right in the left corner, and he did," Whitmer said.
The second half was far more eventful as possession was constantly switching between the two teams. Ladue had several significant opportunities to jeopardize CHS's lead. In the final seconds of the game, the Rams had one final chance to score, but the shot fell right into the arms of Whitmer who embraced it tightly as the buzzer sounded.
The Hounds rushed the field to embrace each other after making history not only for themselves, but for every former player who has been on the team.
"It felt amazing. We've been working for it all year and after the past two years of losing, this just feels so good, not only for us, but for the seniors last year and the seniors the year before that," Stapleton said.
Ben Brewer also said about the win, "It felt good. We haven't won since 2010. I thought we played great as a team and we definitely deserved it."
The Hounds will play in the regional game on Saturday, November 7 at 6:00pm against either Webster or Mehlville on their road to state.