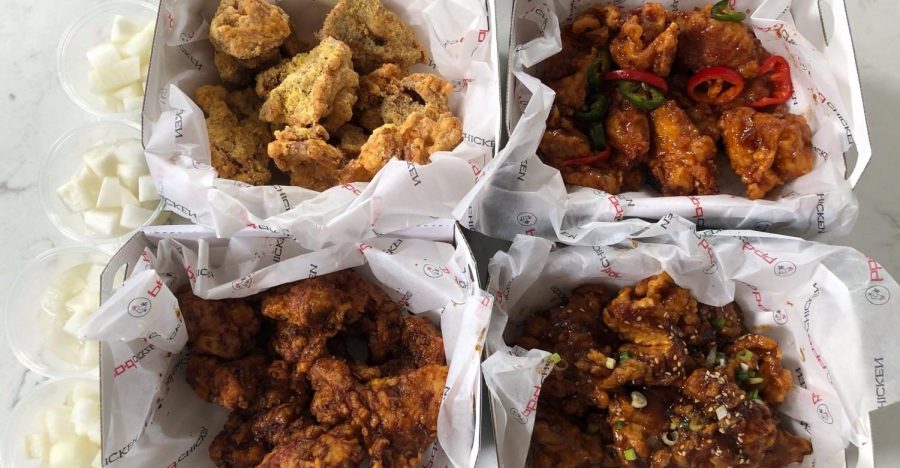 Rachel Chung
The BB.Q Chicken chain, despite the name, serves Korean fried chicken. Short for "Best of the Best Quality", BB.Q recently landed a spot in O'Fallon, Illinois. Korean fried chicken has found a boom in recent years, with both Chicago and Kansas City gaining a Bonchon Chicken restaurant. However, St. Louis had yet to truly join into the Korean Fried Chicken fun except for a couple sparse mom-and-pop places such as O Wing Plus. When my family heard that a famous Korean fried chicken place was opening, we took a pilgrimage over to O'Fallon to check it out.
When you walk in, you first see a clean blend of white subway tile, black counters, and blue and red accents. The menus are up on TVs above the counter, and there's a delicious smell of fried chicken. Currently, the tables and chairs are away, and you have to eat in your car or the small table in the front, but I assume in regular times, there will be plenty of space with a side room tucked in the front. Besides chicken, BB.Q also serves different Korean sides, like Ddukbokki, rice cakes in spicy sauce, and dumplings.
Per my mom's advice, Korean Fried Chicken is best eaten bland ones first, then sauced chickens as to not cloud the flavor of the plain chicken. Pickled radish (every order automatically comes with a small container of some) is also strongly advised to cut through the sauciness of the chicken, and for the older readers, beer, for the legendary "chimaek" (chicken and "maekju", or beer) pairing.
Golden Original Chicken
Coming in a vented box so the chicken doesn't get soggy and sitting on a bed of paper, the Golden Original Chicken was deliciously crunchy. The texture reminded me of calamari with it's hefty fried outside shell and in terms of breading, was closer to Pop-Eye's chicken breading than KFC. The Golden Original Chicken also had much less grease than American fried chicken places, which was nice but also led to a drier and harder fried outer shell. With no true flavor to it but chicken and salt, I soon became tired of eating it. The crunch was a welcome change in texture at first, but after a while, the fatigue in my jaws led me to other chicken flavors.
Honey Garlic/Soy Garlic
My family and I visited BB.Q twice, once getting the Honey Garlic, Soy Garlic, Golden Original Chicken, and Secret Spicy Chicken tenders, and another time getting the Honey Garlic, Galbi, Gangjeong, and Cheesling chicken tenders. After the first time, we realized that the Honey garlic and Soy garlic were similar in texture and flavor, albeit the Honey Garlic having a more prominent honey flavor. This does not necessarily mean not to sing their praises, however. The Honey Garlic chicken had a delicate and almost caramelized crunch, usual for most Korean Fried Chicken. The chicken didn't have too much of a heady garlic taste either, having a light covering of the addicting sauce that pairs heavenly with some cubes of pickled radish. I would advise some altoids, however, if you have to meet someone after eating this.
Cheesling
Korean culture loves cheese (no pun intended), and tends to add it to things you would never think of. Some of the cheese-adding inventions are delicious staples, such as adding some cheese to buldak (super spicy instant noodles), while others land in the more dubious food pairings, like American cheese on Ddukbokki. The Cheesling chicken, in my opinion, falls on the more sketchy end of the spectrum, but my mom liked it. Covered with a dusting of cheese and herbs, the Cheesling chicken delivered just as much crunch as the Golden Original with more flavor. The dusting of cheese threw me off, however, and it is probably good to note that I am not a particular fan of cheese. Overall, the Cheesling is entirely valid and delicious, but I just do not enjoy it.
Gangjeong
The Gangjeong chicken was a great example of Korean-Chinese fusion. The chicken was on the saucier side, with sliced red and green peppers mixed throughout, and the flavor was reminiscent of General Tso's chicken. Due to its sauciness, the crunch is lost a little faster and made soggy, so make sure you eat it hot.
Galbi
By far, the Galbi flavor was the most interesting fried chicken from BB.Q. Sprinkled with sesame seeds and scallions, the Galbi chicken imitated true galbi (Korean marinated beef ribs) in the strangest ways, with a flavor that was almost smoky with notes of beef (yes, beef). This resulted in a very unfortunate galbi beef jerky taste, which was extremely odd coming from fried chicken.
In conclusion, BB.Q has a wide array of different chicken. My personal favorites were the honey garlic/soy garlic, but the golden original chicken is a solid choice for some simple fried chicken. Whether you're going over to O'Fallon, Illinois, for some apple picking or family, I recommend a stop at BB.Q Chicken.