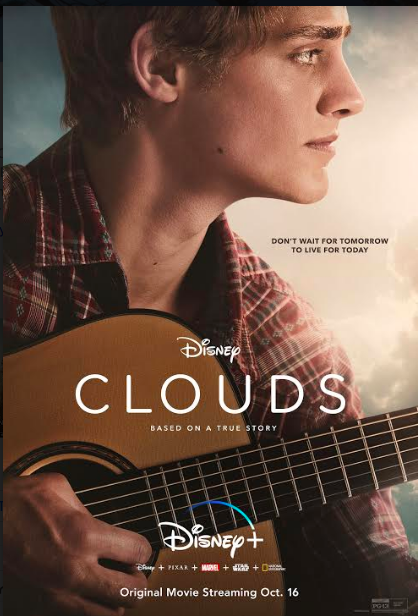 Disney
"We'll go up, up, up and we'll never see the end" Zac Sobiech sings in his hit song Clouds released just months before he died of osteosarcoma.
It's 2012. Zac Sobiech (17) has just been diagnosed with Osteosarcoma after many rounds of Chemo, and having cancer before. He is just a senior in high school and should've had a whole life ahead of him. You may have heard his song "Clouds" in 2012 when it went viral.
Clouds is a film based off of his story, starring Fin Argus as Zac Sobiech, Sabrina Carpenter as Zac's friend Sammy Brown, and Maddison Iseman as Zac's girlfriend Amy Adamle. He died of the disease on May 30th, 2013. "Clouds," his song soared to the top of the charts unexpectedly just a little while after Zac died. After Clouds came out on October 16th, 2020 it did it again.
Clouds is very sad, but the truth and beauty of this movie is really what makes it so good. There is a stellar soundtrack, connections to what actually happened in a lot of ways, as well as exquisite acting, it's also very entertaining.
This movie features a surreal soundtrack of songs written by Zac and Sammy themselves (performed by Fin Argus and Sabrina Carpenter), One Republic, and some songs sang by the duo Sammy and Zac formed, "A Firm Handshake." Some of my personal favorite songs from the album are "Clouds,", "Fix Me up," and ¨Sandcastles." These are all written by Zac and Sammy. The outstanding harmonization of Sammy Brown and Zac Sobiech, was completely recreated with Sabrina Carpenter and Fin Argus, to make a truly outstanding soundtrack.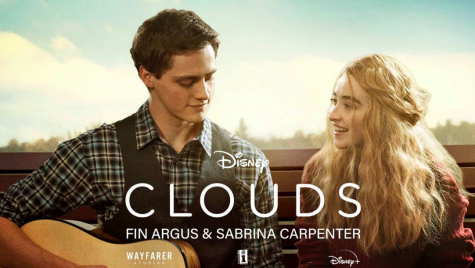 The movie is so true, and really educates the viewer on the great meanings of life.
"Don't wait until you're dying, to start living,." Zac once said. What really makes this movie special is all of the connections to the real story. The realness shows up absolutely everywhere. The director, Justin Baldoni, actually knew Zac, and worked on a documentary including him while he was still alive called, "My Last Days," about people who were dying, and Zac's episode is on youtube. The fact that he knew so much about Zac, helped shape this movie in a way that is just different and special.
Another connection that makes this special, is that a lot of the props that were used in the movie, belonged to Zac. Fin Argus used Zac's clothes, guitar, bedspread, crutches, and I'm sure many more. Fin Argus even said in an interview with Shine on Media, "
[/pullquote]
Zac's friends Amy and Sammy were also part of the show but they wore wigs so it could be hard to recognize them. Both of them are currently in their mid-20s. The actors who were playing Amy, Sammy, Grace, Mitch, and all of Zac's friends actually meant their real life counterparts, which definitely helped the character development even more, some of them are even friends now.
Fun fact – Zac also likes to show up a lot. A few months after he died, his friends were taking a photo for instagram together, and what they did not know is that there was a Z in the clouds behind them. It's things like this that make the story extra special.
Fin Argus portrayal of Zac Sobiech was just outstanding. There's no other way to say it, it was so real and honest, and because of those connections, it's one of a kind. In an interview with entertainment studios, his co-star Sabrina Carpenter says "It's literally jaw dropping when you see his performance because it doesn't feel like someone who's performing." From the moment of "my little dancer" to singing "clouds" on stage, it was hard to process the fact that this was a reenactment of what happened.
This movie is also entertaining. It will keep you on the edge of your seat. If you're not familiar with Zac's story, you will be mesmerized by everything that happens. All of the layers make it not just a regular movie about someone with a disease. It's so much more than that. The drama with Amy, Zac's parents,  what's gonna happen with his disease, his music? These are questions that will keep you hooked.
I've said it, and I will say it again, this movie is real. And in this case, real equals beauty. The music, connections and exquisite acting, and the entertainment aspect all add up to make up a marvelous movie. And if you ever want to listen to amazing music, just search up "A Firm Handshake" or "Clouds Soundtrack." This movie is definitely worth watching, just maybe bring some tissues while you're at it. 5 stars out of 5 for sure.