Phil Bray/Netflix
The Queen's Gambit, a limited series released by Netflix on October 23, 2020, follows the life of Beth Harmon, a highly intelligent woman orphaned as a young girl in the mid-1950s. She finds hope and meaning in her life from the game of chess. Throughout the entire series, there are recurring themes of substance abuse and addiction, as well as illustrating the pressure women faced during the time period to settle into traditional gender roles.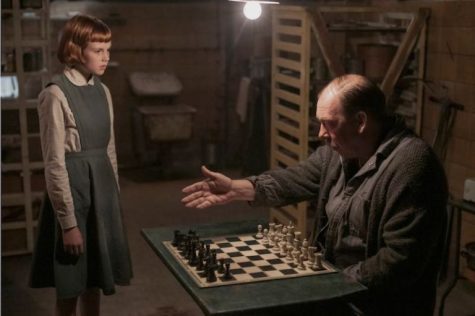 The story begins when Harmon, a quiet young girl, is taken to an orphanage after her single mother died in a car accident. While at the orphanage, Harmon is often bored in her classes and activities because of her extraordinary intelligence. One day, she was cleaning erasers in the basement after finishing her work ahead of the rest of her class. She noticed the orphanage's janitor, Mr. Shaibel playing an unfamiliar game. Upon being asked about the game, Mr. Shaibel informed her it was chess. Eager to learn, Harmon asked Mr. Shaibel to teach her how to play, to which he reluctantly agreed. As time went on, Harmon began to learn and quickly master the game of chess, at one point simultaneously playing and beating an entire chess club at the local high school. Chess was everything for Harmon. She worshiped it like it was a god and practiced it every day for hours. One of the reasons she became such an expert was because she played games in her head. However, she was only able to do this while under the influence of the tranquilizers that were given daily to each of the orphans, a common practice during that time period. While the tranquilizers enabled her to imagine and practice games and strategies, they also created an addiction for Harmon that would haunt her for the rest of the series. As the series continues, we see her develop into a young lady who begins to turn her love of chess into a career, traveling to tournaments every week.
Very frequently, Harmon struggles with traditional gender norms and how others around her perceive her. The topic of feminism, while not directly mentioned, is seen through Harmon's strong demeanor. In the world of chess, especially during the 1960s, men held an overwhelming majority over women. It was not seen as ladylike to play a game such as chess with a mostly male population. Nonetheless, Harmon goes to tournaments, unphased by her male competitors, and crushes almost every single one of them, one by one.
Another theme displayed throughout the series is substance abuse. Addicted at a young age, Harmon establishes a reliance on alcohol, cigarettes, and tranquilizers to soothe her. While the substances help her improve her chess skills, they also cause her immense mental, physical, and emotional damage. The show does a great job showing Harmon's struggle with addiction and the global issue of substance abuse for all ages.
Overall, The Queen's Gambit is phenomenal. What I love about television shows is the opportunity to connect with the characters and see extensive character development. The Queen's Gambit provides all of that and more. The way the show emotionally attached me to Harmon created an enjoyable experience for all seven episodes. Casting Anya Taylor-Joy for the role of Beth Harmon was a fantastic choice. The way she portrayed Beth helped showcase her strong demeanor and perseverance throughout all of the hardships she has been through. The combination of great acting, a dynamic story, and topics relevant to today's society make this show one that stands out.