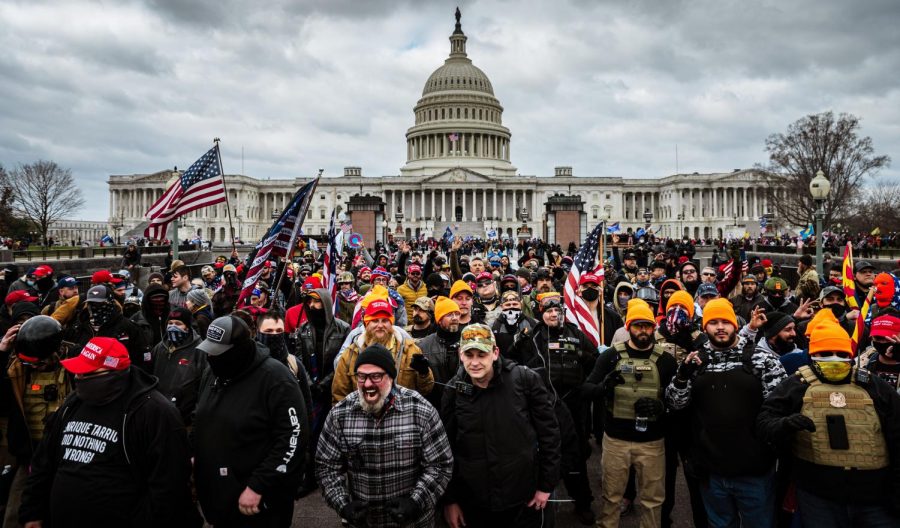 Jon Cherry/Getty Images
On Wednesday, January 6th, 2020, Congress gathered to count the votes for Joe Biden's electoral victory. In the meantime, supporters for Trump decided to storm the Capitol. The "March to Save America," with thousands of protestors, quickly turned violent as people broke into the building. Four layers of security was useless against this mob. Windows were smashed with hammers as armed rioters flooded into the halls of the Capitol.
Trump supporters quickly started vandalizing the building, with a video taken from the Senate balcony showing fire extinguishers being used as props. Men were seen holding spears and putting their feet on desks. There were people climbing the walls of the Senate chamber and taking selfies. One man smiled for the camera as he stole an entire podium.
The outside of the building was not much better. A noose tied up to a makeshift platform was seen near the west side of the Capitol. Another especially harrowing picture shows a mannequin dressed in white, with "TRAITOR" scribbled over it and a noose tied around its neck.
The police and national guard took over a few hours later, armed with weapons and using tear gas on parts of the crowd. In the midst of the chaos, a woman got fatally shot by a guard. Earlier videos show the police pushing against rioters.
However, another video showed police opening a gate to let protesters in and even escorting them down steps of the building they had broken into. One especially shocking scene that has since gone viral shows a guard inside the Capitol building, taking a selfie with someone that broke in.
Compared to the injustices that happened last summer, the reaction shown by the police force on Wednesday was shockingly placid. When POC, especially BIPOC, were met with heavy tear gas and rubber bullets to the head when protesting for human rights. Yet when Trump supporters break into one of the most historically prominent government buildings, there is little resistance.
This riot may have been shocking, but it should not have been surprising. In a tweet that he later deleted, President Trump urged his supporters to meet for a big protest in DC on January 6th. "Be there, will be wild!", the President tweeted out on December 19th. On the day of the riots, President Trump gave a speech that merely added fuel to the fire. He himself told his followers to march down to the Capitol building, adding "you'll never take back our country with weakness. You have to show strength and you have to be strong." His lawyer, Rudy Giuliani, called for a "trial by combat."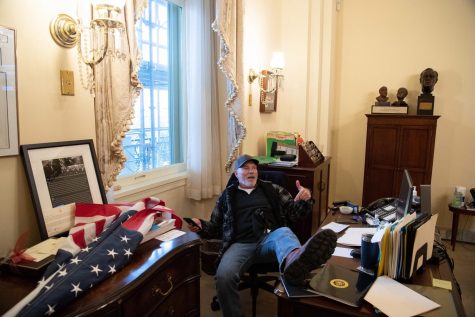 While Trump later sent out a video urging protesters to go home, his word choice was "formidable." "Go home, we love you, you're very special." In tweets that later got flagged and removed by Twitter, the President calls the mob "great patriots" and "great men and women." This is in stark contrast to his tweets last May, where Trump called peaceful BLM protestors, "thugs".
In every sense, the protestors we saw at the capitol could be deemed domestic terrorists. This begs the question, what exactly are the ideals of this country if people like this are considered patriotic? The senate hall is one of the most sacred and well guarded places in America, yet why did people get in so easily? Why do Constitutional and civil laws only seem to target people of color? The temper tantrum-like protest that happened was incited by the president, but he is not the only one to blame. There is a ridiculous double standard that separates white Americans from the rest of their fellow citizens that was put in place centuries ago and still to this day has not been eradicated.
It is amazing how ignorance in America can lead to an atrocity like this one.
What does this mean for America in the future?
The protest on Wednesday has shown an absolutely sickening display of excessive and unrestrained power. For people who claim to "Make America Great Again," how ironic that they are the very ones tearing our country apart by the seams.