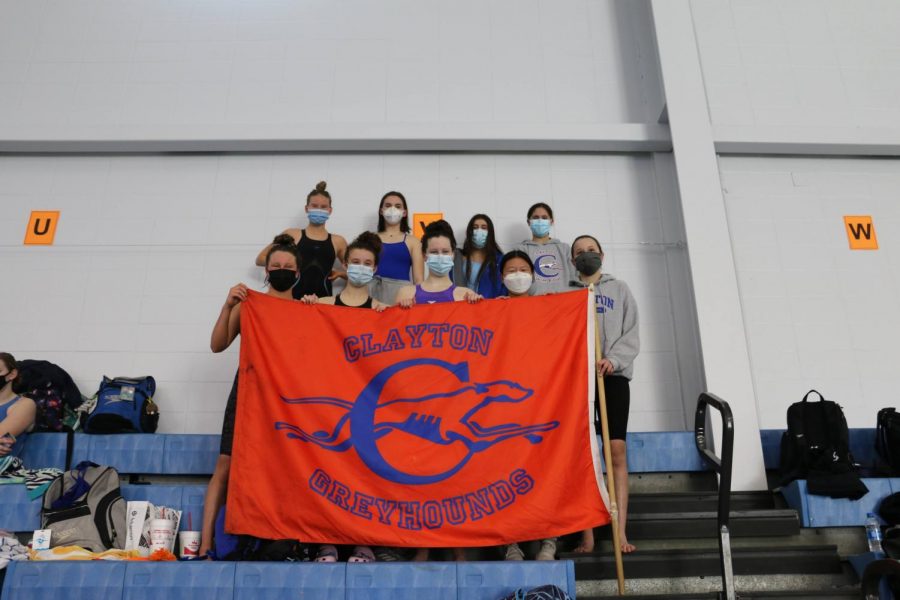 Jessie Wang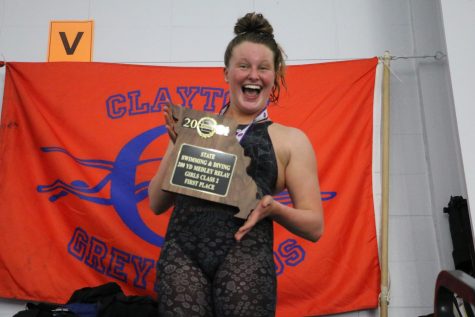 After two years of placing second and third in the 100 Breaststroke at the State Swim Competition, junior Kellen Mottl finally clenched the title.
On Saturday, Clayton High School competed in the MSHSAA Class 1 State Swim Meet and placed fifth overall as a team with 128 points. Mottl led the greyhounds to a fifth place State finish, placing within the top ten in each of her four events.
Mottl placed sixth in the 100 Freestyle, contributed to an eighth place finish in the 400 Freestyle Relay, guided the team to a first place finish in the 200 Medley Relay, and of course, finished first in her final individual event, the 100 Breaststroke.
Mottl has competed in finals for the 100 Breastroke at State since her freshman year but has yet to stand on top of the podium after breaking her own personal record until this year. However, Mottl faced serious pressures as she was expected by many to win the event.
"I tried not to think about it too much," Mottl said. "Because when I think about my races I kind of psych myself out and then I don't do as well. So I wanted to just put it out of my mind and try my best and see how I did."
Mottl knew that in order to win she would need to have a strategy.
"I knew I had to go out fast," Mottl said. "I knew that people would catch up to me if I didn't go out super fast on the first 50. I always struggle on the third 25 because the first 50 is easier to sprint so I just hoped no one would catch up to me. And they didn't."
After finishing at the final wall, Mottl was overcome with excitement and relief to have won. She contributed much of her success to slight changes in her training regimine with her club team, CSP Tideriders.
"The main difference this year was that I went to a lot more club practices. I think that definitely helped because I really liked the stroke work and sets that we do at club and I think that really helped me prepare for state for both Breaststroke and Freestyle," Mottl said.
However, attending more club practices wasn't the only thing that contributed to Mottl's success at state this year. Having an entire team by her side drastically boosted morale.
"My freshman and sophomore year, Sophie Thompson and I were the only ones who did individual events. Because we've been swimming together for so long, she always knows how to motivate me. But we were usually the only two to come back on the finals day and it definitely felt like it would have been better with a whole team," Mottl said. "But this year it boosted all of our moods to have a whole team cheering for us. Even when our names were announced behind the blocks, being able to hear people cheering made me more motivated."
The camaraderie amongst the Clayton team this year especially shined through during the relays. Mottl raced alongside three freshmen, Caitlin Kuhlmann, Anna Stouffer, and Jillian Thomason to claim a first place finish in the 200 Medley Relay, setting both a school and Class 1 record.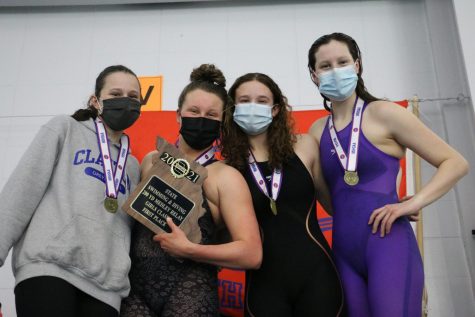 "That was really exciting," Mottl said. "Going into Conference and State, I didn't really think we were ranked that high and didn't think we were going to win, but it felt really good. It also set a good tone for the rest of the meet for all of us and made us more excited to swim our individual events."
The first place Medley Relay finish at the very beginning of the meet certainly pushed the team toward success in their individual events. In addition to Mottl's top ten finishes, freshman Jillian Thomason finished fourth in the 100 Butterfly and set a new record for CHS.
Senior Sophie Thompson placed fourteenth in the 200 freestyle and tenth in the 500 freestyle in her final state meet. Thompson spent years building up the team and finally was able to see her efforts come to fruition.
While CHS claimed one of their all-time finishes at State this year, Mottl and the rest of the swimmers are prepared to improve in years to come.
"I definitely think we can lower some more relay records next year. I think more people will qualify in individual events and hopefully we get top four next year, and then we get a little plaque which would be great," Mottl said.
Clayton's extreme success at State this year has set a great foundation for success in years to come.