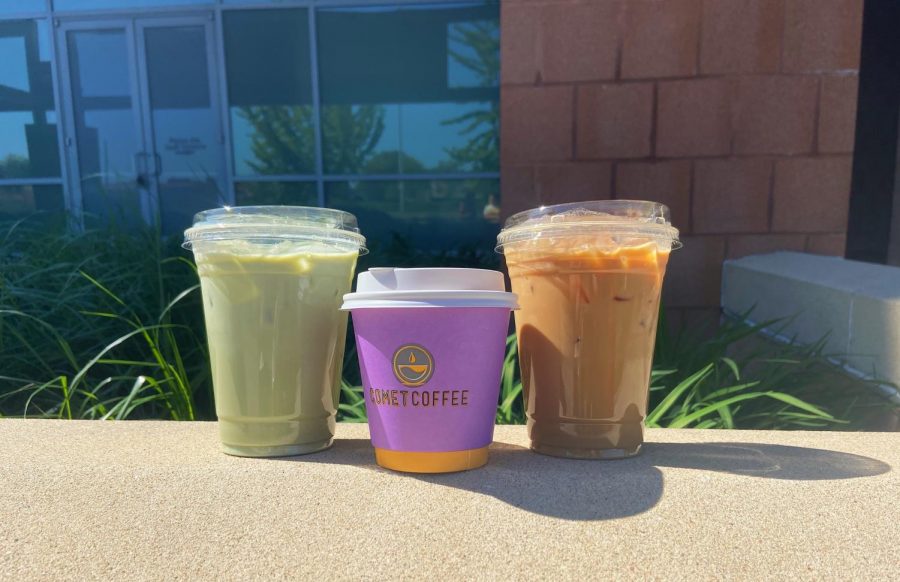 Dheera Rathikindi
"With every cup of coffee and every shot of espresso, we take the utmost care and pride in what we do." Comet Coffee is a quaint hand-brewed coffee and pastry shop. They are located near Forest Park on Oakland Avenue. The shop was opened by owner Mark Attwood and pastry chef Stephine Fischer in 2012. As a multi-roaster shop, they offer a large selection of different coffees from Ethiopia to Columbia and beyond. For the noncoffee drinkers, their freshly brewed teas are delightful. Part of the reason Attwood opened this shop was to follow his passion along with his partner Fischer. Fischer took on the micro-bakery part of their business by creating beautiful and delicious pastries. These high-quality pastries use ingredients coming mainly from local farms. Comet Coffee's philosophy is that a cafe should be more than just a place to get caffeine. They say "it's an experience of camaraderie, collaboration, and education." The cafe promises an unforgettable experience.
Many may wonder how the name Comet ended up as a coffee shop. The name itself comes from Saint Louis history. Located right on Oakland used to be an amusement park named the Highlands. This park was built across from Forest Park where the community college stands now. Opened in 1896, the amusement park lasted for decades before it was destroyed by a fire in 1963. During its prime, the park was most famous for its roller coaster the Comet. This ride, the coffee shop's namesake, was one of the largest roller coasters of its time.
Due to the pandemic, Comet Coffee offers only outdoor seating and takeout. We were instructed to order through their website which, although it gave us a bit of trouble at first, was very quick. We were delightfully surprised to have our food and drinks ready fifteen minutes after we submitted our order.
On our lovely visit to Comet Coffee, we tried a variety of drinks. We ordered an Iced Caramel Flavored Latte with oat milk ($0.75). Other milk options included whole milk, low-fat milk, soy milk ($0.50), almond milk ($0.75), and breve milk ($1). This 12oz latte was delicious. The milk and caramel melted together to form a creamy and smooth flavor and the added ice perfectly complimented it, making it perfect for a hot St. Louis day. Although the flavor of the latte was perfect, the price was not, as it was a bit expensive ($6). However, for an occasional treat, the large portion made the price worth it. (7/10). We also purchased a Flat White with Vanilla Syrup ($4.75). As a self-proclaimed espresso connoisseur, it was very obvious that the espresso in this drink was high quality. The smooth texture of the drink paired with the quality espresso made it one of the best Flat White's we have had (10/10). We believe this drink would be perfect for those who are just beginning to wade into the world of coffee. These two drinks make it clear that Comet Coffee pays a great deal of attention to their coffee and espresso quality. For a refreshing change of pace, we tried the Matcha Latte which was incredibly smooth, creamy, and refreshing ($4.50). Unlike low-quality matcha which has a powdery texture, the high-quality ingredients used in this latte made for a delicious slightly sweetened treat. (8.5/10)
The pastries at Comet Coffee were incredibly fresh. We ordered the Blueberry Muffin ($3) and their suggested side of Passionfruit Curd ($0.75). Together, the curd and muffin were a very delicious duo. The buttery crumble of the muffin topped with the smooth texture of the curd made for a very pleasing bite. (8.5/10). However, individually the curd and muffin were not our favorites as the buttery crumble from the muffin overpowered the sweetness throughout the rest of the pastry and the curd alone possessed a very sweet flavor. We recommend purchasing them together. We also tried a Pan Au Chocolate ($3.50) which was composed of thin buttery layers and a creamy chocolate center. As someone who has experienced Pan Au Chocolate in Paris, eating this perfected pastry teleported me back to those streets. (10/10) We also ordered the Chocolate Strawberry Chunk Cookie ($2.50). This cookie is perfectly balanced; with the sea salt sprinkle highlighting the chocolate and strawberry flavors and the crispy outside edge blended with a soft center. We'd definitely recommend purchasing this cookie, especially as a late afternoon treat (9/10).
One of the highlights of Comet Coffee is the amazing customer service we received. After ordering online, our order was ready very quickly. The staff accidentally forgot to include our Chocolate Strawberry Chunk Cookie but handled the mistake very well. We received a call and voicemail from them asking us to return and pick up the cookie or get a refund. When we returned to pick it up, they kindly gave us an extra cookie for free and apologized profusely. The service we received was incredibly kind and considerate, making Comet Coffee the perfect friendly cafe.
Comet Coffee's goal to create a unique and unforgettable experience was achieved during our visit. Our creamy drinks and buttery pastries were highly enjoyable and we loved the variety of optional additions. Although the prices were a bit steep, the products we received made the cost worth it. Consider checking it out if you are near Forest Park and want a lovely treat.