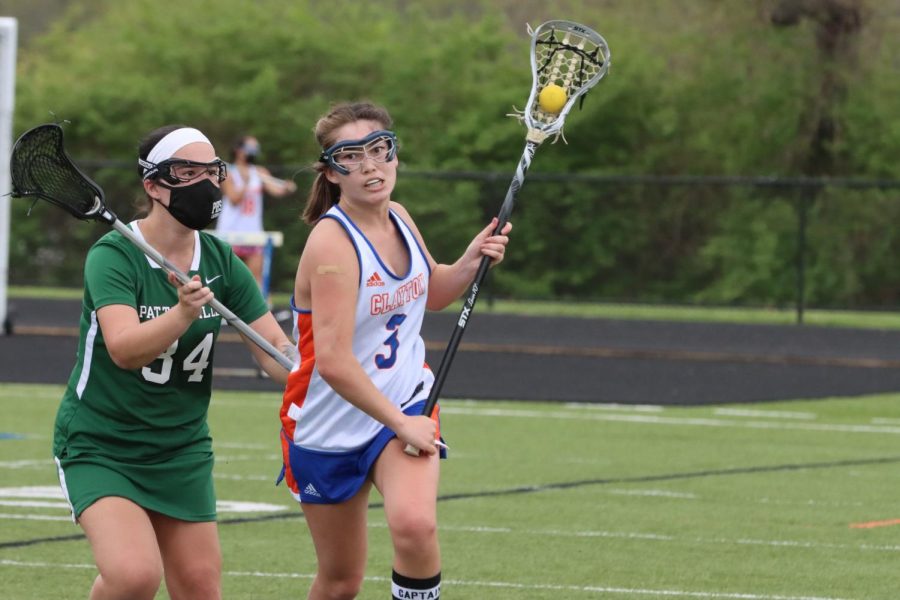 Lily Kleinhenz
"I love playing with Charlie. She is my best friend," Sarah Centeno said referring to teammate Charlie McDonough
Both of them are seniors on the CHS Girls' Varsity Lacrosse team, each having been on varsity all four years of high school. However, the co-captains were not originally placed on Varsity their freshmen seasons. After quickly impressing their coach with their talents, they each earned a spot on the team midway through the season.
While they each ended up as leaders on the team, they both had two very different paths there.
Charlie started playing in Maine before moving to Clayton halfway through eighth grade, whereas Sarah played for Clayton all her life.
"I moved to Yarmouth, Maine when I was in fourth grade, and I didn't even know lacrosse existed, but everyone plays lacrosse there. So I joined because my friends' parents told me to, but I never played club. I wanted to but I travel a lot in the summer, so I couldn't," McDonough said.
While McDonough never played club lacrosse, she attributes playing alongside club players for her success at CHS.
"Like 90% of your team being on these amazing Northeastern club teams prepares you for some of the hardest teams here," McDonough said. "Playing with them definitely helped me get on varsity at such a young age."
McDonough, however, did not know anyone on the CHS lacrosse team due to moving to Clayton at such an old age.
"It was terrifying. I didn't know any of the upperclassmen. A lot of people know kids in the grade above them just because they went to middle school with them. I really didn't know any of the upperclassmen on the varsity team," McDonough said.
Despite being moved up to a team full of upperclassmen in the middle of the season, they each had each other to get them through an overwhelming time.
"Charlie was probably one of the most fun people I played with freshman year just because some of the upperclassmen were a little bit intimidating back then," Centeno said. "She really helped smooth the transition to varsity."
Likewise, McDonough agrees with Centeno, citing Centeno for helping to smooth the transition.
"Being moved up was scary, but having Sarah there made that transition a lot easier. It made us closer to be honest, which was great because I was new to the community," McDonough said.
Before the two were best friends, they barely knew each other freshman year.
I didn't really know Sarah until lacrosse season. Being together on that team really threw us together. We met at lacrosse because the coach put us on varsity by ourselves. It was a little isolating being the only freshman on the team, but I'm glad I had someone there with me," McDonough said.
While the team was very segregated their ninth grade year, the team as a whole became a lot closer their sophomore year. McDonough and Centeno both accredit this newfound atmosphere to their new coach, Lexie Lindblad.
"The season was fun. Games were fun. We were winning. The team was actually unified. The change in coaches really helped promote this change," McDonough said. "Sophomore year was definitely my favorite season."
Centeno and McDonough hope to bring that same feeling to the team this year.
"They bring great insight to practice and games and are constantly trying to find new ways to help improve on the field. They have such positive attitudes and strong work ethic that it makes coaching easy and enjoyable," Lindblad said. "They know when it is time to have fun and when it is time to be serious."
Even the other players have started taking notice.
"Sarah and Charlie take initiative by helping our teammates understand what they're supposed to be doing. They also bring a lot of energy to the team while making sure everyone is having fun and working their hardest," Junior Emmy Sandquist said.
Centeno and McDonough are hoping to lead the team to a successful and fun season, with their main goal being to not have to quarantine.
"It's all about mindset. Energy. Support. Love. Friendship. I love my team," McDonough said.