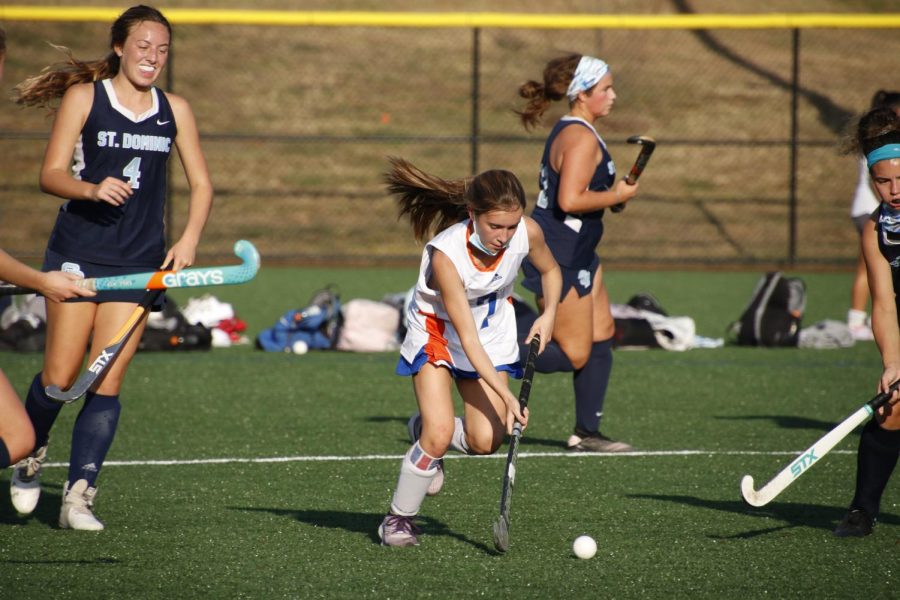 Audrey Deutsch
Unlike most of the players on the CHS Field Hockey team, Ruby Nadin, a sophomore at CHS, started her field hockey career in England.
Nadin was born in England and lived there until she was almost ten years old. At the private school she attended, it was mandatory to play field hockey. Nadin's introduction to field hockey was only six weeks before she moved to the US. At the start of these six weeks, Nadin began with a week-long camp before the start of the school year to get to know the sport. It was at this camp that Nadin realized she had a natural ability and love for field hockey.
After her six week introduction to field hockey, Nadin moved to the US and decided to continue playing. She joined Aim Field Hockey Club.
"It was definitely a bit challenging when I started because the girls who were playing here had already been playing for a while and it's pretty intimidating to start with people who are already really good," Nadin said.
Despite Nadin's initial discomfort, she quickly made friends at Aim and became much more comfortable with the team and the sport.
After years of playing with the same club, Nadin currently plays at a very high level. Nadin is only a sophomore, but even still, she plays on a U19 team with girls several years older than her and plays year-round, even in the winter. Nadin's club team does a lot of traveling throughout the year to play teams from all across the country. Three of their most popular destinations are Orlando, Miami, and Louisville because they each hold annual field hockey festivals.
When Nadin isn't playing for her club team, she plays for the CHS Field Hockey team.
"Club is definitely a lot more intense than high school because most of the girls have been playing for just as long as I have or even longer. Also, most of the girls there are trying to commit to colleges so it's very intense and very competitive. In comparison, not everyone in high school has been playing for as long as I have and not everyone here wants to go to college so it feels more like just a fun thing to do. So yeah, at Aim, I'm definitely not one of the better players because there are so many amazing girls whereas at school, I am one of the better players on the team," Nadin said.
On the CHS team, Nadin is the top goal scorer and is one of the most important aspects of the team. Coming in as a freshman on Varsity, it was difficult for Nadin to adapt quickly.
"Last year was a lot to manage. I felt a bit out of place because I was a freshman and had been playing for so long, and on top of that I was on varsity. So I did feel like I was in a bad place but this year I definitely feel a lot better because I've been here for a year and I know everyone on the team," Nadin said.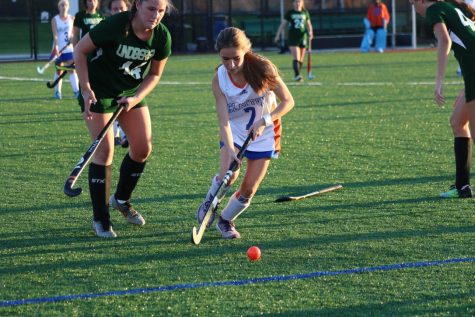 Nadin's sophomore year was a huge turnaround compared to her freshman year as she felt much more comfortable and confident. Even as an underclassmen, a lot of the older members on the team look up to her.
"Ruby is always able to dribble past the defenders on the other team. It's amazing because the ball could be in our defending 25 and Ruby is able to dribble it past four defenders and score," senior Emma Reim said.
Abby Sucher, a junior also said, "She's a big inspiration to the entire team because she's a super reliable player and you always know that she's going to be open and be able to carry the ball up the field and do what needs to be done."
Despite Nadin's impressive skill, it can still be mentally taxing to have the reputation she does.
"There's definitely a lot of pressure to perform well. I always think about how there's more I can do better. In games where I don't score a lot, I get upset because I know I could have taken missed opportunities and done better. I just want to be able to prove myself and pull through for everyone," Nadin said.
Nadin credits most of her development to Lexi Lindblad, her club coach for her first couple years and the CHS Field Hockey head coach.
"I've been coached by Lexi for about five years total. She was one of the first coaches I really connected with at Aim when I first moved from England. She coached me from U12 to U14 and she's coaching me again now. I thought she always knew how to motivate everyone and get them excited to play. I really enjoyed having her as my coach at Aim, so when I found out she was coaching Clayton I was really excited to be coached by her again," Nadin said.
Coach Lindblad was one of the people that helped Nadin to come out of her shell during her sophomore year and become such an important part of the team, changing the overall dynamic.
Before Nadin came to CHS, the field hockey team was only winning about four games per season. However, this year, with Nadin really taking initiative, their record was 8-3. Nadin is a prime example of how one member, even as an underclassmen, can have a considerable influence, not only improving the record but also the overall morale of the team.