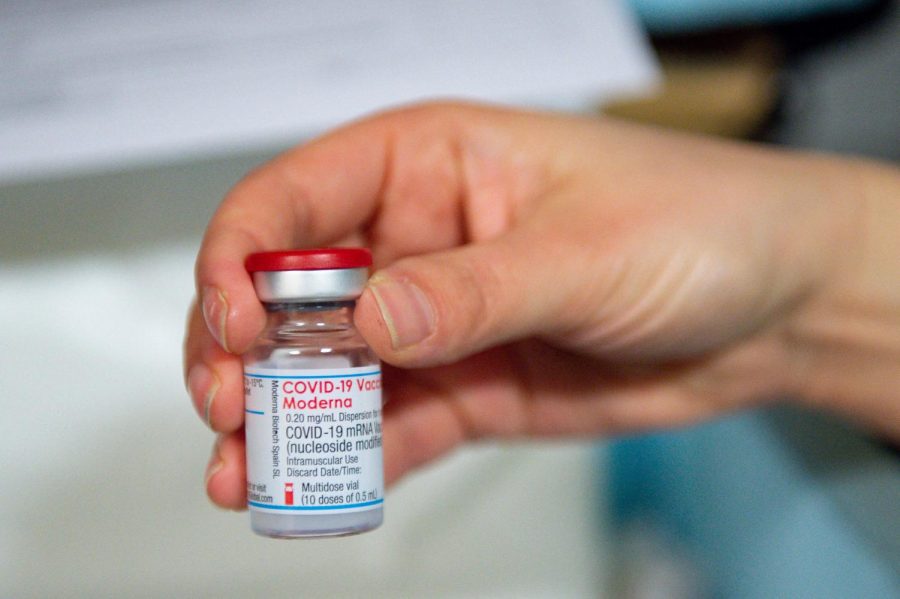 Masked? Unmasked? Vaxed? Unvaxed? 2020-2021 have been just under two years of emotional, physical, and mental roller coasters.
With mask mandates being enforced, and then unenforced, and enforced again, schools all over the country are being forced to make rapid decisions about how to handle student safety and the debate over online vs. in-person school. Not to mention the unknowns of the covid vaccine and the communities that are divided into anti-vax and pro-vax. Schools not only have to deal with covid related issues, but also must deal with keeping their students' mental state at a good level and the schools educational system thriving. With last year especially being full of these unknowns related to covid, many of us students, teachers, parents, etc are hoping that this year will be a smooth ride compared to last year. With sports, homecoming, and other Clayton High School activities kicking back into gear, hopes for a somewhat normal 2021-2022 school year are high. However, what isn't being talked about is the kids in the Clayton elementary schools (Glenridge, Meramec, and Captain) who maybe aren't experiencing this new "normal" yet. With the vaccine currently only being available for ages 12 and up, this leaves children in the 6th grade and below still at a risk for catching covid and the delta variant.
According to CBS news, former Food and Drug Administration Commissioner Dr. Scott Gottlieb says that the vaccine should be approved for emergency use for children ages 5-11 by October. Other sources such as CNN are saying that the vaccine may not be fully available to children under 12 for at least a few more months. Other sources are saying it could be sooner. Evidently, the availability of the Covid vaccine for ages 5-11 is still up in the air. What is official is that it is still not an option for our elementary school and early middle school students. So how are the Clayton elementary schools students and staff handling the waiting? The guidelines at the elementary schools remain the same as they were at the high school when students were not yet vaccinated. 3-6 feet apart and constantly washing and hand sanitizing hands.
And obviously, masks on.
"Given that we must wear masks at all times except when eating, that we remain at least 3 feet apart and that we wash hands or sanitize our hands frequently and that our faculty is vaccinated fears of catching COVID -19/Delta variant are present yet not as worrisome as when adults were not vaccinated," said Principal of Glenridge Elementary School Beth Scott.
Parents of students at the elementary school said similar things on whether they felt worried about protocols changing outside of the elementary school and how that may affect their kids going to school.
"I think the school district did an amazing job of keeping the kids safe. So, no, I had no hesitation to send her this year," said Maureen Satorius, mom of Suzzette Satorius, who attends Glenridge.
Teachers are presenting additional feedback on the topic of whether or not they are concerned. "It's definitely shifted from the beginning of the pandemic to now. I think that as we have gotten more accustomed to this being our normal. Ultimately, I feel much more confident because Clayton is requiring the masks. I know middle school is something in the middle that kids are working really hard at as in keeping their masks up and focusing on hand sanitizing and washing their hands," said Sarah LaPierre, who teaches 6th grade literacy at Wydown Middle School.
So, should Zoom still be an option? Should that be something that we still require in the Clayton school district?
"If I were given the choice in teaching in Clayton where masks are mandatory and students can zoom, or to teach in a district like Wentzville where masks are not required but zoom is still an option, I feel much safer at Clayton," said LaPierre.
As we all know, Zoom for some was absolutely antagonizing. Students struggled to pay attention with the numerous distractions in their rooms. It additionally caused fatigue and headaches for some as well. but for some it was a much better option than in person learning. Sometimes on a rainy or snowy day when you wake up at 6 am, the last thing you want to do is go to school. Zoom was the perfect option to escape that. Additionally, an excuse to stay in your pj's all day and stay in bed until 3 pm. It also made it easy for kids to stay home and not miss work if they were sick, or learn in multiple different learning environments. Despite the many advantages in that similar area that zoom offers, the interactions that we have with each other face to face in school are irreplaceable. Having a face to face conversation with a teacher or classmate is proven to have much more of a positive impact on a students mental health. Additionally, it was shown how much zoom damages students' mental health, for a good amount of students require face to face interaction with their peers in order to have a stable mental health status. Obviously there is an abundance of pros and cons on the topic of zoom, which is why it is likely that with the constant unknowns out there with the coronavirus, there is a chance that zoom may come back to benefit some and haunt others.
"Virtual instruction could be an option in a variety of scenarios. Educators have learned a lot about facilitating learning within a virtual environment and I wonder how continuing a personalized path for some middle and high school students might support their individual learning needs," Scott said.
It seems that for now, teachers and students who are in buildings where the majority of students are not vaccinated, the concern for getting covid is low, as is the demand to have zoom back.
"A lot has come out of the pandemic that is changing the way that we view education and is changing the boundaries of what we have accepted as a traditional educational setting. We have seen some students flourish using zoom as an option. I think that there would have to be so many things that would have to be in place for that to be offered as an option. Because what was not sustainable as a teacher was having to try and give the same amount of attention and assistance and feedback to my in person students while I also had students on zoom," LaPiere said.
In addition to the changing circumstances that the coronavirus presents, a common question that many citizens find themselves arguing over is whether or not the vaccine should be required for people to get if they are eligible. Obviously, many things like religious exemptions, physical health reasons, etc would have to be taken into consideration, but what about the people who are completely able to get vaccinated? Should they have to? What about sports?
"I hesitate to give a hard and fast answer on whether or not students should be required to be vaccinated in order to attend school or in order to play sports. I would 100% believe in science. I would 100% believe that the vaccine is safe and effective and that it is going to save lives. But also as someone who has spent a lot of time teaching about constitutional rights and liberties and also as a woman in this political climate, I'm very reluctant when anyone attempts to mandate what people can and cannot or should and should not be allowed to do. Especially, when we are in a situation where we have elementary and high school students who very much want to be vaccinated but can't do so without a parent's permission," said LaPierre.
It seems that it would be simple to require the vaccine among all citizens in the US, however the process would be more complicated than it appears to be.
"Unless a person has a religious or legitimate reason for not getting the vaccine, yes those attending our district should be required to have it. The opinion aligns with the fact that we have a host of immunizations that children (and adults who were once children) have been required to receive upon entry to school," said Scott.
Many people agree with Scott and believe that the Covid vaccine should be a requirement, but others think that it is a choice similar to vaccines like the flu vaccine.
"The fact is we have students, you have students who you sit with in classes, I have adults that I work with that are very anti-vax, not just about the covid vaccine but in terms of measles and smallpox and polio, and a slough of other illnesses some of them death sentences that have been all but eradicated because of vaccines and I think that it is only a matter of Time before the covid vaccine gets added to the list. However with religious exemptions how much of a difference that would make," said LaPierre.
The problem additionally comes up in sports. Should kids who are vaccinated still have to wear masks when they play sports? For kids who are not vaccinated, should masks be required to play? Outdoor vs indoor sports, what's the difference between the two? Many of these questions will be answered as the upcoming season of winter sports are among us. Not just concerning sports, but with the cold coming upon us, outdoor interactions will be limited, leaving us to be interacting face to face inside. Inside where it's easy to spread Covid.
Despite that this deadly virus has presented a lot of unknowns among our world, one thing that we have learned is that we as humans have many different opinions. Covid has brought up so many different sides, views, and opinions about our society. It has forever changed the way that we think and see each other as humans. We see someone and think Do you think they are vaccinated? Do you think they have Covid? We are hesitant to go up to new people and form these new friendships, our social interaction skills have been reduced. We seem too scared to talk to people about our problems. Opening up is harder and our thoughts are getting locked up in our heads. Whether kids in elementary schools are able to get vaccinated, whether zoom comes back or not, whether we wear masks in sports or not, we need to stand by one another because experiencing change is ten times easier when you have people by your side to face it with.