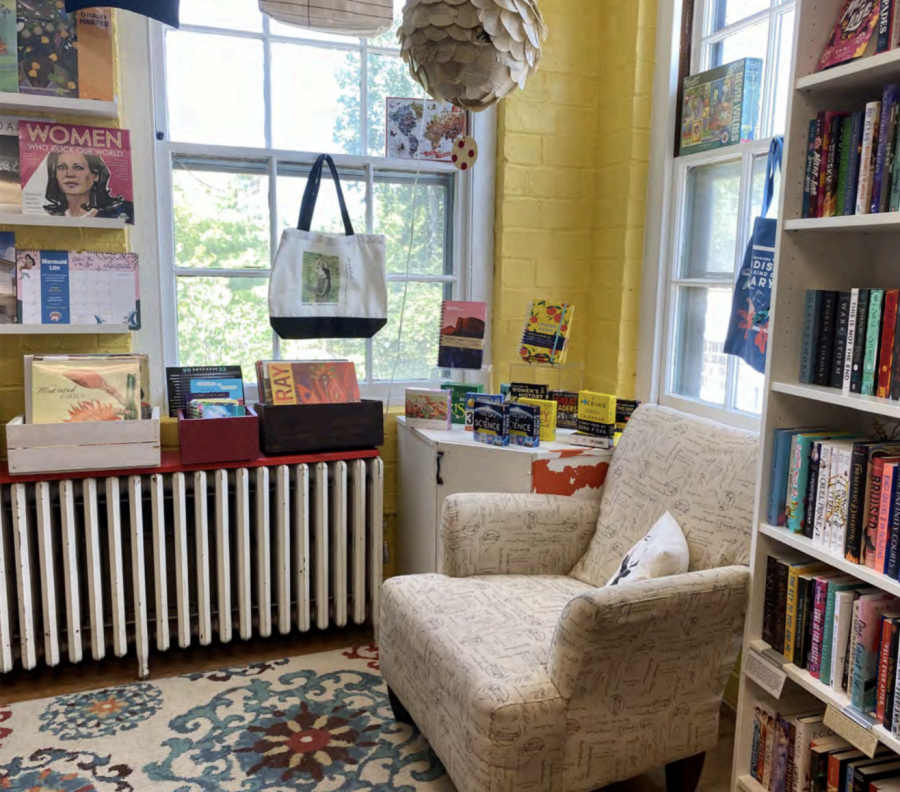 Ella Cuneo
As you walk into the Novel Neighbor, a colorful community feeling surrounds you. Posters created by local artists, bookshelves with staff-picked recommendations and red wooden blocks with black ink doodles and metal keys coat the upper half of the walls.
The Novel Neighbor, started by Holland Saltsman, is a small local bookstore located in Webster Groves, St. Louis. The bookstore is known for its prominence in the surrounding community as well as its support for local artists. 
The Novel Neighbor offers opportunities and exposure for artists and local businesses. The bookstore fills its space with local goods including handmade candles, soaps, cookies and chocolate, stickers, jewelry and fine art prints. Some artists give their works and receive a percentage of the profit in return, while sometimes the bookstore buys the goods from others and resells them. 
Not only does the bookstore provide for local artists but they also serve the community in other ways. The bookstore has their own nonprofit organization called The Noble Neighbor where they donate books for children in less fortunate school districts. They spend about $2,500 to schedule an author visit and to give each kid a free book at the schools they visit. You can donate on thenobleneighbor.org. 
The Novel Neighbor also provides a variety of experiences for the community.
"We do a lot of author events, book clubs, we also do industry-wide events such as romance bookstore day, independent book store days which are every April. We also have the event space, you can rent that out for baby showers or birthdays. So, there is always something going on," said Zoe who has been working at The Novel Neighbor for about two years. 
Some of the events include book-themed birthday parties for kids, book clubs ranging in ages and genres and author visits. The bookstore has a tradition where the authors who visit decorate a red wooden block with black pen. Each of the blocks also has a key which the owner of the store recycled. 
The bookstore also offers a wide range of books and fun games. Their merchandise ranges from romance novels to tarot cards to mental health books. They even have a full stand dedicated to books about St. Louis. 
Part of what makes The Novel Neighbor so unique is the community that surrounds it. The bookstore has regulars who make it part of their weekly routine to visit. 
"It's always fun seeing the regulars every week," said Zoe. "I've made friends, even during the pandemic, through our book clubs and things like that."
The community aspect extends to the virtual world as well!
Just as many places, The Novel Neighbor also had its fair share of struggles during the pandemic. In order to combat this, they invented their "mystery boxes." Customers can put in their orders on their website. When you order a "mystery box," you tell the store about what genres or books you like, then the employees put together a box of books and other fun merchandise. The sizes and prices range from $35 to $150. 
The Novel Neighbor's comfortable and friendly environment is a go-to place for local St. Louisans and a touristy spot for curious passing travelers all around the country. For tourists and new customers, The Novel Neighbor is sure to turn a head or two. Featured in The Wall Street Journal for their famous "Mystery Boxes" and collecting quite a following on Instagram, with 10.9k followers, and a new platform on TikTok, with 43,700 followers, The Novel Neighbor fame and familiarity to its name. 
Zoe said, "We get people, who come in here from other states, that are like, ' Oh I was just driving through, I saw you on Tiktok and I just had to come over here to see your store!'"  With some videos on Social Media, reaching hundreds of thousands of views, The Novel Neighbor can sell up to 250 of the same books, "in just one day!" 
If you are in need of a new book, a fun present, a piece of artwork, or just a trip out for the day, head to The Novel Neighbor for an uplifting and community experience.