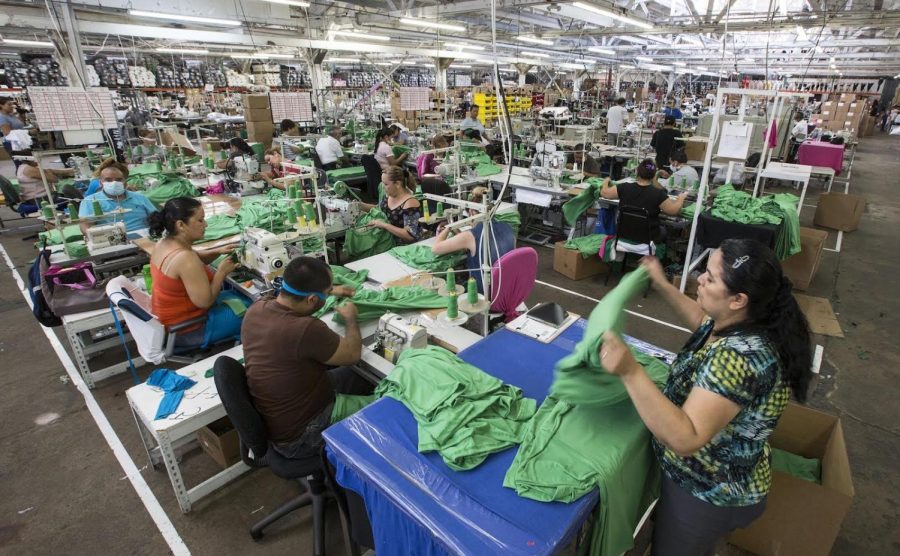 Brian van der Brug/Los Angeles Times/TNS
One month it was leopard print, the next, cow, and suddenly you had to be wearing sage green to be dressed in style. Even though trend cycles have existed throughout history, the growing fast fashion industry and the creation of social media has caused the length of said trends to grow shorter and shorter. 
Many know what lays behind the screen when buying fast fashion; from sweatshops to child labor. In Bangladesh the monthly minimum wage is 96 USD for garment workers but only 14.8% of workers received that pay in the month of April 2020 (via Open Access Government). In one year the people working to make American's "fit checks" are making just over 1,000 dollars. 
Yet these common known injustices don't keep people from buying. According to the Wall Street Journal, a whopping 80 billion items of clothing are purchased worldwide each year, many of them being worn a couple of times before being sent to the landfill. 
Fast fashion has been brought up in social media frequently, especially alongside words like "disposable" and "microtrends". TikTok is a major producer of so called "microtrends" and websites like SHEIN have extremely inexpensive clothing that incline shoppers to buy mass hauls that they will later dispose of when the clothing goes out of style. The main consumer of TikTok media is teens, and the majority of videos they see are also produced by teens. During the pandemic and lockdown, teens were on the app more than ever watching their generation have style glow ups through the screen. 
"During quarantine, since I was on my phone all day and was seeing people on Tik Tok show their closet glow ups and a new fun and different style it definitely made me want to make more purchases." responded a CHS student when asked about seeing a trend and buying. What's better than a website with every color and style of the trend you are interested in?
But for many, fast fashion means more than the latest trends.
"I am aware that places like SHEIN are terrible for sustainability and are hurtful towards workers, but I don't have the money, nor my parents to be buying clothes from stores that are not harmful to the environment," says another anonymous high school student.
Telling people without the resources or substitutes not to buy fast fashion is groundless and extremely tone deaf. For many plus size, certain income, and modestly dressed individuals, the sustainable fashion industry doesn't provide clothing for them, consequently making more affordable mass produced clothing the only option.
The real problem in fast fashion lies within people that have the resources to shop sustainability but still indulge in the habit of over-consumption and disposing. This unnecessarily grows the industry and promotes overconsumption to spectators.
"The people who are buying fast fashion because it's all they can afford are not the ones contributing to the dominance of fast fashion"1 Says vintage clothing collector and social media influencer Mina Le.
These people cherish their clothes and are not treating them as disposable items that keep them up with the trends. Influencers who buy $1000 hauls of trendy items just to throw them out a month later, are contributing to the problem, and making it worse by influencing their young followers to do the same. 
In the late 1990's and 2000's companies like Zara and H&M dominated the fashion industry by benefiting from shorter manufacturing and distribution cycles. Compared to ethical companies that would take months to get an original design to stores, these companies reduced the cycle to just weeks.
They would start off by quickly replicating fashion trends from high-end fashion brands like Prada, Gucci, ect. By copying designs instead of making their own these brands were already cutting mass amounts of time and effort getting designs to the manufacturer. A heavier reliance on unethical clothing production shortened the manufacturing cycle as well.  
From there it would take days for the clothes to be shipped to warehouses and then be sold in stores. The staggered production of different clothes resulted in changing styles and designs weekly so consumers could have a wide variety. And of course trendy affordable clothing is destined for high turnover.
Now let's compare that to how SHEIN produces clothes. The key difference between fast fashion brands like H&M vs. SHEIN is the online factor. Unlike previous fast fashion brands SHEIN copies clothing by analyzing the fashion trends of millions of people through social media.  Consequently discovering clothing that will reliably sell extremely faster. 
Considering SHEIN is a company that only sells online, it has an abundance of data and feedback loops that help understand it's demographic and how to market to them. With this data they are able to design an item and have it up on their site within a shockingly short three days. Because of these factors SHEIN is growing so rapidly it's already become a major competitor against other pre social media fast fashion companies.
Micro trends are the shortened trend cycle we see due to social media. For example when a brand sends out PR packages of a certain product to dozens or hundreds of influencers, they will all post in the item at the same time. This leads to the internet being overwhelmed with a specific item and followers of the influencers feeling like they need to purchase to be up with the times. They then go to websites like SHEIN to look for an affordable dupe –but there is already a new trend the next week– so they return to the site yet again and buy the next big trend while last weeks purchase goes to the landfill, just more polyester fabric ready to sit in a landfill for a thousand years. 
"I think one of the biggest issues with fast fashion is that it leads to the societal devaluation of labor that goes into making clothes. Of course if you're used to seeing $15 price tags and consistent 50% off sales, you're going to be blown away when you see a sustainable dress that costs $300."1 says Mina.
That 300 dollar dress is a representation of how the clothing industry should be run, through fair pay to everyone who participates in it's process of being designed, to sewn, to distributed while also being sustainable for the earth.
St. Louis is home to a wonderful variety of local and sustainable clothing stores that partake in fairly paid labor. From resale to locally designed, we are home to a wonderful assortment of options that are more unique and better for the earth (and community) than fast fashion.
Anthony White, founder of Jon Blanco, a STL based sustainable brand, understands the core of the problem, "Our culture's focus on consumerism focuses more on what people can buy rather than what they can maintain."
"We are doing our best to combat these industry norms. As a brand, we have worked hard to find a balance of affordability, high quality and sustainability (both social and environmental sustainability). We reduce, reuse and recycle every chance we get. In shipping, we use either recyclable or biodegradable materials. From the limited packaging we use to the tape that holds the boxes together, we are always looking at ways to reduce and reuse." says White.
Their clothing is made in small batches, and their embroidery and prints are created in STL. Working with companies in California to source materials and manufacture the blank clothing articles they have maintained a clean and transparent supply chain. "Our partners source fair-trade cotton from India, cut & dye the fabric in Los Angeles, CA and sew the fabric in Central America, namely in Nicaragua. The factories are all WRAP Certified. WRAP Certification is an independent auditing and monitoring certification that ensures factories are meeting a number of high social and environmental standards." White explained.
And despite already being sustainable themselves, Jon Blanco is working to help St. Louis become a city that benefits the environment rather than harming it with landfills overflowing with polyester clothes. 
"We are looking into the possibility of manufacturing our clothing 100% in the US (even potentially manufacturing some items here in St. Louis), coordinating local clean up events and the inclusion of more organic materials and fabrics. We are also always looking for new organizations to partner with locally. We are continually reminded of the impacts of climate change in our own backyard. Long-term, we would like to have a zero-waste factory based here in St. Louis. It would be my dream to make St. Louis a hub for sustainable fashion manufacturing." says White.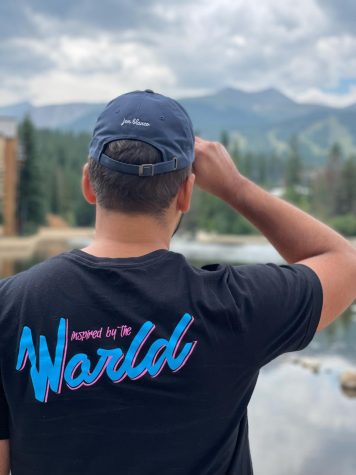 Even though social media has a tendency to negatively affect trend cycles, it has also proved to be a significant way many sustainable brands market themselves. "Social media, and particularly Instagram, is one of the most important ways we connect with our supporters. It gives us an opportunity to present ourselves and tell our story." White explained regarding the benefit of media platforms. 
Before giving into TikTok microtrends, take a minute to contemplate whether this purchase is good for the future of our earth and the people behind the screen working for less than living wage. And if you can afford it, look into buying from sustainable brands like Jon Blanco and spending a little extra money on a piece that you will love for a lifetime, even as trends come and go.
"I really want consumers to think about how they can align their personal values to the brands they support. Values, in my opinion, should influence purchasing decisions. Moreover, I want consumers to look at clothing differently. I want them to consider the quality and longevity of items. If we want to make a positive impact on the world, consumers need to change their mindset. I am hoping to be part of that change." — Jon Blanco
[1] "tiktok is kind of bad for fashion." YouTube, uploaded by Mina Le, Jul 7, 2021, https://www.youtube.com/watch?v=JR3z8lq2cNM