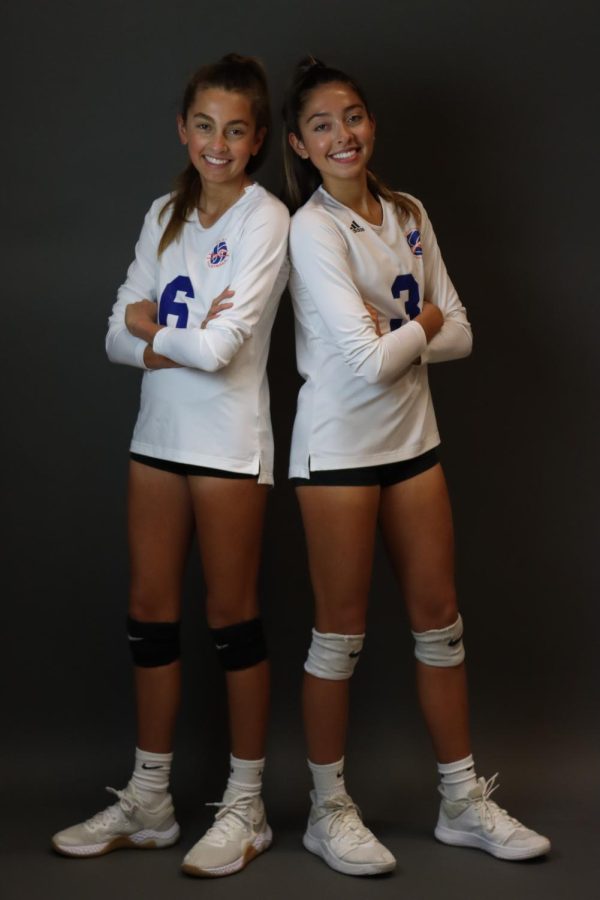 Sophie Matiszik
Senior Sarah Taylor has dominated the volleyball court during her four years at CHS; however, her younger sister Hannah, a freshman, has done anything but stand in her shadow.
The duo has been playing volleyball for nearly their entire lives. Sarah started playing regularly in third grade, the youngest age that was allowed for recreation games. Through these games, she developed a love for the sport and took it up more seriously. Hannah, from watching Sarah play, developed her own love for the sport.
"I definitely wouldn't have played if Sarah didn't get into it because I didn't even want to play my first year, but Sarah was always talking about it," Hannah said. "The first year I did it, I hated it. But I just kept doing it. And now, it's like my favorite thing."
Both sisters started out playing indoor volleyball (the same structure as Clayton), but have gradually taken a liking to beach volleyball. "[Beach volleyball] is so much more relaxed — just our coaches and our teammates," Sarah said. "You're only playing with one person who you usually grow really close to. Plus, you get to travel to really cool places."
Both Sarah and Hannah play with a focus on hard work and camaraderie, and because they're three years apart, they've never even had the chance to play alongside each other until this year.
However, as an incoming freshman, Hannah initially questioned whether she would even join the team. Though, in the end, volleyball proved to be an effective way for her to make the transition into high school.
"At first I didn't even want to do Clayton volleyball because I was worried about being so stressed out with all the homework, but it's not as bad as I thought at all and has definitely helped with the transition. Plus, like at practice, having Sarah there always made me feel like there was someone I can rely on if I'm making mistakes which also helped me feel more comfortable at the start," Hannah said.
So far, Hannah has been balancing her schoolwork and volleyball well, helping to lead the team, along with Sarah as captain, to an outstanding record so far in the season.
"Our team has been coming together pretty well. It's probably the best year in Clayton's history of volleyball because it's one of our best years of seniors and we've added a lot more club players to the lineup," Sarah said. "Even though our competition so far has not been great, we've still held it down. We're not playing to their level and are still beating them in the low teens. Each set. Cleaning up."
The team's success this season has not come without hard work from every player though, especially the underclassmen on the team.
"Playing with Sarah and the older people, I think there's just a lot more pressure to perform well, especially if you're one of the younger ones," Hannah said. "But it's very much a learning environment at practice, like everyone's trying new things together which gets us ready to perform in games. I knew it was going to be fun, but I was expecting to very much have to listen to Sarah, since she's like a captain."
As a captain and someone with a leadership mentality, Sarah has encouraged her teammates throughout her four years to work their hardest at practice and in matches; however, she herself is being pushed more this year than in years past thanks to Hannah, especially since the sisters play the same position.
"In practice, they always have us compete against each other, and in the past, there hasn't been anyone who played the exact same position with the same experience," Sarah said. "But this year, Hannah and I always compete against each other and it's good to have someone that is honestly holding me to a higher standard and I feel like we're both really improving."
Not only is Hannah holding Sarah to a higher standard in practice, but in games as well. The two work off of each other exceptionally well in games, and they even combined to score the winning point in the fifth and final set in a match earlier in the season against Villa Duchesne, one of the toughest teams they play all year.
Though the duo and the rest of the CHS volleyball team has been outperforming themselves from previous seasons, Sarah warns not to get too confident. She said after taking second in a major tournament at the start of the season, "[Getting second] was good momentum to have going into the season and to know that like, right off the bat, we're able to work with each other well and execute. It motivated us to make progress. But we don't want to get too comfortable and lose that competitive mindset, which I think our team is very aware of."
The team continues to strive toward improving their record for the season so far; however, their sights are not only set on this year, but future years for the program as well, especially after persevering through the period of playing during COVID-19.
Sarah said, "I was really looking forward to this season, you know, hoping that something would go back to normal from last year. But also getting to play with Hannah for my last season and introducing her to the program before I leave."
The Taylor sisters aim to create and maintain a legacy for CHS volleyball as both of them have already contributed so much to the program – through their leadership and physical skills – and plan to improve it even more.