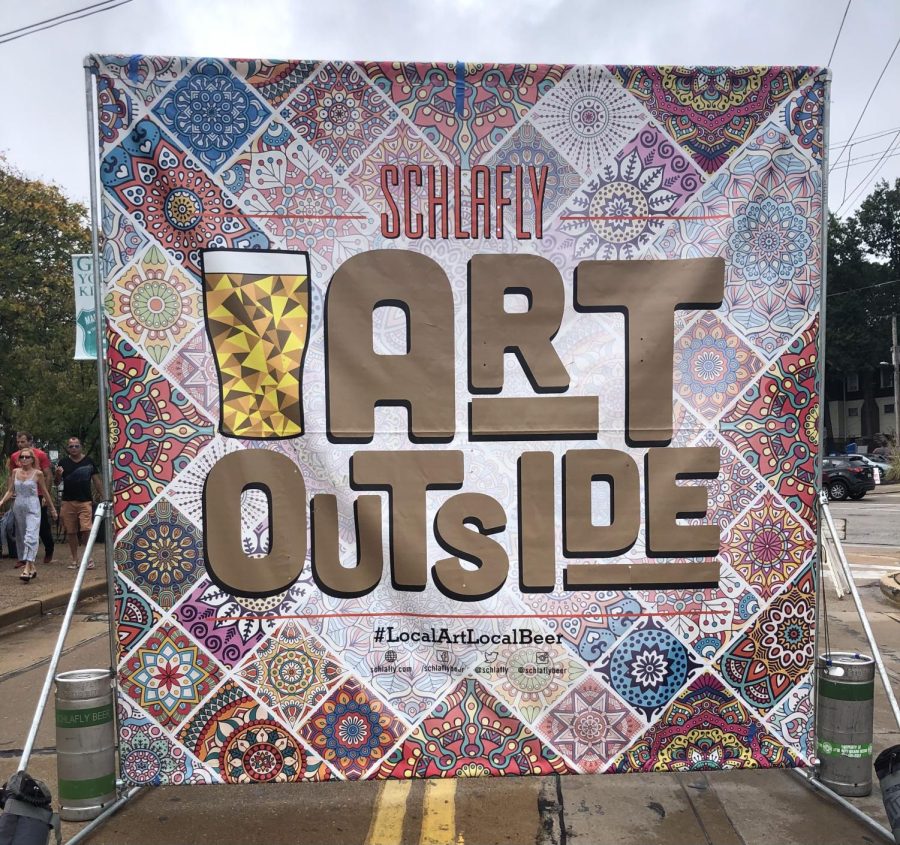 Charlie Meyers
As you step foot into the festival, acoustic guitar and drum beats play in the background, while the smell of the Schlafly brewery fills your nose and the feel of community surrounds you. Rows and rows of white tents filled with the talents of local artists and crowded by local St. Louis residents, trail as far as the eye can see. This is the Schlafly Art Outside Festival, hosted at the bottleworks location, in Maplewood.
Maplewood had its annual art fair on the weekend of October 1st through October 3rd, 2021. Much like Clayton's, this art fair has local artists putting their art on display, local musicians playing for crowds and food and drinks provided by Schlafly.
KMOV4 staff, regarding their review on the reopening of the festival, stated, "The family-friendly Art Outside Festival will be held at the Schlafly Bottleworks site at 7260 Southwest Ave from Friday, Oct. 1 to Sunday, Oct. 3. Typically, the festival is held on Memorial Day but the dates were moved back due to the pandemic. Besides enjoying live tunes, visitors can buy various artwork from local artists like ceramics, paintings, textiles, glass and jewelry."
Local artist John Locus of Locus Photoart said, "This festival is really unique. Partly because it's a regional festival, and it's built around the brewery, and partly because of its unique location in Maplewood. This is kind of a 'hip' town, and it's just different from some of these big cities. This tends to attract more unique artists."
The community feel of the event doesn't just speak to its residents, it speaks to the artists and musicians participating as well. "I really enjoy the atmosphere and the environment here. I've been doing art for 15 years, and this is my favorite festival," stated Melissa Villadiego of Villa Design. "Schlafly is so supportive of artists, and the community and they take really good care of us here. I also love the community that is built around this particular show."
The local aspect of this festival really makes it special. Only artists within 150 miles of Maplewood are allowed to participate. This means if you're not located in the city, or in the surrounding areas, you're not going to be accepted as an artist into the show. This provides for a really close-knit feel of the community.
Villadiego described that the feel of the event, and St. Louis, was, "truly a big small town, it seems like everybody knows everybody, and within 6 degrees of separation, everybody knows each other."
This art festival has everything for everyone. From mixed media by Joel Epstein, a former Clayton parent and brilliant creator, illustration and design by Stephanie Gobby, and acrylic/mixed media painting from Lisa Crisman of Left Ear Art, everything will be sure to catch your attention.
There were many volunteers and employees at the event as well. I asked an employee of Schlafly, Sarah Maciorowski, what her favorite part about the festival was and she said, " I think the community aspect of it is my favorite, I mean you see a lot of people coming by, and just enjoying the day and enjoying what the local artists have to offer, and obviously enjoying the local brewery."
When asked, many workers and artists said the music was their favorite part of the event, another good reason to come! There is an excellent band lined up for Saturday, October 2nd, and Sunday, October 3rd, with local artists coming to play, including, "Brother Lee & the Leather Jackals", "The Hilary Fitz band", " Cree Rider w/ Band" among many others. So, be sure not to miss it next year!
As I walked from booth to booth, I was delightfully surprised at how well everyone knew each other. When I first came around to the tents, Epstein saw me, -a stranger- walked up to me and said, "What speaks to you?" I turned the corner and saw Locus and he motioned for me to come into his tent saying, "Hi! Welcome, look around tell me what catches your eye!" Everyone seemed to care for one another. It appeared that every corner I turned from white booth to white booth, there were artists talking with each other, strangers bonding over artwork they found beautiful, and families enjoying the food of Schlafly, and the music of the " Jon Bonham & Friends" band.
The people participating in the festival aren't just artists, or workers, or volunteers. They're a part of the community. Our community. So, stop by the Schlafly Art Outside Festival next year and see what catches your eye. Listen to some live local music, look around at the unique artistry, and enjoy the feeling of being surrounded by your local community.