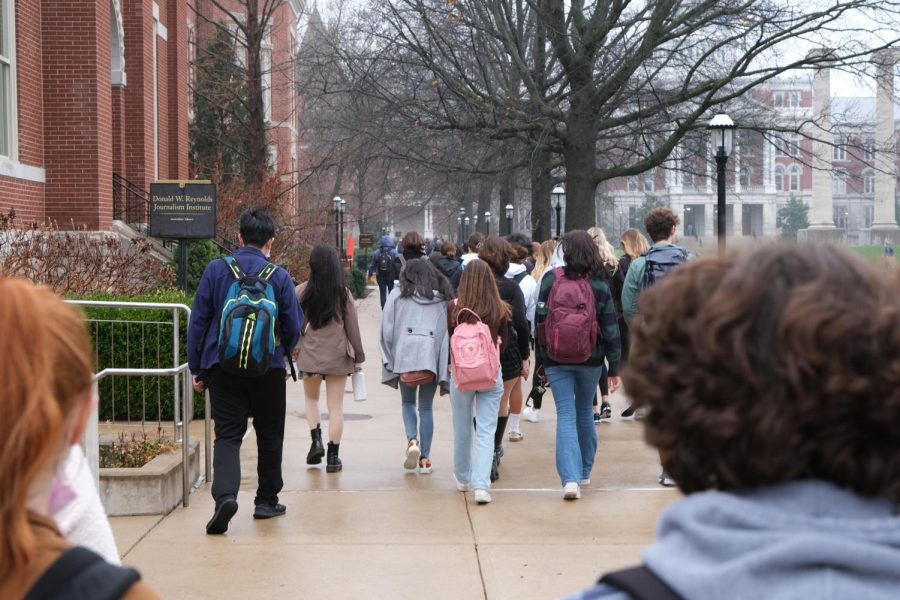 Owen Auston-Babcock
COLUMBIA, Mo. — 28 student journalists at Clayton High School attended this year's Scholastic Journalism Day at the University of Missouri–Columbia Wednesday, March 30, 2022. The group, accompanied by CHS journalism teacher Erin Sucher-O'Grady, included reporters and editors from the Globe, as well as videojournalists from Greyhound News Network, and an editor from the Clamo yearbook.
Overall, the staffs of the Globe and Clamo won 18 awards presented at the event by the Missouri Interscholastic Press Association and the Missouri Journalism Education Association.
Clamo was presented with a Superior award in the Yearbook – Overall category. Last year's Clamo editor-in-chief was Cavan Helmering.
Globe was presented with the following awards:
Newsmagazine – Overall: All-Missouri Award to the 2021-22 staff of the Globe, led by Editors-in-Chief Ella Cuneo, Shane LaGesse and Ivy Reed.
Missouri All-State Journalism Team: Senior Managing Editor Owen Auston-Babcock
Breaking News: Best of Show Award to Owen Auston-Babcock, JiaLi Deck, Sam McDonough, Shane LaGesse and Sophia Lu for "Shaw Park Rally Rejects Workplace COVID Regulation"
In-Depth Feature: All-Missouri Award to Senior Managing Editor Owen Auston-Babcock for the December cover story "Unlivable Wages"
In-Depth Feature: All-Missouri Award to Editors-in-Chief Shane LaGesse and Ivy Reed for the February cover story "1474 & 1995"
News Feature: All-Missouri Award to Sports Editor Alex Cohen for "Socializing at a Distance"
News Writing: All-Missouri Award to Sports Editor Alex Cohen for "Putting the Lake in Lake Forest"
Feature Package: All-Missouri Award to Senior Managing Editor Owen Auston-Babcock for the December cover story "Unlivable Wages"
Breaking News: All-Missouri Award to Photo Editor Lily Kleinhenz for "Teens for Choice STL Hold Rally for Abortion Rights Outside Planned Parenthood"
Editorial/Op-Ed: All-Missouri Awards to Sports Editor Alex Cohen (writing) and Senior Managing Editor Owen Auston-Babcock (editing and web design) for "The State of Democracy" and to News Editor Alex Slen for "The Politics of Economic Inequality"
In-Depth Feature: Superior Award to Emma Baum, Vivian Chen, Seraphina Corbo, Maya Goldwasser, Sahi Gokaraju, Sophia Lu, Caleb Park, Ivy Reed and Kaitlyn Tran for the October cover story "Afghanistan: Humanitarian Crisis Arrives in St. Louis"
News Feature: Superior Award to Photo Editor Lily Kleinhenz for "Removal of Ralph Clayton's Portrait"
In-Depth Feature: Excellent Award to Emma Baum, Alex Cohen, Chloe Creighton, Ella Cuneo, Charlie Meyers, Ruby Nadin and Ivy Reed for the November cover story "Death in American Society"
Online – Overall: Excellent Award to Chief Digital Editor Kaitlyn Tran and Senior Managing Editor Owen Auston-Babcock for the Globe Online at chsglobe.com