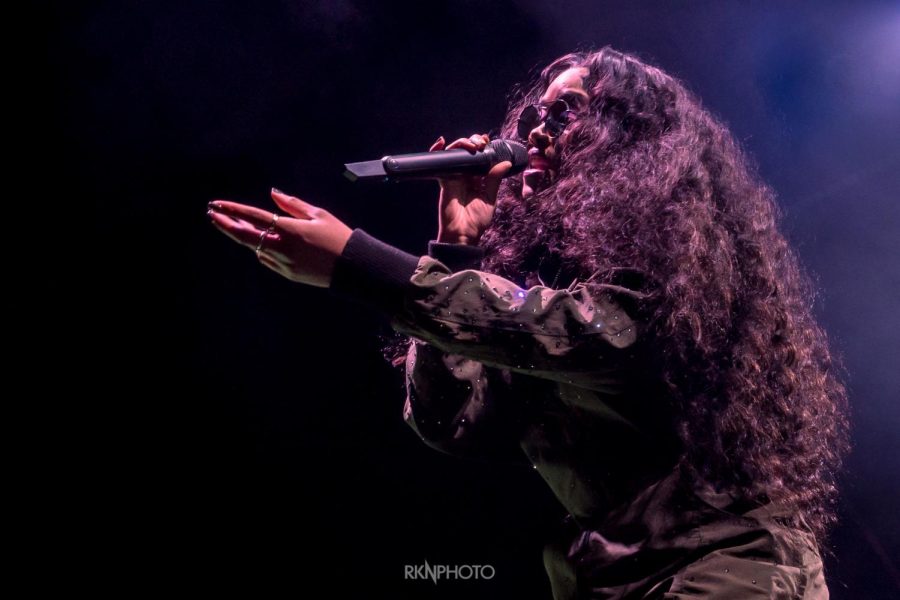 It's an unusually drizzly and cold Wednesday at St. Louis Music Park, and the audience is standing on their seats. In the dark, concertgoers stretch to see the stage and hold their phones steady, waiting for H.E.R. to step out.
Just a few minutes before, opener Marzz began the show, crooning out high runs in "Wizard" alongside Keyanna Hutchinson on the electric guitar. By the end, the crowd is singing along with the most beautiful "f-k you" one will ever hear, in Marzz's closer, "Countless Times".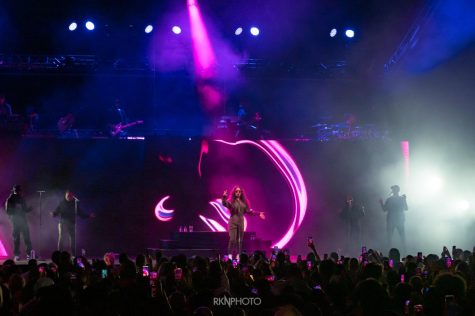 Slowly, the stage awakens with a purple glow, and above, a band strikes the beginning of "We Going Crazy" to a cheering stadium. It's a veritable symphony of light– over the stage, a rectangular outline of light flows around, and, surrounding 4 backup singers, hexagons of blue and orange pop with the music. Behind the singers, copies of H.E.R.'s silhouette and eyes glitch in the background on large LED screens.
Finally, H.E.R. runs out in a sparkly black jumpsuit and Nikes, signature sunglasses glinting red in the lights. The crowd screams, and the show begins.
H.E.R. has been having a pretty good year– from winning a Grammy for "Fight For You", and several other nominations, to singing the national anthem at the LIV Superbowl, it's clear that her musical talents have been noticed. "Back Of My Mind", H.E.R.'s first studio album and similarly named 2022 tour, has sold out in St. Louis this May 4th.
As the mood settles from songs like "I Can Have It All", "Slide", and "B.S.", the show segues into ballads like "Focus" and "Comfortable". H.E.R. asks for her "day-ones" if they remember, and they certainly do. As she walks around, singing with recording-level perfection, a thick wave of "Oooh-Oooh" answers from the audience.
Other highlights include showstopper "Best Part", the multi-platinum and Grammy-award-winning song that brings the house down. 17-year-old backup singer Miles Caton helps out with Daniel Caesar's part, flexing phenomenal vocals and runs. Later, the beat changes to the familiar pulse of "We Will Rock You" (Queen), switching things up with "I Love Rock'N'Roll" (Joan Jett) and "Glory".
Overall, the entire concert was impressive– from H.E.R.'s sheer talent in singing and instrumental prowess (drums and guitar) to the aesthetics of the set effects. The setlist is delightfully varied, from current songs from the album, to previous hits, to covers.
With closer "We Made It" and encore "Lights On", the show ends, leaving a satisfying conclusion to a stunning concert.