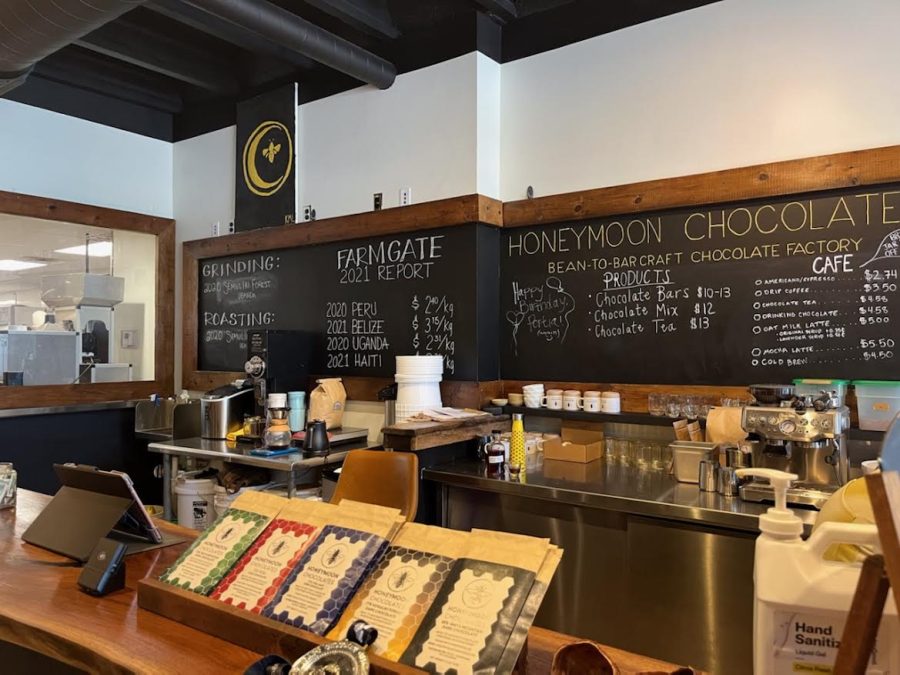 Ruby Nadin
Nestled between Sushi Ai and a street full of construction, Honeymoon Chocolates makes a unique impact on the small area of downtown Clayton. Covered in plants on the outside, the store's clean look sets up the aesthetic on the inside. The modern gold shelving and comfortable couches create a welcoming feeling for customers. Not to mention the kindness of the workers who were gladly willing to answer multiple questions about their products, and were well educated about the store's process of chocolate making. 
With a unique idea for chocolate making, Honeymoon Chocolates only sweetens their bars with honey. The bars are priced roughly at 10 dollars per bar of chocolate. In addition to chocolate, Honeymoon also has a variety of ice cream flavors including mint and salted caramel. These ice creams are also sweetened using only honey. 
Like many businesses during COVID, Honeymoon Chocolates has struggled to find business. With their varied menu including chocolate, coffee, and ice cream they changed their hours many times in an attempt to cater to early morning coffee drinkers. However, with larger corporate competitors they were not able to make it worthwhile to stretch their staff thin for minimal results. 
The packaging of the chocolate bars included minimalist sketches of bees and honeycomb, as well as a detailed illustration of how the chocolate bars are created. It shows the journey of the chocolate, starting at the bean. Although the design of the packages is clean and 100% recyclable, the taste of the chocolate was underwhelming. The dark raspberry bar, a customer favorite, lacked the strong taste of raspberry that was expected from the name. The mixture of the smooth chocolate and the crunchy pieces of raspberry resulted in an odd texture. 
Another popular flavor, blueberry lavender white chocolate, had a softer flavor than the dark chocolate. The taste of lavender was obvious from the first bite and the purple color of the bar. The texture of the bar was velvety and consistent and was topped off with a honeycomb pattern stamped onto the top. Both bars included this pattern and had a glossy finish. 
Although the chocolate bars are the star of honeymoon chocolate, the ice cream was the real winner. Their mint chocolate chip "mint to bee" had a pleasant pop of chocolate that mixed well with the vanilla ice cream and mint. 
You can visit Honeymoon Chocolate at 16 N. Central Avenue in Downtown Clayton Wednesday-Sunday in the afternoons.