The Body of an Athlete
On Feb. 22, 2022, history was made in our very own Stuber gymnasium."There were a total of 3 complete ACL ruptures on the girls' JV basketball team," athletic trainer Kristin Saunders said. In her seven years of treating Clayton athletes, Saunders witnessed a fist in her career. By the end of the 2021-2022 basketball season, Erin Miller, Madi Nettles, and I had all torn our ACLs in the same season.
Clayton High School is no stranger to injuries; there's almost always at least one person on crutches every day, but for the athletes affected, the experience can be trying. Prior to my unexpected injury, I would have never considered the mental toll injuries have on an athlete. I learned my experience was not unique. Many athletes at Clayton have torn their ACLs and have had to sit out for a depressing amount of time from the sport they enjoy most. Senior Qui Ottolino is looking at approximately a 10-month recovery process after rupturing her ACL off the bone, tearing both her lateral and medial meniscus and spraining her MCL.
While competing in her very first club lacrosse tournament, Ottolino went down after hearing a cracking sound in her left knee; not only did this catch her off guard, her first initial was, "well I just broke my knee," Ottolino said. Not only has this injury been physically difficult due to the grueling surgery recovery and rehab process, but it has also taken a distressing toll on her mental well-being.
Depression is very common for athletes who experience injuries. While injured, athletes aren't sure what to do with these feelings they develop such as depression and "FOMO" which is the fear of missing out. Seeing your teammates and friends have fun while playing a sport that you're unable to participate in due to unforeseen physical circumstances is a tough pill to swallow. In my own experience, the depression from my injury started when I quickly realized I was not capable of doing simple things that my body permitted me prior to my injury; it felt like the person and athlete I was before was gone forever.
Since playing soccer at age 4, junior Adrien Shor Perrier can relate to having his passion taken away from him for an unfair amount of time. Before having the opportunity to try out for an academy soccer team, Shor Perrier tore his ACL and his meniscus playing soccer. With Covid impacting the amount of time he had to wait to get surgery, Shor Perrier chose to embrace the process of his recovery and keep an optimistic attitude. Although maintaining a positive point of view, Shor Perrier was at a low point mentally at the beginning of the 2022 soccer season after realizing how hard he would have to work to get back to where he was before injuring himself. Despite the adversity he faced, Shor Perrier has been very dedicated to achieving his goals of playing college-level soccer and pursuing his passion. Senior Anthony Duong also adopted a more positive attitude toward his injury.
Due to the pandemic, Duong was not able to get the surgery he needed to repair his injuries quickly. After waiting a prolonged four months to undergo surgery and another eight months for his right knee to fully heal, it took Duong a year to return to playing lacrosse. Now that he has started back playing sports, with occasional knee pain, Duong is now happily continuing his sports journey. Although the bumps in the road he experienced through his high school lacrosse career are not to be overlooked, Duong has done an amazing job at turning things around and overcoming his setbacks. Having a support system while being injured is very important; with people around you encouraging you and keeping your spirits lifted it can really change your outlook on things.
Having the right people by their side and constantly giving them motivation, can heavily impact an athlete's mental and emotional state. When senior Erin Miller tore her ACL in December, I followed in February, and Madi Nettles followed suit a few weeks after me; we all received support from each other through this tough time. Seeing two of my close friends injure themselves was very hard, I struggled with the thought of them having to face this long journey. Although this has been a very frustrating time for all of us, we have all been able to lean on one another and talk to each other about things that we are experiencing. Sophomore Madi Nettles is one of the strongest and toughest athletes at CHS. Although she tore her meniscus which would typically call for surgery; she didn't need any repairs done to the meniscus.
This was because every day after her injury Nettles visited Kristin Saunders after school for rehab leading all the way up to her surgery date. With the time and dedication she spent on her physical therapy prior to surgery, Nettles worked so hard her meniscus began healing itself; this is something her surgeon had never seen before. After returning to physical therapy post-surgery, her recovery did not get any easier. She struggled for a while to get off the crutches and begin walking on her own but that didn't stop her.
Even though she has been tough throughout this recovery process, it has not always been easy. Nettles experienced her share of mental battles, the main one being she has to go to softball practice every day and see her teammates practice but she is still in physical therapy. I had the opportunity to see Nettles overcome these obstacles and hit milestones; I also get to be there for her when she needs someone to lean on. Even the strongest athletes need someone to talk to while going through their injuries.
Qui Ottolino, Adrien Shor Perrier, Anthony Duong, Erin Miller, and Madi Nettles all inspire me to keep going despite the challenges I have faced and will continue to conquer. I am grateful for the environment I have been placed in, the resources I have, and the people that surround me throughout this journey. During this process I have come to terms with the idea that it is okay to speak and say when you're not well; I encourage all athletes who are experiencing an injury and are not mentally well to confide in those around them and open up, it makes a big difference in your well being.
Leave a Comment
Your donation will support the student journalists of Clayton High School. Your contribution will allow us to purchase equipment and cover our annual website hosting costs.
About the Contributor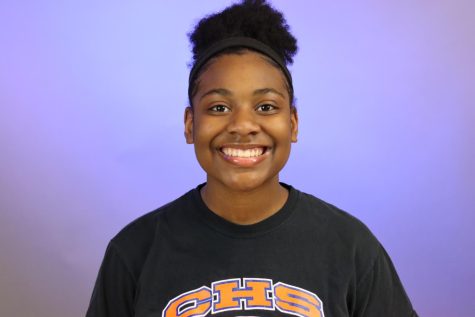 Aylah Hopper, Reporter
Aylah Hopper is currently a senior at Clayton High School and is a  reporter for the Globe. Additionally, Aylah enjoys basketball, reading and writing. She is a part of the Black...