Summer plans, spending affected by students' financial problems
The recession has not just affected CHS parents this summer; students are also making different choices. While not letting the recession diminish spending, students have let it affect their summer plans.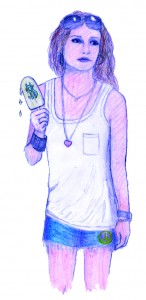 Junior Sam Muslin worked this summer at Washington University Medical School.
"I decided to work this summer because my parents were tired of giving me money," Muslin said. "I spent the same amount of money, but I definitely noticed what I was spending more because it was my own money."
Senior Emily Rosen also decided to work more this summer.
"This summer I worked at the St Louis Opera Theatre," Rosen said. "It was a pretty sweet job; I got paid, and I didn't really have to work that hard."
Movies have always been a popular summer activity. Because prices have increased people are less inclined to spend on movies.
"I did not get a job this summer because I didn't have time," junior Sagar Yadama. "I was working in a lab and doing schoolwork all summer. One thing that affected my summer was that prices for vacation packages were very low so we got to go to Hawaii."
Many CHS parents had money in the stock market and are feeling the losses.
"I felt bad asking my Mom for money," junior Sarah O'Brien said. "I know that we lost some money in the market, so that has made me want to get more money on my own. I babysat a lot to compensate for the money that I was not asking for."
The Y.E.S. office has opportunities for students to find jobs during the year and the summer.
"I found a job babysitting through the Y.E.S. office," O'Brien said. "It worked out really well. I babysat almost every day all summer so I made more money than I ever have."
Some students are watching how people are investing and making plans for their futures.
"If I had money I would be investing it," Yadama said. "It's a buyer's market, I just don't have the money to spend in it."
Senior Eliana Harris has worked as a camp counselor for the past two years.
"I went to a summer camp during the summers when I was younger," Harris said. "It was a really easy decision to decide to work there because I knew it would be difficult to get a job in St Louis this summer."
Jobs have been scarce this summer with older, more experienced people looking to take any jobs they can and, in doing so, taking many jobs that used to be saved for students over the summer.
"I did not have a job this summer because I knew how difficult it was to find a job," junior Samantha Corson said. "I am only 15 and employers do not want teenagers because they think they are less responsible. Employers also want people that can drive so that it is easy for them to come and go when they are needed."
"I did what most teenagers did this summer," senior Chelsea Hesterberg said. "I babysat a lot. I wouldn't say that I spent less though, I just spent a lot of time making money. I got my jobs mostly through word of mouth. A lot of times when I baby sit for people they give my name to their friends. Also, I have a few families that I work for more often than others."
Senior Peri Harlan changed her working habits because this year she worked at the MICDS summer camp, Pegasus.
"I actually spent more this summer," Harlan said. "I was very glad that I could use my own money. It gave me more freedom."
Your donation will support the student journalists of Clayton High School. Your contribution will allow us to purchase equipment and cover our annual website hosting costs.